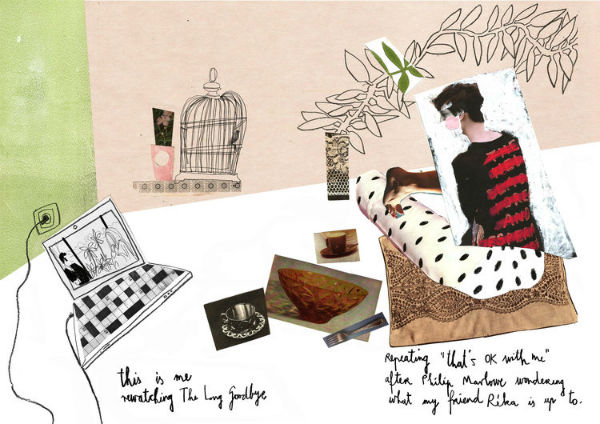 As part of our ELCAF Fortnight of coverage in the summer we reviewed the second edition of  PersonaЖ from Russian micropress Sputnikat; an anthology that looked in on the life of TV reporter Daria over the course a week with each day's story being the work of a different artist. That second issue included work by Mikkel Sommer, William Goldsmith, Irina Troitskaya and Katya Dorokhina with other issues in the series featuring Christopher Rainbow, Roman Muradov and Sari Szanto. While PersonaЖ remains Sputnikat's flagship title their range has expanded to include titles like our subject today – Hungarian illustrator Szanto's own minicomic Housewife: What a Poor Lesbian Does When Her Girl Goes Away for the Weekend.
A reflection on temporary separation, Housewife is told in a combination of distinctive collage and detached, almost flippant prose. We observe the titular character's daily routine as she adapts to life without her partner for the weekend. We watch her wistful loneliness and see her losing herself in everyday tasks; focus on her moments of doubt and loss of self-confidence when given too much time alone to think and catch her whiling away the time on more frivolous activities. Interspersed throughout are occasional and knowing narrative sidesteps which seem to exist only to add vague context to further examples of Szanto's eye-catching imagery but, given the skewed visual allure of those pages, that is entirely acceptable from an audience viewpoint.
Indeed it's that combination of photography and illustration, almost paradoxically embracing both the naive and the intricate, that makes Szanto's pages so compelling. They're simultaneously childlike and sophisticated, surreal and yet recognisable; those contradictions giving them a bizarre and engaging authenticity. Sputnikat's output to date has been consistently intriguing and given a showcase to a number of artists that UK and US readers may well be unfamiliar with. Of all those creators, though, Sari Szanto is one whose work has an immediately enticing appeal for its idiosyncratic and curiously hypnotic approach to the page.
Find out more about Sari Szanto's work here. For more on Sputnikat visit their site here and their online store here. You can follow them on Twitter here. 
For regular updates on all things small press follow Andy Oliver on Twitter here.