Yesterday when we revealed the results of 2020's Broken Frontier Awards we also announced that this year's Hall of Fame winner would be one who represented the work of comics shops globally in supporting grassroots work, promoting new talent, and elevating emerging creative voices. We chose London's Gosh! Comics as representative of that philosophy with their community hub ethos and their many years of events programming.
Or as we put it yesterday: In short, [Gosh] have not simply fostered a sense of comics community they've created one; people have been brought together who would never have met otherwise, collaborative bonds have been forged that would not have occurred without them, and comics projects that would have gone unpublished have seen the light of day through creators finding each other via the welcoming environs of 1, Berwick Street.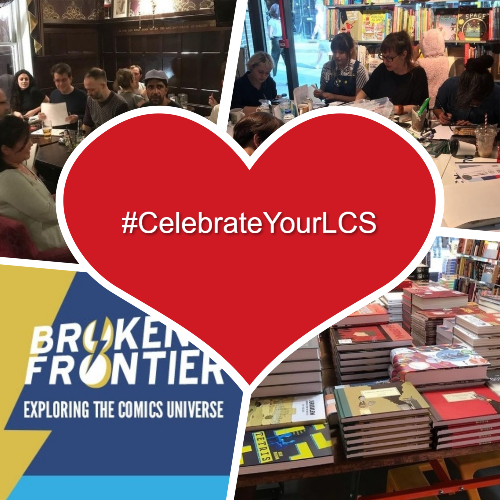 As we also said yesterday we don't want to stop there though. We want to use this year's Hall of Fame announcement as an opportunity to celebrate shops globally in this most trying of times for them. So this week we'll be using the hashtag #CelebrateYourLCS on social media and looking for stories about how your shop has played its part in supporting new creative voices and boosting their profiles.
You can either quote-retweet this tweet here on the Broken Frontier account or use the hashtag #CelebrateYourLCS. Tell us about how important your local shop has been in fostering a sense of comics community, how it may have helped you as an aspiring creator or self-publisher, events it runs to benefit the comics scene, small press creators you discovered via them, or simply any positive story you have to tell!
Tag your shop in so people know where to follow them and add an online store link where possible. We'll retweet them from the BF account. Let's do what we can to spread the word about our LCSs across the globe and give them the same support they've given our favourite art form over the years!