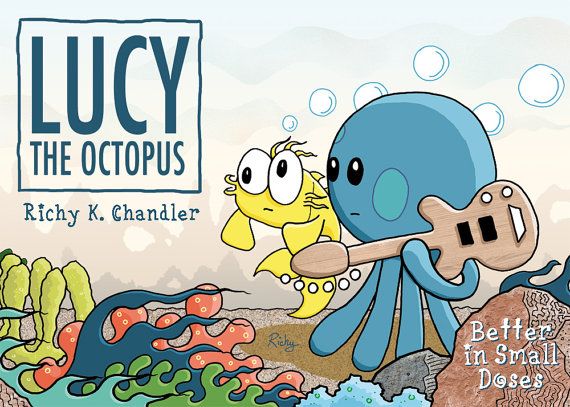 Richy K. Chandler's Lucy the Octopus has always been a comic with a penchant for interacting with its audience. From the sense of community that exists in its back pages to contests giving its readers an opportunity to name a character, Chandler is well aware of the importance of building up a close relationship between himself, his characters and those who plunk down their money for each issue of his darkly witty newspaper-strip style Lucy collections. And he's building on that foundation with a brand new and rather exciting competition!
For those yet to encounter the undersea world of Lucy the Octopus, the strip features the titular character – a kind of cephalopod Charlie Brown figure – as she deals with the day-to-day ordeals of being the most unpopular girl at school, at home, and just about anywhere. Cleverly constructed, and always experimenting with the boundaries of the newspaper strip form, it's a comic I reviewed here in 'Small Pressganged' where I included this observation: "Taking that great comic strip tradition of the loveable loser and then amplifying it to the point of distortion Lucy the Octopus is, in turns, blackly humorous and actually really rather poignant."

Now, one lucky reader will get the chance to contribute to a Lucy comic by finishing the final panel of the strip above. Not only will the winning entry be published online in December but the triumphant entrant will be featured in a blog/interview piece on the Tempo Lush site. The winner and two runners-up will be awarded copies of the next Lucy the Octopus print collection and feature as octopus characters in a crowd scene in an upcoming strip! It's a fun idea and one that can only serve to increase the accessibility of the comic. Credit to Richy K. Chandler here – his ever proactive approach to building up his readership figures is a clever and canny one in a current small press scene where a rapidly growing number of creators are diluting an audience that isn't expanding anything like as quickly.
You can pick up print editions of Lucy at the Tempo Lush site here or read her adventures online here.
The full competition entry details can be found here.
For regular updates on all things small press follow Andy Oliver on Twitter here.