It's almost Wednesday, and you know what that means: a fresh load of comics and graphic novels! With so many publications hitting your local comics store or digital storefront, the BF staff is here to lead you through the woods with our weekly staff picks. Satisfaction guaranteed.
Comic of the Week
Invisible Republic #1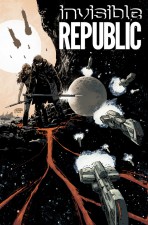 Brace yourselves for a jump into the deep future and deep into space. It is the year 2843 on a remote moon called Avalon and reporter Croger Babb is working on a story about the downfall of the once powerful Mallory Regime. During his research, he stumbles on a lost diary by a certain Maia Reveron, a young woman who appears to have been erased from the history books although she was the cousin of the regime's man in charge: freedom fighter turned dictator Arthur McBride.
Self-described as Blade Runner meets Breaking Bad, there's little doubt that this ongoing from husband-and-wife duo Gabriel Hardman and Corinna Bechko also has a few tricks from the House of Cards playbook up its sleeve.
This series is both an intimate and sprawling sci-fi thriller with a heavy dose of politics and scheming, about the people wielding the power doing whatever they can to make history go their way – often at the cause of others.
Mixing together all the sci-fi adventure elements he displayed on Red Hulk and Planet of the Apes and juxtaposing them with the small, human strokes seen in Kinski, Invisible Republic is the book Gabriel Hardman was born to create.
Corinna Bechko & Gabriel Hardman (W), Gabriel Hardman (A) • Image Comics, $2.99
– Frederik Hautain
Chrononauts #1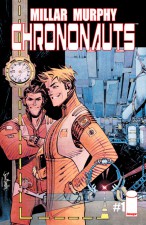 All the talk about optical illusions on Twitter might make you think Mark Millar and Sean Murphy want to toy with your head, but in reality, all these guys want you to do is have fun. Fun sure is what they're having creating Chrononauts, the latest project to be unlocked in Millar's Millarworld vault of projects.
NASA-employed Doc Corbin Quinn has developed a special sort of time machine that allows the NASA and the American public at large to bear witness to historic events live as they're happening. It's like putting a camera in the midst of a Civil War battlefield and getting to watch which Northerners and Southerners become cannon fodder first.
But Quinn wouldn't be Quinn if he didn't jump into the timestream himself, and he and his best bud Danny Reilly become the world's first Chrononauts (astronauts of time for the dummies). The question now is: will they respect the laws of the space-time continuum or will tomfoolery rule the day? Quinn and Reilly are the exponent of 'What if Johnny Storm had a twin brother?', so our bet is on the latter.
Featuring some of the best looking tech and hands-down the best looking car chases in comics since The Fast & The Furious (wait, wasn't that a movie?), Chrononauts is a book that will give you so much fun that time just flies by!
PS: Nostalgia alert, but this Back To The Future variant cover for issue #3 is beyond dope.
Mark Millar (W), Sean Gordon Murphy (A) • Image Comics, $3.50
– Frederik Hautain
Shaper #1
If the movies have taught us anything over the last year, it's that when you're looking to make a blockbuster, space is the place. Screenwriter Eric Heisserer (The Thing, Final Destination 5) is putting his own spin on intergalactic adventure in his first comics project, and it's one with a timeless sci-fi hook at its core.
In the midst of a galaxy-spanning war, teen orphan Spry discovers he's a Shaper with the power to turn the tide of battle. Of course, the menacing Tor Ajax isn't about to let that happen.
Felipe Massafera's slick art has enough of a rough edge to ground the big-screen action, while his covers have the feel of the best of the Golden Age sci-fi paperbacks.  Lock yourself in for five issues of star-crossed adventure, and don't let the movies have all the fun.
Eric Heisserer (W), Felipe Massafera (A) • Dark Horse Comics, $3.99
– Paul Mirek
Rise: Comics Against Bullying #1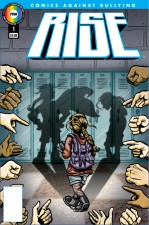 Sometimes, when you wander into your LCS and see what's facing you on the racks, you might begin to wonder a little what comics are actually doing to make the world a better place.
However, fortunately that world also contains folks like Zan Christensen, whose Northwest Comics imprint is behind Rise: Comics Against Bullying. After a successful Kickstarter campaign, this bimonthly anthology will also be distributed free to schools, libraries and anyone who needs it by partner organisations including Stand for the Silent, GLAAD and Prism Comics.
All of the above would probably make Rise #1 worth your five bucks anyway, but the book itself is much more than a worthy gesture. Within its 48 pages is work by an array of talent including Howard Chaykin, Marc Guggenheim (Arrow), Chris Roberson and Dennis Culver (Edison Rex) and Adam P Knave (Ameila Cole). Good comics for a great cause? That's something we can all get behind.
Various (W/A) • Northwest Press, $4.99 (print), $2.99 (digital)
– Tom Murphy
Red One #1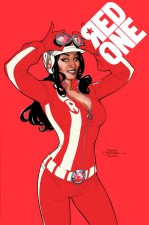 The year is 1977, and America is enjoying the debuts of Star Wars, the Atari 2600 console, and Chia Pets. Laverne and Shirley is the number one show on television, Annie Hall won the Oscar for best film, and the whole country was singing "Da Doo Run Run" with Shawn Cassidy.
The creative team of writer Xavier Dorison (Long John Silver, The Third Testament) and the incomparable Terry and Rachel Dodson (Uncanny X-Men, Wonder Woman, Spider-Man, Harley Quinn) are brining 1977 to life with the release of Red One #1. America's greatest hero is actually a Russian spy. The Kremlin has dispatched agent Vera Yelnikov to Los Angeles to spread communist values in a land busy quoting Saturday Night Live comedians Steve Martin and Dan Aykroyd, "We are two wild and crazy guys!"
Image Comics describes the book as "a funky superhero romp straight out of a Tarantino film." Sounds like a fun combination.
Xavier Dorison (W), Terry and Rachel Dodson (A) • Image Comics, $2.99
– Karen O'Brien
Tex: The Lonesome Rider HC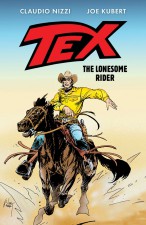 Joe Kubert's seldom seen western masterpiece is finally made readily available to the English-language audiences. When Italian author Claudio Nizzi decided to present his long running comic series to an American audience (where this western took place) he hired Joe Kubert to illustrate the tale. But the direct translation of his script was pretty flat and the distribution deal fell apart, resulting in the original 2001 black & white graphic novel only being available through secondary markets (and you can still get this edition at cover price through the Kubert School Art Store).
But now, thanks to work of Peter Carlsson (Joe's art director at Tell-A-Graphics since 1997) and Dark Horse Comics, Tex: The Lonesome Rider has received a fresh script revision and a brand new color treatment.
Follow along as Tex tracks four ruthless killers who have massacred a peaceful farming family, using his ranger's ingenuity and brute force when needed!
Claudio Nizzi (W), Joe Kubert (A) • Dark Horse, $49.99
– Tyler Chin-Tanner

Strange Sports Stories #1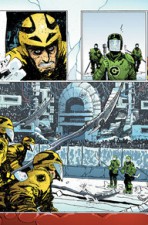 The first set of Strange Sports Stories tales appeared in several issues of The Brave and The Bold from December 1962 to September 1963. Featuring stories written by Gardner Fox and John Broome with art by Carmine Infantino and edited by the irreplaceable Julius Schwartz, the issues were presented as an anthology of science-fiction stories based on sports and had no continuing characters.
In the 1970s, Strange Sports Stories received its own title but lasted for just six issues published from October 1973 to August 1974. Again pairing science fiction with sports, the series delved into alien golf matches, the Devil as a baseball pitcher, knights playing football—you get the idea.
DC's announcement that it was going to bring back Strange Sports Stories for a four-issue limited run in March might have received a luke-warm reception at best if it weren't for the fact that its Vertigo imprint was producing the series. In the hands of Vertigo, some of the more sinister elements only hinted at in the 1960s paired with some of the more odd juxtapositions used in the 1970s really might give us a comic Vertigo describes as, "strange, scary, sexy, and sensational sports stories."
In the hands of stellar creative talent including Brian Azzarello, CM Punk, Paul Pope, Gilbert Hernandez, Lauren Beukes, Ben McCool, Ivan Brandon, Monica Gallagher, Lee Loughridge, Nick Dragotta, Christopher Mitten, Darick Robertson, Mark Finn, John Lucas, Gabe Soria, Ronald Wimberly, Michael DiMotta, Tim Fish, Rael Lyra, and others, I think they just might live up to that description.
Various (W), Various (A) • DC Comics/Vertigo, $4.99
– Karen O'Brien
Frankenstein Underground #1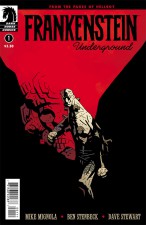 Having created a modern icon in Hellboy, comics maestro Mike Mignola is stepping back in horror history to breathe fresh life into another classic character, the Frankenstein monster, drawing elements from Mary Shelley's original novel and the iconic James Whale films, starring Boris Karloff.
Feared, tormented and doomed to walk to earth, the embittered creature pitches up in mid-20th century rural Mexico. An encounter with a local bruja (witch) leads him into the shadows of the Aztecs' ancient temples, "where he will discover other strange creatures—and dark secrets to the universe". Meanwhile, the malevolent and immortal Marquis de Fabre plots to add the creature to his collection of occult goodies.
With characteristically strong work from longtime Mignola collaborators Ben Stenbeck (Baltimore, Sir Edward Grey: Witchfinder) and Dave Stewart, this four-parter promises to be accessible to new readers, while also providing a few easter eggs for long-time devotees of the Mignolaverse.
Mike Mignola (W), Ben Stenbeck (A) • Dark Horse Comics, $3.50
– Tom Murphy