Updating a classic is nothing new in comics. During the last six years, Marvel and DC have revamped virtually every character in their respective universes. Joining its already impressive list of Hasbro-based favorites that include My Little Pony, G.I. Joe, and Transformers is Clue, IDW's first adaptation of a board game. Just as you'd expect from the world's best "who done it" game, the comic is a top-notch murder mystery featuring reimagined characters you recognize but don't know set in a mansion that is familiar but foreign. It's a juicy interpretation that sold out in my local comic shop on its first day of release.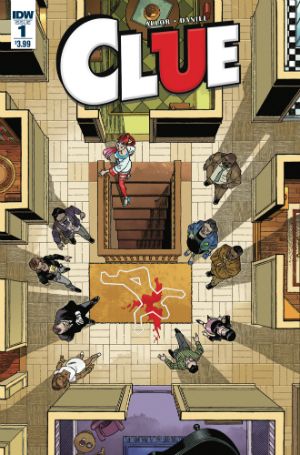 IDW selected an ideal creative team in writer Paul Allor (Teenage Mutant Ninja Turtles) and artist Nelson Daniel (Judge Dredd). Allor's script overflows with clever glimpses of character development and Daniels' slick dynamic style has the look of an animated feature. All the characters attending Mr. Boddy's dinner party arrive with private agendas that will unravel as the adventure unfolds. Perhaps the most intriguing character is Upton the butler, who breaks the fourth wall to directly address the audience and provide additional information. His comments range from snarky to hilarious, and I suspect that everything he says will be important as the story moves along.
As we learn through the cunning character introductions, Allor has given the cast quite the modern update. Miss Scarlett is an Australian rapper. Senator White founded the nation's largest maid service before embarking on her political career. Dr. Orchid is a toxicologist and Professor Plum is a polymath. War hero Colonel Mustard and aristocratic widow Mrs. Peacock openly disdain the presence of Mr. Green, a slimy hedge fund manager. And then there's Mr. Boddy, who is described as "Host. Cipher. Enjoys leaving weapons in random rooms." Well, no kidding!
Allor weaves together a perfectly awkward dinner before the generous host's unfortunate murder. (That's not a spoiler because you've played the game before. If you haven't, get together your most outrageous, fun-loving, friends—who should also be gifted trash-talkers—and spend an evening with Clue, you'll laugh till you cry.) Following the murder and the arrival of the police (who don't appear to be as inept as those in the cult-classic 1985 Clue film), Allor develops the conflicts between the characters who seem desperate to keep their own secrets while attempting to pry them from others.
Left – variant cover by Valentina Pinto
Nelson Daniel's fluid art with its dark line work and deep shading makes the mansion its own character through gorgeous perspective shots that remind us of its "ominous" size, suggesting it has a plethora of its own secrets to explore. He deftly handles the large cast and their wacky personalities are beautifully reflected in their body language. I don't think we're going to figure out who killed Mr. Boddy without paying careful attention to the words and the artwork.
There are five covers for this first issue, and each provides insight to the characters involved. And in a unique twist, the book's last two pages are a bonus look into the conflicts brewing between the characters. There are three different final pages that were inserted into three different editions of the first issue. Go find them, and have fun figuring out the mystery!
Paul Allor (W), Nelson Daniel (A), Neil Uyetake (L), Gabriel Rodriguez (CA) • IDW Publishing, $3.99