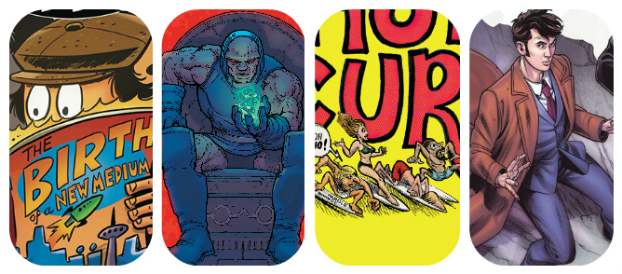 It's nearly Wednesday, and you know what that means: a fresh load of comics and graphic novels! With so many publications hitting your local comics store, comics events or digital storefront, the BF team are here to lead you through the woods with our weekly staff picks. Satisfaction guaranteed!
Comic of the Week
Darkseid Oversize Special #1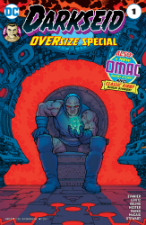 In light of the King's centenary this week it seems only fitting that our Staff Picks contain at least one of the recent crop of celebratory specials devoted to his work. And what better choice than a one-shot showcasing arguably his greatest DC creation and written by Kirby's one-time production assistant and biographer Mark Evanier?
Not only do we get a story featuring the villainous ruler of Apokolips by Evanier and Scott Kolins but there's also a back-up story featuring OMAC by Paul Levitz and Steve Rude, and original Kirby Fourth World work to boot.
A fitting opportunity to remind ourselves of Jack Kirby's astonishing imagination and equally amazing legacy.
Mark Evanier, Paul Levitz and Jack Kirby (W), Scott Kolins, Steve Rude and Jack Kirby (A) • DC Comics, $4.99
– Andy Oliver
The Comic Book History of Comics: Birth 0f a Medium TPB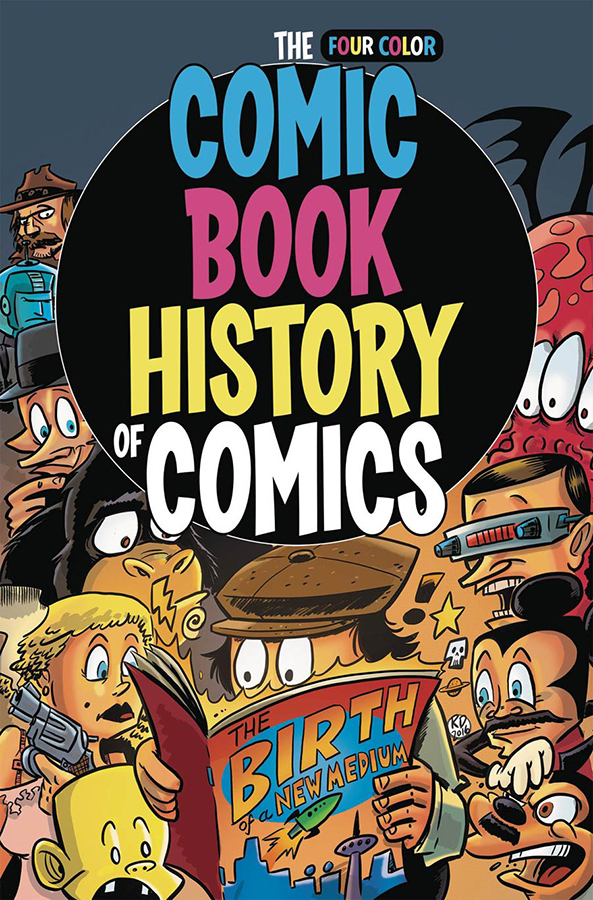 For those comic fans interested in learning more about the history of comics (and what a wild and entertaining tale it is!) what better way than by reading about it in comic form?
Originally published as an independent series called Comic Book Comics, the complete historical recap is collected in full color for the first time. Follow the bizarre trail from comic strips to pulp heroes to the dawn of superheroes as creators like Jack Kirby, Will Eisner, and Stan Lee helped usher in the birth of a new medium.
Fred Van Lente & Ryan Dunlavey (W), Ryan Dunlavey (A) • IDW, $19.99
– Tyler Chin-Tanner
Michael Dormer and the Legend of Hot Curl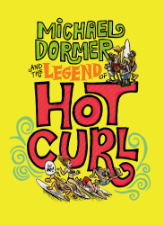 You can't mention the counterculture of the 1960s and 1970s without noting the contributions of artist Michael Dormer. Hot Curl, Dormer's concrete sculpture of an out-of-shape, ocean-gazing, mop-haired surfer with a beer in one hand and a surf board in the other. The image quickly became a nationwide sensation and appeared in SurtToons comics and was immortalized as a plastic model kit by the MPC company that sold hundreds of thousands of copies (hit eBay and try to find one, good luck). Hot Curl still appears today in Surfer magazine.
Dormer also co-created the cult-hit children's television series Shrimpenstein, an eccentric show about a little Frankenstein-like monster that comes to life after a mad scientist accidentally spilled a bag of jelly beans into his monster-making machine. Aired on Channel 9 in Los Angeles, the wacky show was a hit with children and adults alike.
Compiled with a creative reverence as only Fantagraphics can, Michael Dormer and the Legend of Hot Curl is a collection of all the Hot Curl comic strips for SurfToons, Dormer's production designs for Shrimpenstein, a selection of his fine art pieces, and other groovy tidbits, including his artwork for the opening credits to the 1964 film, Muscle Beach Party, starring Frankie Avalon and Annette Funicello.
If counterculture is your vibe, this is your favorite release of 2017.
Michael Dormer (W/A) • Fantagraphics Books, $39.99
– Karen O'Brien
Doctor Who: The Lost Dimension Alpha #1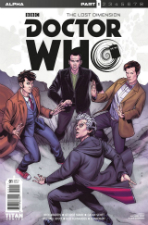 Since the Doctor Who license moved to the UK's Titan Comics this venerable comics tie-in franchise (no that's not hyperbole, check out BF's Tony Ingram on over 50 years of Who in comics here) has been positively reinvigorated – one might even say it's regenerated – and become one of the great success stories of British serial comics in recent years.
And who can be surprised by that given the absolute wealth of talent involved in the line including Eisner Award-winning Nick Abadzis and British Comic Award-winning Rachael Stott?
This month sees the beginning of a game-changing arc that crosses through the comics of all four NuWho Doctors (to date!) as the Ninth to the Twelfth incarnations of the Time Lord are faced with a terrifying threat from the empty space between universes in the shape of the mysterious Void. An excellent accessible jumping-on point for those looking for an entry point into Titan's take on the eccentric time-traveller and his worlds…
Cavan Scott and George Mann (W), Rachael Stott et al. (A), Rod Fernandes (C), Comicraft (L) • Titan Comics, $4.99
– Andy Oliver
Defenders Epic Collection Vol. 7 – Ashes Ashes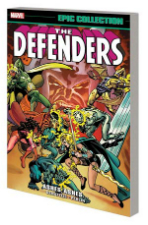 When the Marvel bug really caught me as a teenager in the 1980s there were a number of writers whose work I began to seek out over everyone else's. One of that new wave of scribes whose comics continually captivated me in those heady days at the House of Ideas was the prolific J.M. DeMatteis. The reason was a simple one – for all the colourful costumes, epic sagas and way-out characters in his stories there was an undeniable sense of humanity at their core that always resonated and connected with me.
This week sees another of Marvel's bumper softcover compilations of classic material as the latest Epic Collection reprints Defenders #110-125, a turning point in the history of the "non-team". With art from the always under-rated Don Perlin this edition explores the Hellcat/Son of Satan relationship, sees a certain Gerber-ian Elf make a significant return, guest-stars the Squadron Supreme, reveals a cosmic conspiracy that will change the Defenders forever and features a tribute issue to Dr. Seuss that remains one of my favourite super-hero tales of all time!
J.M. DeMatteis et al. (W), Don Perlin et al. (A) • Marvel Comics, $39.99
– Andy Oliver