IDW's latest Mars Attacks crossover brings the dome-heads face-to-face with none other than Judge Dredd, in glorious camp style.
Trouble, as it often is, is brewing in Mega-City One. For Dredd and the other judges, this might be just another day on the job, but this time the trouble is decidedly extraterrestrial in origin. Springing forth from the long-running Mars Attacks franchise, the dome-headed little green men have landed square in the middle of Judge Dredd's jurisdiction, launching their plan to gain control of the metropolis' criminal network as the spearhead of an invasion. Hilarity, predictably, ensues.
When a turf war breaks out over leadership of the North Sector's mafia groups, who better to settle the infighting among Mega-City One's criminal kingpins than everyone's favorite invaders from outer space? And who better to clean up the mess than 2000 AD's Lawgiver-toting antihero? In Mars Attacks Judge Dredd, this premise is pushed to the beautifully absurd limit, in a way readers of IDW's other recent Mars Attacks crossover books will recognize well.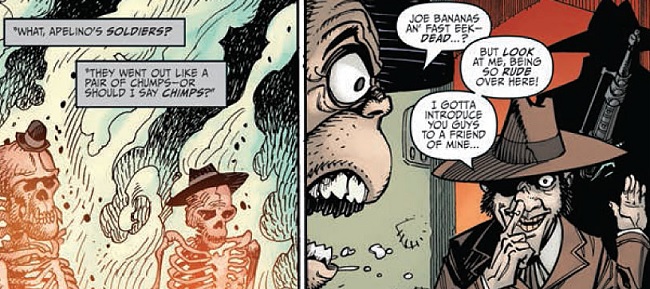 Though its style occasionally departs from that typical of Judge Dredd's past adventures, John McCrea's art does a fantastic job of laying out the contrast between the two properties, while maintaining a unified feel throughout. Aesthetically, a mash-up like this one could have easily gone wrong, but McCrea brings a well-integrated sensibility that makes it work in a way you'll have to see to fully grasp.
Al Ewing's writing, too, works better than you might expect to make this crossover cohesive and (if this is the right word) believable from beginning to end. The dialogue is consistently tongue-in-cheek, and while the "ack-ack-nack-nack" of the Martians may be easy to get right, Ewing also slips seamlessly into the clipped, often unintentionally funny back-and-forth of the Street Judges.
With an even sense of pacing and a keen ear for dialogue, the inaugural issue of this four-part miniseries is a welcome addition to two great franchises. While we may not get a full taste of the story to come, there's enough here to see that the creative team have succeeded in bringing the characters together, and in a book like this, that's always the biggest hurdle. On that count, Mars Attacks Judge Dredd passes with flying colors.
Al Ewing (W), John McCrea (A) • IDW Publishing, $3.99, September 11, 2013.