For years, the horrors of the Vietnam War were broadcast into the homes of Americans, giving them a shocking glimpse into the horrors of modern warfare and causing an entire generation to question their identity as a nation. In their new limited series from IDW, Pauls Allor and Tucker take the reader on a gritty, atmospheric street-level journey through the narrow, winding alleys of Huế on the eve of the infamous Tet Offensive.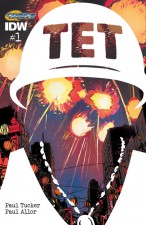 Life during wartime for Eugene Smith ain't so bad. Working for the Army as a translator in the central Vietnamese city of Huế might not be a cushy job Stateside, but it still has more than a few perks. A vibrant nightlife, a beautiful Vietnamese fiancée, and a stable routine far from the horrors of jungle warfare insulate Eugene from the violence and political mayhem exploding all around him.
Such is the status quo at the beginning of Paul Allor (TMNT) and Paul Tucker's (The Underworld Railroad) hard-boiled, haunting tale of murder and war at the height of the one of the most controversial military actions in modern history. Providing a fresh perspective on a conflict as deeply mined for stories as the Vietnam War is no mean feat, but this fusion of crime, war, and romance fiction hits the mark on all fronts.
In many ways, the Tet Offensive was the beginning of the end for the United States in Vietnam. At the very least, it was a rude awakening for the mighty American military. Having grossly underestimated the organization, training, and resolve of their Viet Cong and North Vietnamese Army adversaries, the U.S. Army suddenly found itself on the receiving end of a bloody and traumatic defeat.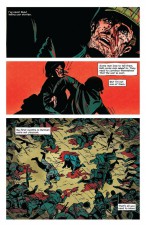 When his friend Chip, an intelligence officer who may have gotten himself tied up in a local spy ring, turns up dead in one of Huế's notorious brothels, Eugene finds himself assigned to the case, working with hardened Vietnamese officer Inspector Báo to solve the crime. Fearing that the political repercussions will jeopardize relations between the U.S. and South Vietnam, Eugene's superiors want the case closed as soon as possible.
In this first issue, the creative team firmly sets the focus on Eugene and the life he's created for himself in Huế. His relationship with Ha, a young Vietnamese woman desperate to escape the poverty and violence sweeping her country, is central to Allor's plot and provides a conflicting story driver inextricably woven into the fabric of the murder investigation.
Allor depicts their relationship's complicated path with maturity and depth. There are hidden layers of motivation in both parties, with Eugene convinced his damsel-in-distress lacks the sophistication to understand the political turmoil simmering beneath the surface of their daily routine; in fact, Ha understands the nuances of her situation far better than her fiancé ever could.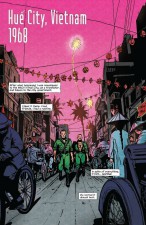 About midway through the issue, Allor flashes forward to 1984, almost twenty years after the Tet Offensive, for a glimpse of a physically and emotionally broken Eugene trying to survive as a veteran of a war nobody at home wanted him to win.
It's a brief yet starkly illuminating scene that not only depicts the cold reality of life on the home front but also adds another layer of characterization to Eugene missing from his wide-eyed younger self.
Newfoundland artist Paul Tucker makes intelligent use of textured shadows and a vibrant color palette to reinforce the complex stew of emotions and shady politics permeating the book. Hot pinks, oranges, and reds soak his panels in the claustrophobic heat and humidity of South-east Asia, while deep blues and blacks infuse the script with an ever-present sense of foreboding.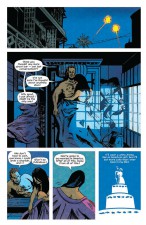 Tucker's work here is gritty yet polished, a near-perfect interplay of heavy linework and spotted blacks with a shifting color palette that services the story instead of overwhelming it with spectacle. The end result is at times garish and simmering with barely restrained emotion, while at others it leaves the reader feeling cool and reflective.
Multi-layered, visually stunning, and emotionally complex, Tet #1 is a startling, nuanced exploration of a conflict many of us thought we knew and understood. By narrowing in on Eugene's struggle to survive the war and bring Ha home, Allor and Tucker open up a world of storytelling possibilities most other fictional treatments neglect or ignore outright.
If much of your exposure to the Vietnam War comes from Tour of Duty, Platoon or the countless other fictional treatments of the conflict to come out of Hollywood, then you need to pick up Tet for a refreshing, mature take on this divisive, controversial period of world history.
Paul Allor (W), Paul Tucker (A) • IDW Publishing, $3.99