SLCZF 2023! Just ready for the South London Comic and Zine Fair, Colossive Press have completed another wave of their popular Colossive Cartographies. This continuing zine series uses the tactile qualities of the Turkish Map Fold format and invites artists to exploit its unique physical properties to present discrete graphic narratives. The results over its 48 issues have been a delight to observe and have included work from many UK indie comics luminaries, alongside creators whose practice lies in other areas of the arts. You can read more about them here at Broken Frontier.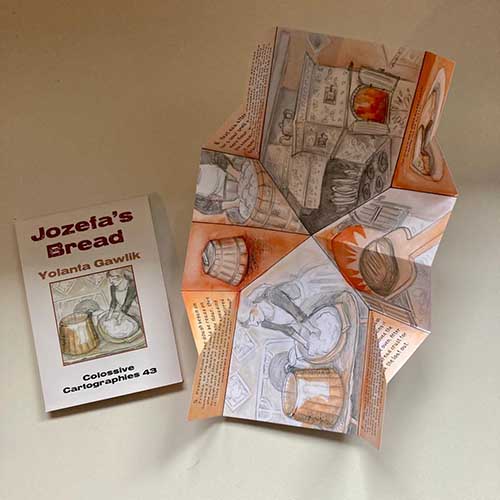 Not all the work involved is necessarily sequential art but at least half of the current crop of releases (the eighth, comprising issues #43-48) fit into that category. 'Jozefa's Bread' is the first of the new batch and recounts the bread-making process of Yolanta Gawlik's grandmother on the farm she lived at in central Poland. Gawlik's choice of warm red colours in the sequentials adds a homely and reassuring feeling of comfort in this affectionate homage to family tradition.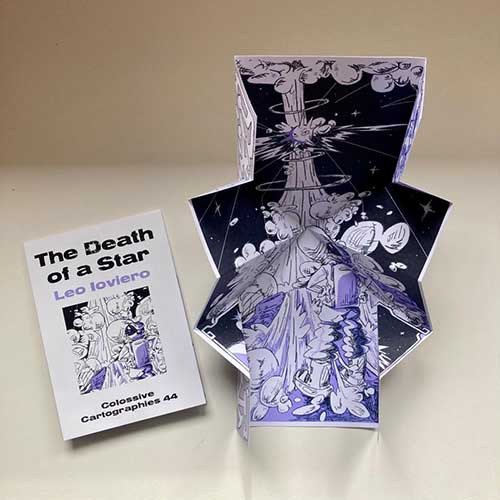 Underlining the breadth of approaches and subject matter Leo Ioviero's 'The Death of a Star' in Cartography #44 is a short science fiction comic following the progress of a lone observer in space. Visually it gives a strangely fluid and almost organic quality to the sterile environment it depicts, juxtaposing the infinity of space with the singularity of the human experience.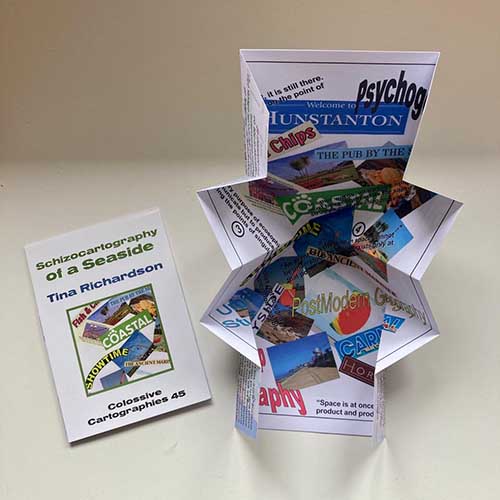 For those who are interested in the psychogeographical practice of creators like Tim Bird and Simon Moreton then 'Schizocartography of a Seaside' by Tina Richardson will have an assured appeal. There is so much to unpack and think about here; not simply a collage and text meditation on the dying British institution of the coastal town but also a commentary on the very definition of psychogeography itself. "Space is at once both result and cause, product and producer." A fascinating offering that has stayed with me long after its initial reading.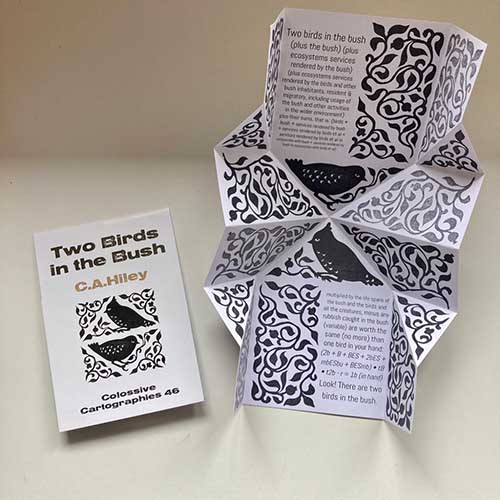 C.A. Hiley's 'Two Birds in the Bush' takes its prompt from the old adage "a bird in the bush Is worth two in the hand", extrapolating its meaning to an absurd and yet entirely logical degree. Hiley uses rubber stamps to populate the page with symmetrical patterns that both contrast and complement the sprawling nature of the text.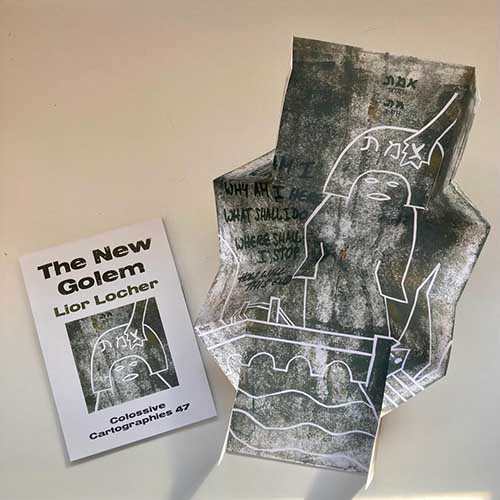 'The New Golem' by Lior Locher reframes mythology to make parallels between how the Golem of legend eventually turned on its creators with contemporary discussions about AI. One of the unavoidable limitations of the presentational qualities of the Colossive Cartographies is that occasionally there are depths to them which can only be fully appreciated by reading the small write-ups on the Colossive site. 'The New Golem' is one of those instances but it's a fascinating and thoughtful piece in that wider context.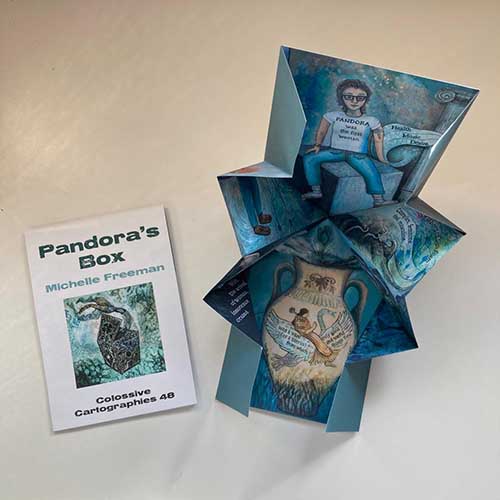 Michelle Freeman is a comics creator who has been on my radar for a long time now. 'Pandora's Box' is a contemporary comics version of the Greek myth framed as "a feminist, queer and non-binary re-telling." It's a knowing re-imagining that turns the misogyny of the original on its head with Freeman's limited but lush colour palette enriching its atmospheric visuals.
Colossive Press will be at SLCZF this month. For more on the Cartographies and their publishing range in general check out our interview with them here.
Yolanta Gawlik, Leo Ioviero, Tina Richardson, C.A. Hiley, Lior Locher and Michelle Freeman • Colossive Press, £2.00 each or £10.00 for a bundle of six
Review by Andy Oliver
SLCZF is held at Stanley Arts on July 16th. More details here.