Towards the end of 2020 we looked at the Colossive Cartographies series of beautifully tactile zines, with contributions from some of the top creators in indie and small press comics. You can read our review of the first fourteen issues here at BF and we're delighted to let you know about the first releases in the fourth series today on the site.
SERIES FOUR OF COLOSSIVE CARTOGRAPHIES KICKS OFF WITH NEW WORK BY JOE DECIE, HANNAH LEE MILLER AND PATRICK WRAY
Colossive Press are proud to announce the next three issues of their acclaimed Colossive Cartographies minizine series, described by Broken Frontier's Andy Oliver as, "One of the absolute creative high points of UK small press work in 2020". Based on the Turkish map fold, each handmade issue features a different creator and pops open from an A6 cover to a full colour A4 interior.
#19: Wait, why did I just come in here? by Joe Decie. A map of a morning's procrastination in a bold graphic style that may surprise Joe's many fans. A nod to Virginia Woolf or just too many cups of tea? Joe has been detailing family life in comic-strip form for several years, through vignettes that capture beauty in the everyday and playfully mix autobiography with the absurd. His graphic novel Collecting Sticks is published by Jonathan Cape and most recently he has been producing short comics on the internet for the French publisher Dargaud.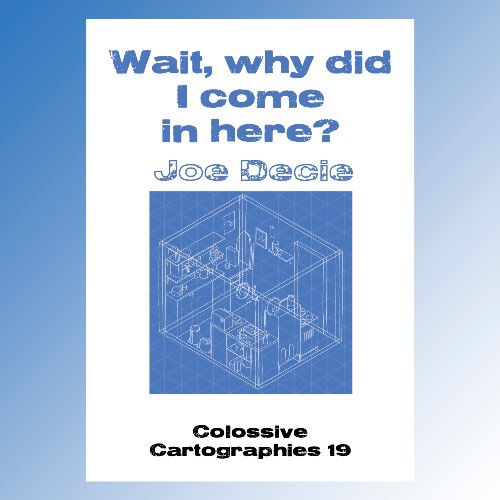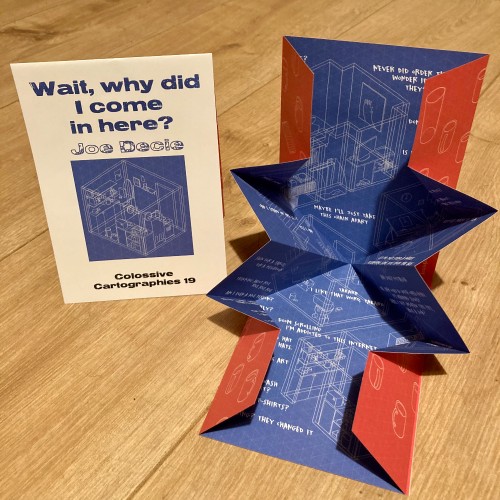 #20 Not this conversation again by Hannah Lee Miller. Using vivid cartooning and clever design, Hannah takes full advantage of the Cartographies format for a fractured look at the way we sometimes let words get in the way. A graduate from the National Film and Television School, animation producer and tirelessly creative South Londoner, Hannah's comics include Dementia Dad and Sentimental Condiments.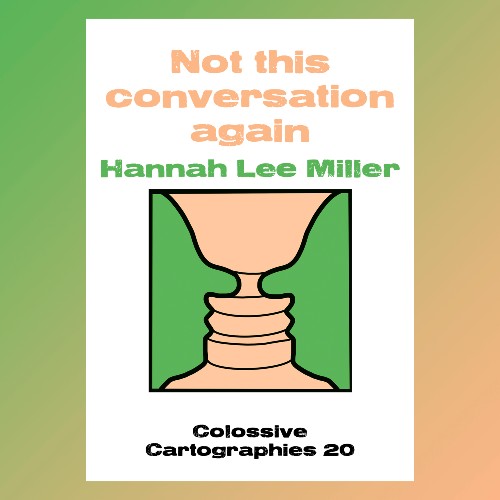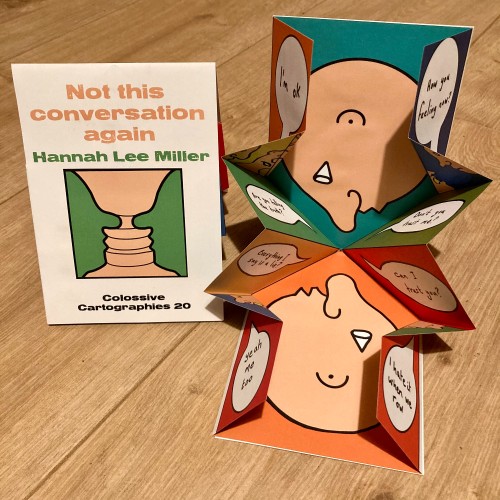 #21 Mirror Mirror by Patrick Wray. A wordless snapshot mediation on how we regard ourselves, and the way fragments of ideas and memories haunt every moment. Now based in London, Patrick studied at the Keighley Arts Factory and Darlington College of Art. He has made a lot of art and quite a bit of music over the years. Having produced various comics and zines, he published his debut graphic novel, The Flood that Did Come, with Avery Hill Publishing in 2020.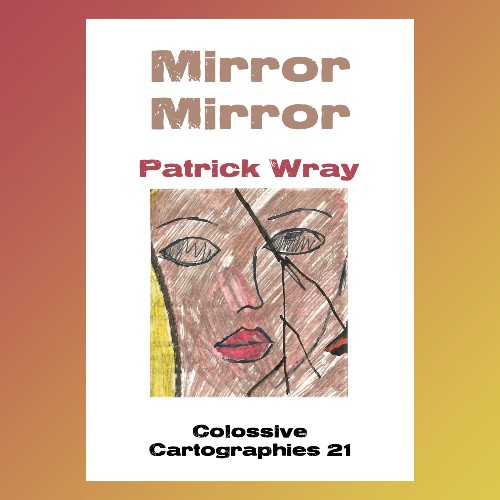 The issues are available individually for £2 or as part of the Series Four set (six zines for £10), along with three titles yet to be confirmed. (And who doesn't love a surprise?)
The Colossive Cartographies project began in mid-2020 when Tom Murphy (half of the South London-based Colossive Press, along with his wife Jane) was experimenting with bookbinding and discovered the Turkish map fold. Thinking it would be a nice format for something akin to a series of 7-inch singles, he contacted various creative friends and acquaintances – including comics creators, illustrators, writers and photographers – to see what they could do with it.
Before long the series had expanded to nearly 20 issues, from creators including British Comics Award winner Tim Bird (The Great North Wood); World Illustration Awards shortlisted artist Olivia Sullivan (Present Tense, Sid); and a host of acclaimed creators from the small press comics scene, including Peony Gent (For Sarah, Park Bench Kensington), Oliver East (Take Me Back to Manchester), Lucy Sullivan (Barking) and Gareth A Hopkins (Petrichor).
They were included in Broken Frontier's 'Celebrating 2020 – Ten UK Small Press Comics You Need to Own' round-up, and also received praise on Solrad, the US-based literary magazine for comics, where Nicholas Burman wrote, "Each contribution is super specific and singular, as you'd expect, but each one also pushes towards universality… These are maps, they just happen to not show you the way."
For more information or to purchase Colossive Cartographies, go to colossive.com/product-category/colossive-cartographies/