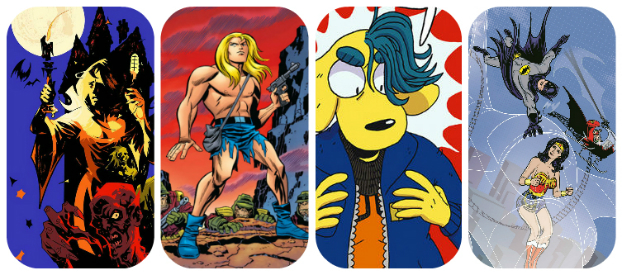 It's nearly Wednesday, and you know what that means: a fresh load of comics and graphic novels! With so many publications hitting your local comics store or digital storefront, the BF staff is here to lead you through the woods with our weekly staff picks. Satisfaction guaranteed!
Comic of the Week
Comic Book Slumber Party's Deep Space Canine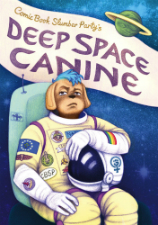 The Comic Book Slumber Party crew are off to Angoulême this weekend as part of the International Girl Gang – alongside fellow UK contingent Laydeez do Comics, Chicago's Ladies' Night and FEMSKT from Finland – and they'll have a brand new anthology offering with them! This time their signature character Greasy takes a trip off-world in the science fiction-themed collection Deep Space Canine.
We were big boosters of CBSP's last two books – the British Comic Award-nominated Fairytales for Bad Bitches and Greasy's Guide to Nookie – here at Broken Frontier, and this latest offering put together by Hannah Chapman and BF 'Six to Watch' star Alice Urbino has a brilliant line-up of talent including Katriona Chapman, Lucy Haslam, Lize Meddings, Honey Parast, Becca Tobin, Beth Wood and Jenn Woodall.
For the first time CBSP are published by BF Award nominees Avery Hill Publishing. Join the CBSP crew as they follow Greasy as she "explores strange new worlds, discovers wild new civilisations, and solves the age old problem – what to do when you've lost your best pair of knickers.". You can pre-order the book here.
Anthology – Various creators • Avery Hill Publishing, £10.00
– Andy Oliver
Kamandi Challenge #1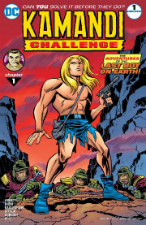 Kamandi remains one of the King's most enduring latter-day contributions to the DC canon: a sprawling post-/apocalyptic adventure that sees Jack Kirby's titular "Last Boy on Earth" fighting for survival under the rule of his callous animal overlords. The character's rare appearances since the 1970s have met with little fanfare, but DC is hoping to change all that with this ambitious year-long series.
Kamandi Challenge is a variation on the "exquisite corpse" creative method. Each issue, a new creative team adds a new chapter to the Kamandi canon ending in an impossible cliffhanger—but only after resolving that of their predecessors. Writers Dan DiDio and Dan Abnett and artist Scott Koblish, Keith Giffen, and Dale Eaglesham have the enviable task of kicking off the experiment. Curiosity alone demands that you give this one a look at your local shop this Wednesday.
Dan Abnett & Dan DiDio (W); Dale Eaglesham, Keith Giffen & Scott Koblish (A) • DC Comics, $4.99
– Paul Mirek
The Dregs #1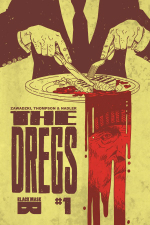 Black Mask Studios' latest series was a pleasantly horrific surprise. Created by writers Zac Thompson and Lonnie Nadler, and artist Eric Zawadzki, The Dregs is a modern pulp horror story with a deliberate social conscience and serious metafictional leanings. The plot follows a homeless man named Arnold, who stumbles upon a bizarre cannibal conspiracy in the heart of his gentrified neighbourhood in Vancouver. A kind of homeless detective, inspired by the works of Raymond Chandler, Arnold traces the movements of his missing friend through the Dregs, attempting to solve the mystery of his disappearance.
As a narrator, Arnold is delightfully unreliable. He's a drug addict and from the looks of him isn't in the best health. His grip on reality is suspect, casting doubt on the veracity of his trek through the Dregs guided by shapes and symbols nobody else sees. Zawadzki's art is grimy and visceral and robust, perfectly complementing the series' thematic intent. The first issue shows remarkable promise with its strong, original premise, intriguing protagonist, and distinctive art. Definitely a series to keep track of over the coming months!
Zac Thompson & Lonnie Nadler (W), Eric Zawadzki (A) • Black Mask Studios, $3.99
– Jason Wilkins
Animosity: The Rise #1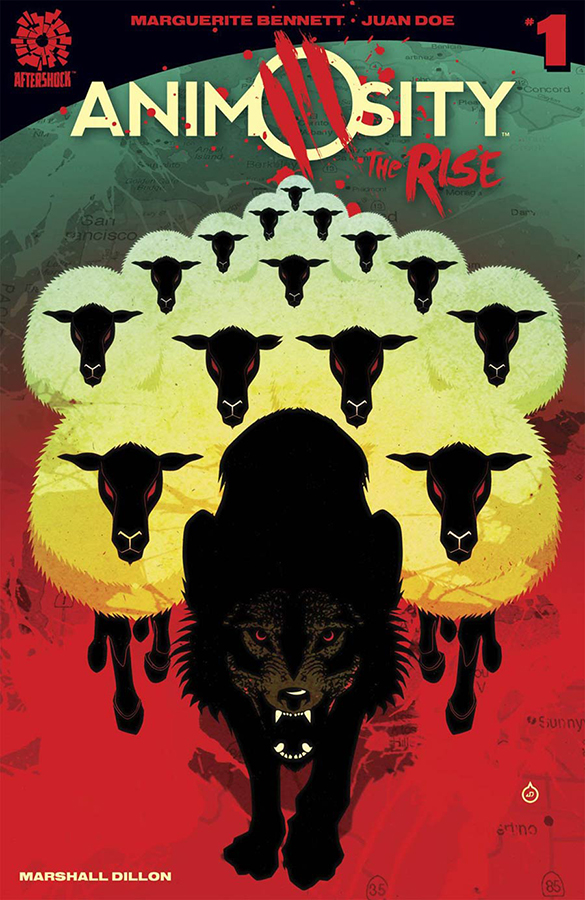 Spinning out from Marguerite Bennett's (Bombshells, InseXts) hit new series about what happens when all the animals of the world suddenly gain a higher level on consciousness. They can now speak, organize, and take revenge on the humans who have treated them unfairly for so many years.
After the events of the first story arc saw a young girl named Jesse and her dog, Sandor, trek cross country from New York to San Fransisco, a new force rises from the West, ready to help Animal-kind seize power.
This stand-alone story takes a look at the devastating effects of "The Wake" in other parts of the world.

Marguerite Bennett (W), Juan Doe (A) • After-Shock Comics, $3.99
– Tyler Chin-Tanner

Neil Gaiman's Forbidden Brides of the Faceless Slaves in the Secret House of the Night of Dread Desire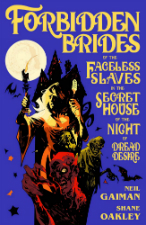 Originally published in 2003 as a prose short story, Neil Gaiman's "Forbidden Brides of the Faceless Slaves in the Secret House of the Night of Dread Desire", chronicles the herculean efforts of a young writer of non-fiction to create a fictional gothic horror story. A loving satire that pokes fun at everything we love about fantasy and horror fiction, Gaiman's tale is also notable for its use of themes and elements later explored in his critically acclaimed comic series Sandman.
Shane Oakley (Albion) illustrates this new graphic adaptation from Dark Horse, his atmospheric art evoking the story's pulp roots with gobs of black ink and a keen eye for page composition. The storytelling is clean and clear yet never boring thanks to Oakley's unique layouts. All in all, a wonderful adaptation of a much-beloved story from one of comics' most respected masters.
Neil Gaiman (W), Shane Oakley (A) • Dark Horse Comics, $17.99
– Jason Wilkins
Batman '66 Meets Wonder Woman '77 #1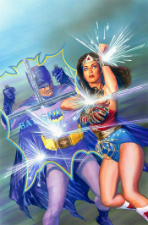 After a successful debut as a downloadable comic last fall, the six-issue print version of DC's most highly anticipated comics team-up arrives on shelves this week. Batman '66 Meets Wonder Woman '77 brings together Adam West's Batman and Lynda Carter's Wonder Woman in a time-bending adventure that spans several decades.
While fleeing Nazis who have invaded his home looking for a rare book, 10-year-old Bruce Wayne may meet his destiny after falling into the caves beneath stately Wayne Manor, unless Wonder Woman can arrive to save the day. The story travels to the 1960s and ultimately the 1970s as Ra's al Ghul and his daughter Talia have hired Catwoman (the Eartha Kitt version, not Lee Meriwether or Julie Newmar) to steal the book. Batman teams up with Wonder Woman to save the day from their nefarious plans.
I can't wait!
And if you're weary of another Wonder Woman '77 title after the mostly disappointing Wonder Woman '77 Meets the Bionic Woman series, never fear. The artwork here is consistently in touch with the source material, providing a solid basis from which to sit back and enjoy the well-paced story.
Jeff Parker, Marc Andreyko (W), David Hahn (P), Karl Kesel (I), Michael Allred and Alex Ross (covers) • DC Comics, $3.99
-Karen O'Brien