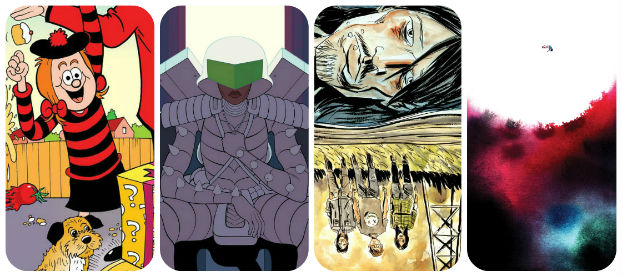 It's Wednesday, and you know what that means: a fresh load of comics and graphic novels! With so many publications hitting your local comics store, comics events or digital storefront, the BF team are here to lead you through the woods with our weekly staff picks. Satisfaction guaranteed!
Comic of the Week
The Beano #3945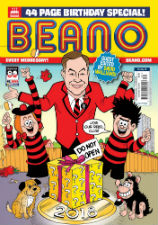 It's a British institution, a national treasure and the last survivor of a bygone age of children's weekly comics on newsagents' shelves, and this week The Beano celebrates a remarkable 80 years of publication! In light of that astonishing milestone there was obviously never, ever going to be any doubt as to what we'd be naming as our 'Comic of the Week' this week at Broken Frontier!
This birthday issue is guest-edited by comedian, author and actor David Walliams and features all our favourites like Dennis and Gnasher, the Bash Street Kids, Minnie the Minx and Roger the Dodger. Join in the celebrations and remember… in just over a year we'll get to party all over again when The Beano hits its 4,000th issue!
Anthology – Various creators • DC Thomson, £2.75
– Andy Oliver
Descender #32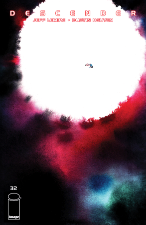 It probably seems a little counter-intuitive to pick the last issue of a long-running series as one of our staff picks. However, when that series stands as far above the mass of landfill sci-fi comics as Descender does, it's well worth highlighting again for anyone who might have overlooked it.
Starting off as a political thriller and an ethical consideration of artificial intelligence, Descender soon expanded into something altogether more profound and even cosmic in scale. As in Black Hammer, Jeff Lemire took the standard chord changes of a familiar genre set-up and wove a whole thrilling new melody. Meanwhile, Dustin Nguyen's lush watercolour work went against every gleaming sci-fi cliche to create a rich and tangible universe and an engrossing cast of characters.
And, of course, the ending of Descender paves the way for the start of Ascender, Lemire and Nguyen's follow-up series, set 10 years later (and due to hit the shelves next year).
Jeff Lemire (W), Dustin Nguyen (A) • Image Comics, $3.99
– Tom Murphy
Royal City #13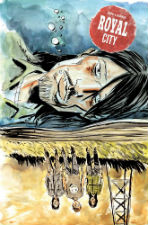 More Jeff Lemire comics now as his Royal City series reaches its penultimate issue, with storylines approaching their final destinations and character arcs converging. In this chapter the Pike family are apparently about to come to terms with the death of youngest sibling Tommy many years ago. But is Lemire working up to a redemptive finale or something else entirely?
I have made no secret of my admiration for Jeff Lemire's beautifully paced and very human slice-of-lifer and the elements of magic realism that have run through the carefully observed stories of his cast in Royal City. You can read my '3 Reasons Why You Need to Read Royal City' piece here at Broken Frontier as evidence of that. If this is a book you have yet to investigate then I envy you. Diving into the trades all in one sitting is going to be quite the experience.
Lemire's super-hero/sci-fi writing may have got a lot of the attention over the last couple of years but, for me, Royal City remains some of the finest work of his career to date.
Jeff Lemire (W/A), Steve Wands (L) •  Image Comics, $3.99
– Andy Oliver
The New World #1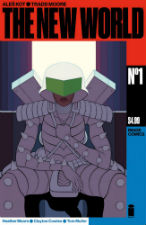 I love a dystopia that has hints of utopia. The lush, highly saturated and internationally influenced visuals of The New World paint a very inviting picture of this post-apocalyptic cyber jungle of New California. No opportunity for psychedelic pattern or Samurai Blade Runner neon grunge aesthetic costume is wasted by artist and colourist pairing Tradd and Heather Moore. Also a heroine who mixes red wine and coke is my kind of heroine.
Of course the politics is all messed up, so the central pair of star-crossed lovers have a real divide to breach. Stella Maris is a reality TV celebrity cop with a hedonistic lifestyle and both feline and robotic sidekicks, basically Robocop Janelle Monae. Kirby Shikaku Miyazaki is a "straight-edged" cyber geek political terrorist – Brad Pitt in Fight Club with a Ziggy Stardust aesthetic. In issue one their worlds collide; where it will go from there is likely to be interesting in the hands of Image veteran Aleš Kot.
Aleš Kot (W), Tradd Moore (A), Heather Moore (C) • Image Comics $4.99
– Jenny Robins
Derek the Sheep Vol. 2: First Sheep in Space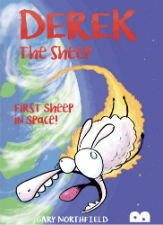 This one debuts on Thursday but it's near enough to New Comic Book Day to be included here and comes from those mischievous purveyors of all things all-ages comics at Bog Eyed Books.
Gary Northfield's Derek the Sheep returns in a second volume of misadventures that we're fairly sure haven't been reprinted anywhere since they first featured in The Beano a number of years back. Bog Eyed Books have put out some great collections for the younger end of the market over the last couple of years and this latest compilation of the exploits of the grumpy Derek and the madcap antics of his colourful supporting cast of characters will be eagerly awaited by younger and older readers alike!
Gary Northfield (W/A) • Bog Eyed Books, £9.99
– Andy Oliver
Creepy Archives Vol. 26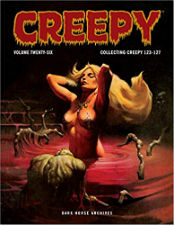 There's been a very long wait between volumes of Dark Horse's handsome reprints of one of the most influential horror comics of all time. But, finally, a new compilation of fear-filled thrillers hits shelves this week collecting Creepy #123-127.
The series is now reaching the tail-end of the original run with work from the likes of Bruce Jones, Nicola Cuti, Val Mayerik, Alex Niño, Roger McKenzie, Carmine Infantino, Bill DuBay and many others on show. Includes the 1980 Christmas issue of Creepy if you like a sprinkling of the seasonal to your supernatural…
Anthology – Various creators •  Dark Horse Comics, $49.99
– Andy Oliver