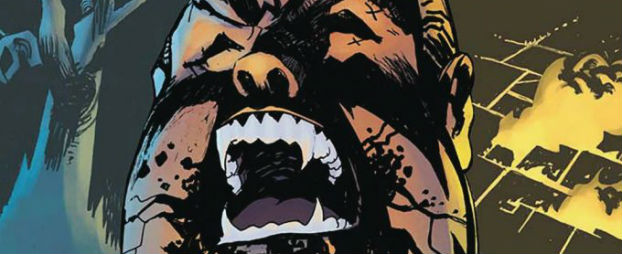 Collecting issues #1-6 of Donny Cates and Lisandro Estherren's southern fried vampire yarn, new trade paperback Redneck Volume 1: Deep in the Heart will jump off comic store shelves for its provocative title, bloodthirsty cover art and covetable creator credits alone.
Three generations of vampires living under one roof, the Bowman family of Sulphur Springs, East Texas, have managed to lead a low key existence by running the local BBQ joint and surviving off of cows' blood for the past few thousand years; until one fateful Christmas Eve… When the younger Bowmans defy their father JV's wishes by heading into town and quite literally painting it red, it's up to their surrogate uncle Bartlett to halt the series of events that threatens to end their hard-won period of peace, as fear, hatred, and bad blood surfaces between the family and their historic rivals, the Landrys.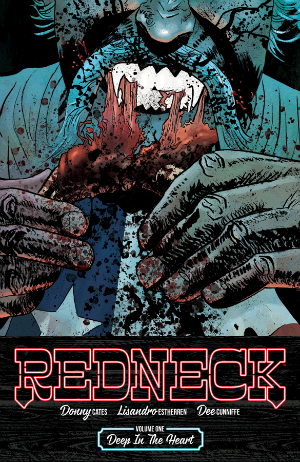 Losses are suffered by both parties, and one particular death is shrouded in mystery; although that doesn't remain too long unsolved, thanks to the powers of vampire mind-reading. The core narrative of Redneck 1 could be easily mistaken for a hackneyed clan war cliche. Nevertheless, the real value of this story is not in the conflict between the Bowmans and the Landrys, but instead between father and son, grandfather and grandson.
Southern-dwelling vampires may not be a new concept in fiction, however the genre's tropes, when coupled with topical commentary on the divisions that trouble American society today, are what give Redneck its real merit. Early on in the story we see protagonist Bartlett kicking back on the porch with a bottle of aptly named 'Bloodweiser', reminiscing on his long life, which dates as far back as the Texas Declaration of Independence in 1836.
Bartlett's immortality has allowed him to live through the longue durée of American history, witnessing firsthand such societal shifts as the Civil War and Reconstruction. So when the Bowmans and the Landrys teeter on all-out war, his character offers a unique perspective on the dividing lines that have haunted Texas and its fellow Southern States. "You live as long as I do", he tells his young niece Perry, "you learn not ta' take sides". Bartlett's point of view helps to elevate Redneck above tired genre trappings and ground the story in more meaningful territory.
The South's problematic cultural patrimony is perhaps best embodied by the inhuman looking, Uncle Creepy-esque Granpa (illustrated in effective horror form by Estherren). The moral deadlock between he and Bartlett in the face of an external threat sees the legacy of prior generations called into question by those who must inherit it, while those proud elders staunchly defend the argument that 'things were better in the old days'. "You may not approve of my methods, but I will make our people strong again", bellows Granpa in a disturbing discourse that sounds all too familiar. "Our hordes used to swallow the horizon whole! This land belonged to us!", the old man spits; physically frail, yet psychologically powerful, reminding of the persistence of historic rituals and traditions versus new attitudes and ideologies.
It may seem that male egos, violence and vengeance are set to continue ruling Texas in some shape or form, until the childlike Perry, both the youngest family member and the only remaining female presence in the clan, steps up to challenge the impotence of her both her grandfather and her uncle's generation. "I will not wait around for you idiotic old men to hem and haw while everything burns", she declares in a particularly stirring moment.
Visually, Estherren's heavy brushstrokes combined with Dee Cunniffe's colour palette of dusky blues and purples create an immersive atmosphere reminiscent of Kirkman and Azaceta's Outcast that will appeal to fans of the Image Comics aesthetic. Dark shadows are employed liberally, yet the ambiguity of some of the artwork means that key action is at times obscured, and the potential for some real horror details goes unsatisfied.
Blood feuds and generational tensions in vampire comics have certainly been seen before, in the likes of Scott Snyder's American Vampire and Howard Chaykin's Bite Club. However, in these first six collected issues, Redneck promises to sink its teeth into a number of potent questions, and displays the potential to venture into new ideas asking to be explored.
Donny Cates (W), Lisandro Estherren (A), Dee Cunniffe (C), Joe Sabino (L) • Image Comics, $16.99