Noel Lang and Rodrigo Garcia's gently humorous Downtown is an inspiring look into the everyday life of Blo, a boy with Down's Syndrome, and his likeable group of pals.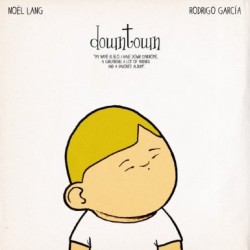 "The bad thing about having Down syndrome is that, the day you're born, your parents are a little sad… …the good thing is that, after that day, they are never sad again."
So begins writer Noel Lang and artist Rodrigo Garcia's Downtown, a collection of cartoons and short comic strips about Blo, a young boy with Down's Syndrome (or Down Syndrome depending on your global variations in terminology) and his colourful circle of friends. Blo and his inseparable Petula Clark record go everywhere together and he is joined in his adventures by a number of memorable supporting characters. There's his girlfriend Bibi, his pal the exercise-hating Big Mike, special chum Little Ben who suffers Trichotillomania and pulls out his hair when anxious, and everyone's best friend at school Ruth.
Downtown was inspired by Noel Lang's uncle who has Down's, and designed to create an understanding of the condition through humour. More than anything else, it's a book that celebrates the perceived differences of its cast and one that consciously avoids depicting those with Down's Syndrome as living with limitations. It doesn't patronise or condescend in its portrayal of Blo and company, rather it invites you into their environment and encourages you to see the world through their eyes; to experience it as they perceive it.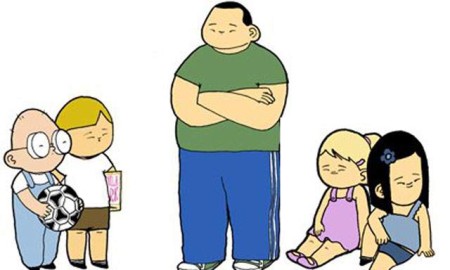 It's a touching and sensitively played approach that brings us directly into the mindset of the characters and their particular logic that, skewed as it often is, always makes perfect contextual sense. If Downtown is an educational offering then it's one that seeks to do so by informing attitudes rather than by providing a barrage of medical facts. Garcia's art is clear and completely accessible throughout, investing each character with their own individual quirks and recognisable personalities, many of which become the basis for a number of running gags. The unfussy but elegant visuals have more than a hint of a children's storybook illustrative philosophy to them.
Lang and Garcia's empathic partnership ensures that the witty script and affable art make us fall in love with these unforgettable characters. Written with an accessible style that ensures it is a genuinely "all-ages" book, Downtown is an uplifting offering with a joyful positivity.
Noel Lang (W), Rodrigo Garcia (A) • Kettledrummer Books/Diabolo Ediciones, $23.95, January 17, 2013.