In recent years, Steven Appleby has been heard on occasion to speak two words in particular about what good art should be: 'ambitious' and 'engaging'. Dragman is, of course, both.
This graphic novel is a culmination of many ideas and genres. Superhero comic, noir thriller, gentle British mystery, surreal sci-fi, domestic drama, social commentary and quest for identity. Dragman has it all. Throughout, it draws you in with its warmth and humour.
Steven Appleby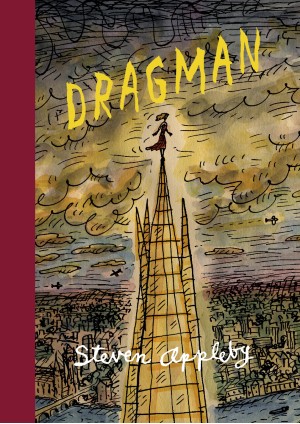 's wry, whimsical cartoons and work in other mediums have delighted audiences for a good many years. Some personal highlights for me have always been Captain Star , the video How to Think as well as the standalone strips in newspapers. Of course, the pinnacle of any career, no matter how illustrious, is the publication of one's first graphic novel. The character of Dragman first appeared in a 2002 Guardian strip, flying down from the sky to save fashion victims from dreary outfits. His superpower of flight only manifests when he puts on women's clothing. At the end of the book you can read Steven's account of how he explored the themes of transvestism and other trans and queer identities in his work over the years, as he also came to embrace his own identity as a trans-woman, whilst preferring still to be called Steven. This is not a work of autobiography however, because he can't fly (we assume).
This is also far from a typical superhero comic. There are elements of the tropes of capes and capers, but seen very much through a surreal lens. The world of Dragman is like, and unlike our own. It's pretty damn bleak actually, although the jokes help of course. Here is a world with superheroes, but in which you have to pay your superhero insurance or they won't save you; a world in which you can sell your soul quite casually, and in which the murder of trans-women is a common occurrence. All of these, of course, are true on some level of our own world, but only the last fact is true on face value. And just like in our world, the majority of people continue to get on with their lives and try not to think too much about the terrible things that are going on around them.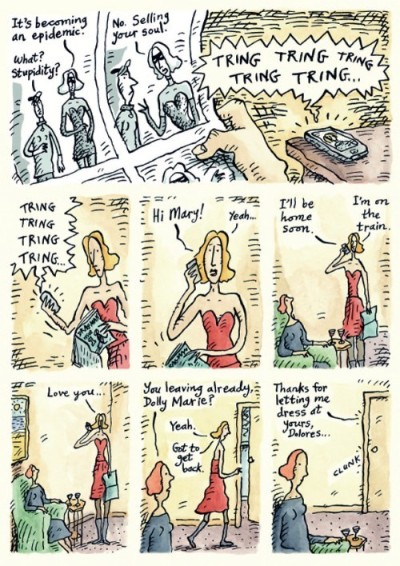 August Crimp is one such person, retired from his life as superhero Dragman aka Dolly Marie, and getting on with raising his young son, until circumstances conspire to draw him back into the game. The main narrative is told in 9-panel grid pages, with the occasional artfully employed full page number. There is also a parallel thread of prose narration from the point of view of a very unpleasant character. These sections have a noirish, psychological thriller overtone and are black text printed on plain white pages. A few other sections – white text on mottled dark backgrounds – seem to tell August Crimp's troubled dreamscape.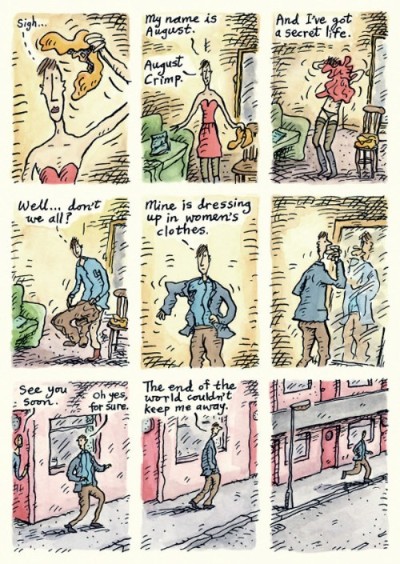 Combined together, these modes of storytelling create a rich and gripping book. The sheer inventiveness of the universe is as strange and fun as you would expect of Steven's work. The superhero identities alone are superb, from Marsupialman (What's in my manpouch today, scumbags?), The Philosopher, Flypaper, The Fist, Goldfish Boy and so forth, and Dragman's grumpy but brilliant sidekick Dog Girl.
As August and Dog Girl work together with Cherry (August's teenage neighbour) to solve a murder or two and generally save humanity, they reflect on their shared history and their dystopian present, with appropriate levels of incredulity. Beautifully produced and coloured by Nicola Sherring, Dragman is a big book, with depth and breadth in every sense.
Steven Appleby (W/A), Nicola Sherring (C) • Jonathan Cape, £18.99
Buy online from the publisher here or from Gosh Comics here
Review by Jenny Robins