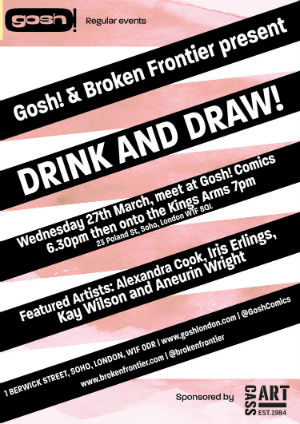 The third Gosh! Comics and Broken Frontier Drink and Draw of 2019 is nearly here! And we have yet another fabulous line-up of small press artists on Wednesday March 27th as more indie talents join us for our regular monthly meet-up, sponsored by Cass Art.
You can find us upstairs in The King's Arms on Poland Street and, as ever, your co-hosts for the night are myself (Broken Frontier Editor-in-Chief Andy Oliver) and Gosh's very own Nora Goldberg. The fun begins at 6.30pm at Gosh! on Berwick Street before we head off for our sketching and drinking antics at 7pm. Don't forget you can join the official Facebook event here.
A quick intro to this month's artists…
Aneurin 'Nye' Wright was first featured at Broken Frontier way back in 2012 when I reviewed his graphic memoir Things to Do in a Retirement Home Trailer Park …When You're 29 and Unemployed here from Myriad Editions. The book was a distinctive entry in the graphic medicine strand of comics storytelling and detailed his time as a full-time carer for his terminally ill father. You can also read an interview with Nye about the memoir here.
Nye's recent work has included the well-received literary humour strip Sprout's BookClub for the Waterstones blog. He is currently working on Noni's Wedding for Myriad Editions.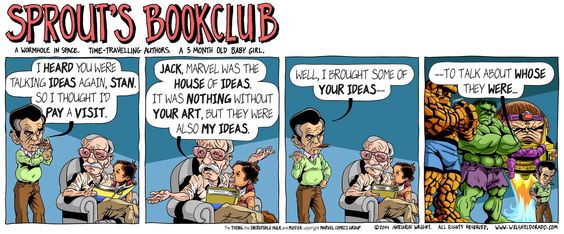 London College of Fashion and CSM graduate Alexandra Cook is a freelance illustrator, textiles print design and jewellery designer. She's also produced a number of zines in the past including the vibrantly coloured, all-ages Eat Your Fruit! which we reviewed here at BF.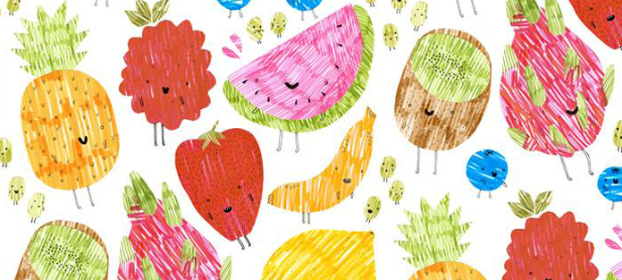 Iris Erlings is another of this month's guest artists with links to the University of the Arts London. Iris is a photographer, illustrator and zine-maker who has produced MYND, depicting her favourite modernist sculptors.
And, finally, Kay Wilson is a London-based illustrator who is "inspired by British mythlogy, Vogue and the work of Tove Jansson" and who provided art for Hollie Haines' album Letters to My Last Love.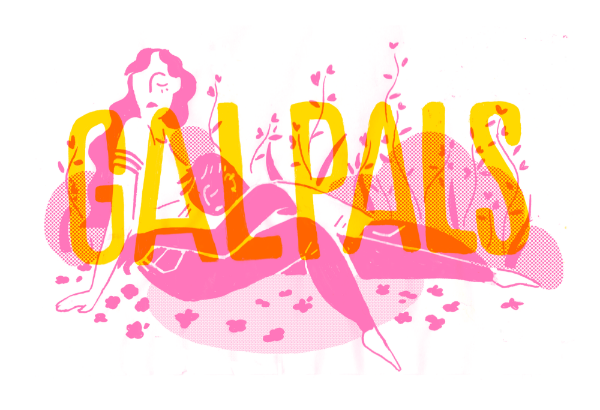 Join us on Wednesday March 27th, then, for another fun evening of drinking, drawing and comics camaraderie. We kick off at 6.30pm in Gosh with a chance to get hold of signed comics and books from all our featured creators before moving over to The King's Arms for 7. We look forward to seeing you then!
The Facebook event page for the night is here.