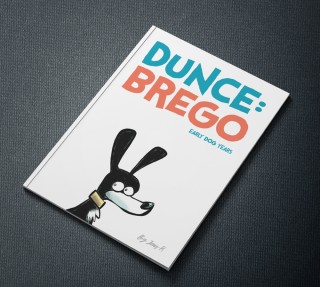 Spinning out of his autobiographical Dunce series (described as "an alternative universe, where Calvin has grown up and moved to Norway") Norwegian cartoonist Jens K Styve's comic Dunce: Brego follows the adventures of the titular family pet, giving us a humorously dog's eye view of the world. Beginning with Brego's introduction to Jens and the rest of his human family it catalogues all the expected canine mishaps one would expect as our four-legged friend adapts to his new life and his "owners" in turn adapt to him.
What follows is a series of short one-page misadventures that build up into a wider, overarching narrative. Jens K structures each page into a four-panel strip building up to punchlines that veer from the cuttingly funny to the gently observed. The on-page Styve and Brego's relationship is often a fondly adversarial one. Brego is depicted in anthropomorphic terms in character if not physicality, chatting with his "master" and occasionally adopting quite human habits (claiming to view YouTube, settling down with a good book and so on). But his dog-like qualities always come back to the fore – chewing on furniture, constantly demanding food and consuming horse poop among others.
Styve has an angular cartooning style and his pages are full of gurning creations whose caricatured features epitomise the madcap world they live in. While the focus is primarily on Brego what is so clever about this collection of short tales is that it says as much about the human family and their world as it does about Brego's canine perceptions of it.
Dunce: Brego is a spin-off from the main Dunce feature that will obviously be of interest to Dunce fans but it is also entirely self-contained as an offering. Fun, escapist and diverting fare that is all the more important in these troubling times. UK readers wanting to investigate Dunce further can still find selected issues at the Good Comics store.
For more on the work of Jens K Styve visit his site here and follow him on Twitter here.
Review by Andy Oliver