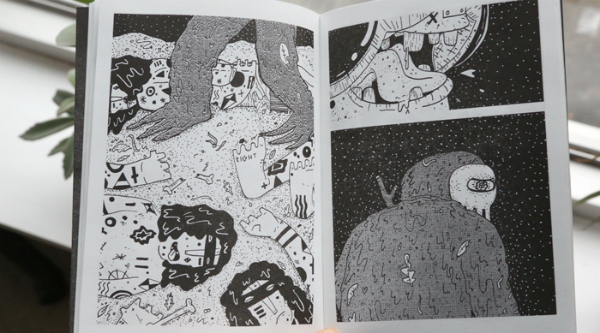 Eerieeeeee are a newer outfit on the small press scene, both publishing their own line of books and distributing a number of others like Lizz Lunney's Street Dawgz, reviewed by me here in this column earlier this year. Dungpoora is one of their first titles and is created by Eerieeeeee's own Joel Millerchip. It's a near 50-page account of the return to the physical plane of the titular character – the deity of elephant excrement – after being banished from our reality in the distant past.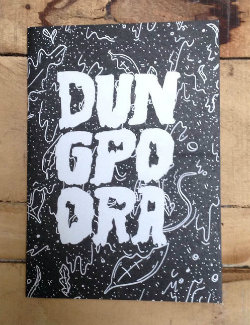 After re-establishing himself on Earth, Dungpoora seeks retribution on the human race and his revenge begins with the first village he discovers after his jungle rebirth. There, however, he will encounter a local shaman who may just have the measure of this supernatural paragon of pachyderm poo…
Admittedly Dungpoora is hardly the most sophisticated story you are likely to read this year but its scatological silliness is peculiarly appealing in conveyance. The conflict between village elder and his faecal foe, for example, is drolly choreographed with some truly smirkworthy visual gags of a waste-based nature. Indeed, this is a comic that rewards re-reading because Millerchip's panels are crammed with witty details you may have missed the first time round.
Telling an effective story without the framework of language to fall back on is one of the toughest disciplines in comics but, for the main part, Millerchip's visual storytelling in Dungpoora is strong enough to carry it off. His panel-to-panel pacing is of particular note in this regard, especially the manner in which he jumps to full splash pages to emphasise moments of dramatic tension or pivotal turns in the tale. And there's something hypnotically fascinating about his artwork and the almost contradictory way in which it manages to be distortedly organic and yet oddly blocky and caricatured at the same time.
Dungpoora's major narrative problem though is that, without the promo blurb on the Eerieeeeee site about the specifics of the book's plot, a casual reader would find it hard to comprehend some of the nuances of the tale, particularly Dungpoora's back story and motivations. Significant elements of that type should really be clearly embedded in a strip rather than being supplementary reading, regardless of the difficulties surrounding the placement of overt exposition within a silent tale.
However, while the premise of Dungpoora is undoubtedly a slight one, the delivery shows immense promise. If this sort of genuinely quirky output is characteristic of Eerieeeeee's future publishing plans then we have a most welcome addition to the ranks of British micropublishers to keep a careful eye on in the immediate future…
For more on Joel Millerchip's work visit his site here. Dungpoora can be bought from the Eerieeeeee site here priced £9.00.