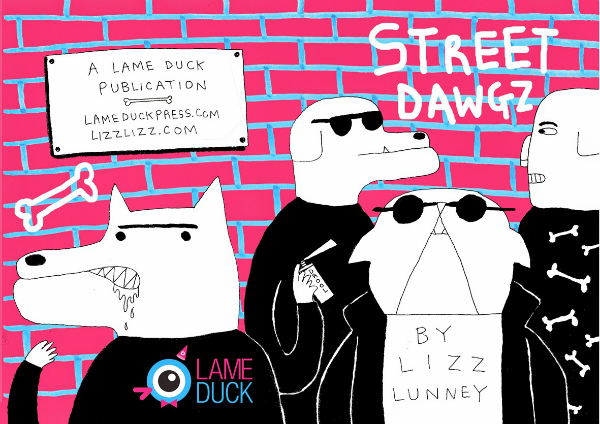 It's been a surprisingly long time since I last covered a solo Lizz Lunney comic in this column. Of course her work has hardly been totally forgotten here at Broken Frontier in that time. Lunney is a prolific contributor to anthology projects after all, many of which I've reviewed in 'Small Pressganged' – Bimba, Wu Wei, Tiny Pencil and The Heroines Zine all spring to mind – and just last week I was talking about her pages in Birdcage Bottom's Cringe: An Anthology of Embarrassment.  Let's also not forget Take Away!, the Blank Slate compilation of her strips, which was reviewed here at BF last year.
Street Dawgz is her latest minicomic, one that debuted in November at the UK's Thought Bubble convention. Published under the Lame Duck Press imprint it marks a significant and deliberate shift in Lunney's creative process, presenting work that is less polished than previous offerings but closer to her original vision at the time of creation. As she described in this recent interview on the Blank Slate Books website, in Street Dawgz the editing process has been effectively discarded after the initial commitment of ideas to page, and the "energy and mental anguish of the first time the pen hits the paper" retained instead.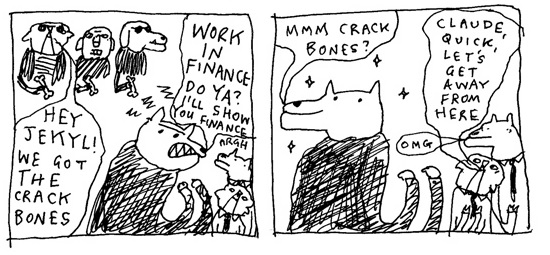 Of course that lack of "post-production" refinement of the strips means that there are the odd noticeable imperfections in the comic – spellings occasionally change and characters' names appear interchangeable at one point, and the quality of the visuals can be noticeably rougher in places – but there's something inherently exciting, in a live episode of Coronation Street kinda way, about work produced in this warts and all fashion. It's both a little bit dangerous and also something of a love letter to the values of pure DIY culture. Most importantly, though, it's an experiment worth persevering with if what appears on the page is truer to the artist's original intent.
Longer-term Lunney aficionados will be well aware that her comics work on two important levels. Firstly they're a collection of the misadventures of a diverse band of (largely but not exclusively) eccentric anthropomorphic animals – Depressed Cat, Dullbog the Bulldog, Leaning Rabbit and so on – whose idiosyncratic character tics feed into the running gags that define them. And, secondly, however bizarre many of her creations are, there's always an element of social observation about the foibles of human nature sitting at their conceptual core.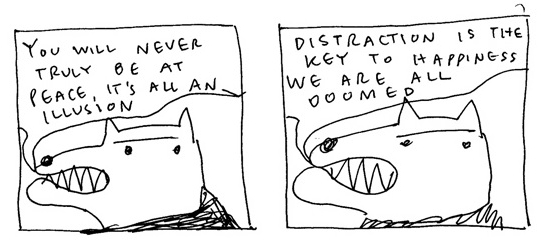 Street Dawgz is something of a diversion, then, not just for its rawer creative approach but for a long-form story of the kind we rarely see from Lunney. The titular characters are a gang of canine urban rogues who are far less terrifying than their hard man postures may initially suggest. Jekyll, with his addiction to "crack bones" and tendency to fall into an intense delirium after consuming them is the most unpredictable. The rest, including avid collector Dingo and the rather incongruously named leader Ian, fall more into the "bark is worse than their bite" category.
In the 20-plus pages of Street Dawgz this crew of four-legged fiends spout maudlin drug-induced existential philosophy, deal with Dingo's hoarding obsessions, and defend their cardboard box home from the attentions of Street Fox. The latter's awareness that that they're all characters in a comic tying in with the cheeky metafictional vibe of the whole affair. It's the usual madcap Lunney silliness but less dependent on punchline-style endings or characters with a single schtick. Though I suspect that once we get to the second edition of Street Dawgz what's been set up in this opener will translate into at least some recurring humour.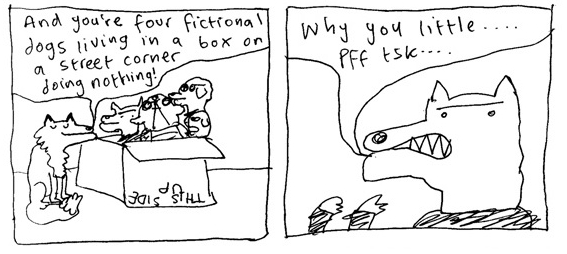 Whether that aforementioned slightly more experimental presentational slant to Street Dawgz means it will be less accessible to Lunney newbies is a matter for debate. The visuals are certainly less refined but personally I feel anything that brings us closer to the original intended spirit of the work is to be commended. There is, of course, an entire Lizz Lunney online Megastore courtesy of UK retailer Page 45 here if you want to check out her work previous to this title. Street Dawgz may take a little more hunting down but its trademark Lunney absurdity is well worth the effort!
You can buy copies of Street Dawgz online via Eerieeeeee Distro here priced £5.00. For more on the work of Lizz Lunney check out her website here. You can also join her Fun Club via Patreon here.
For regular updates on all things small press follow Andy Oliver on Twitter here.