What delighted me about The Heroines Zine when I first started flicking through its pages was the way in which it embraces old school zine philosophy. It really is a wonderful evocation of that D.I.Y. self-publishing culture that the rise of the Internet initially suppressed but, in recent years, has seen something of a resurgence – a renaissance even – as a showcase for personal expression. The zine may seem a rather retro method of delivery in an age of multiple online platforms but it hearkens back to an important tradition of underground publishing that I'm pleased to see not just being preserved via the fairs and festivals I browse in London but enthusiastically adopted by a brand new generation of creators and activists.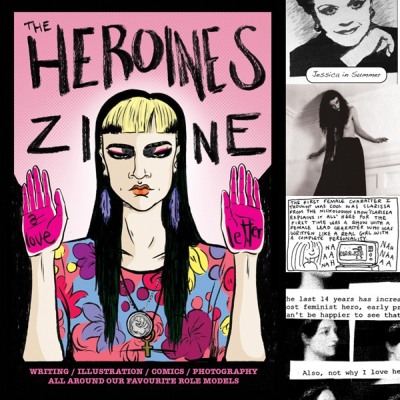 Now, first up, The Heroines Zine is most certainly not an entirely comics publication – in fact they make up only a small part of its contents – but the list of notable comics bods featured within its pages more than makes it a relevant subject for some quick coverage in 'Small Pressganged'. Editor Julia Scheele has compiled an anthology that gives a whole host of contributors an opportunity to laud their own personal female role models. Sometimes that takes the form of focusing on someone who has had a tangible effect on their lives while in other cases the pieces are more casual but no less affectionate.
Group zine efforts are always fun from the perspective of observing a number of people who have been given a starting theme and then gone away and constructed something that will later be collated into a disparate whole. I always love that wonderful sense of randomness that the numerous interpretations of the core concept embodied in these exercises brings. That's not just in personal approaches but in terms of presentation as well – The Heroines Zine comprises comic strips, illustrated anecdotes, a photocollage with accompanying description, an all-text offering, spot illos and an interview.  All ripe for dipping in and out of as the mood takes you.
A transparently obvious thing to say but, as is always the case with a project like this, different offerings will appeal to different readers. For myself, though, the following entries provided some of the highlights of this issue. Long-time 'Small Pressganged' favourite  Lizz Lunney puts aside the surreal silliness for a moment to give a one-page personal recollection of how she was inspired growing up by the depiction of the titular lead of Nickelodeon show Clarissa Explains it All. In direct contrast Heather Wilson's two-page comic looks at perhaps a more obvious choice with a very personal account of suffragette Emmeline Pankhurst's effect on her childhood (below) while there's something almost haunting about the layout of Kieron Gillen's tribute to "poetical scientist" Ada Lovelace. And Ellen Lindner's interview with street artist Lauren O'Farrell (Deadly Knitshade) again emphasises the multiplicity of potential approaches to their subjects available to the zine's contributors.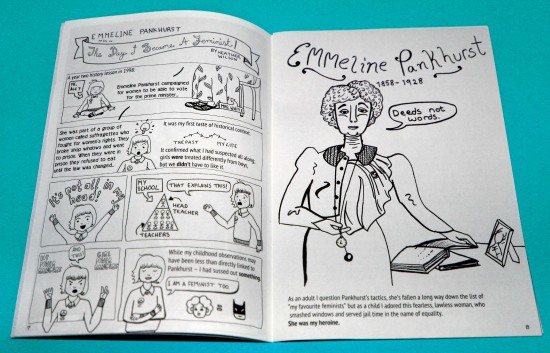 From single illustrations of Ripley, Taylor Swift and Stevie Nicks from Tom Humberstone, Timothy Winchester and Julia Scheele through to mini-essays on Roald Dahl's Matilda by Natalie Guest, or Aretha Franklin by Cara Ellison, The Heroines Zine is a sometimes thoughtful, sometimes witty, but always engaging miscellany. Whether it's an outlet for pop cultural ephemera, political activism or counter-cultural rebelliousness, the zine has a long and proud tradition as a venue for self-expression. Let's see more similar publications with offerings from within the comics community very soon…
You can order a copy of The Heroines Zine from Julia Scheele's online store here priced £3.00.