Dynamite has provided BF with a preview to their titles (Green Hornet, Pathfinder, Battlestar Galactica, Voltron, Lord of the Jungle, Bionic Man, Peter Cannon), in store May 15, 2013.
MARK WAID'S THE GREEN HORNET #2
Mark Waid (w)
Daniel Indro (a)
Paolo Rivera (c)
FC • 32 pages • $3.99 • Teen+
Britt Reid has always been a hero to the people, whether in his civilian identity as a newspaper publisher, or as his costumed alter-ego. But in one terrible moment, the Green Hornet turns on the city that he'd sworn to protect, becoming their worst enemy!
FANS, ASK YOUR RETAILER FOR THE:
Paolo Rivera black & white art retailer incentive cover
Paolo Rivera "virgin art" retailer incentive cover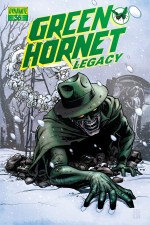 GREEN HORNET LEGACY #36
Jai Nitz (w)
Jethro Morales (a)
Stephen Sadowski (c)
FC • 32 pages • $3.99 • Teen+
Snowfall blankets the city and peace is restored. The aftermath of the "Hornet's Reign" arc leaves Century City without heroes and villains alike. That's why there's no one to stop the madman who is stealing bodies from the city's morgues and funeral homes. Who can stop the dead from rising when the Green Hornet is dead?
VOLTRON #12
Written by Brandon Thomas
Art by N. Steven Harris
Cover by Sean Chen
FC • 32 pages • $3.99 • Teen+
Everything is changing for the Voltron Force. One of their number has perished, another casualty of the turmoil engulfing the galaxy. One of them is intending to leave the unit permanently for a much different life. One of them is receiving the opportunity of a lifetime, even though they might not be ready. One of them is committed to saving everything there is. And one, well one of them is carrying a secret that ensures they'll never again be welcome amongst their ranks. One door closes and three more open in "31 Days," as the Galaxy Alliance decides just how many more Voltrons are truly necessary to defend the universe…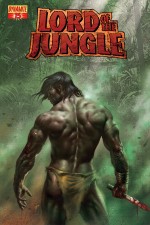 LORD OF THE JUNGLE #15
Arvid Nelson (w)
Wagner Reis (a)
Lucio Parrillo (c)
FC • 32 pages • $3.99 • Teen+
Before they return to civilization, the Jungle Lord and Jane Porter plan to explore the forbidden recesses of Opar, a lost city of gold hidden in the heart of Africa. But they are not alone in the ancient ruins! A shadowy beast stalks their number, picking off their compatriots one by one… a creature more savage and deadly than any ever before encountered!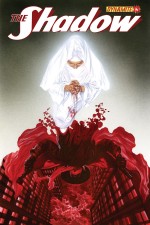 THE SHADOW #13
Chris Roberson (w)
Giovanni Timpanol (a)
Alex Ross, Paolo Rivera, Tim Bradstreet, Francesco Francavilla (c)
4 regular covers will be shipped in equal ratios
FC • 32 pages • $3.99 • Teen+
A grisly string of random murders has left the authorities baffled, but The Shadow believes there is method to the killer's madness. At each crime scene, eyewitnesses have spotted the spectral figure of a woman in white. Is "The Light" behind the murders, or a victim's lost spirit? The Shadow must unravel the mystery before the killer strikes again!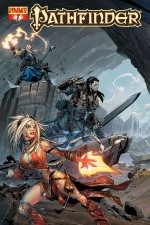 PATHFINDER #7
Jim Zub (w)
Jake Bilbao (a)
Lucio Parrillo, Carlos Gomez (c)
2 regular covers will be shipped in equal ratios
FC • 32 pages • $3.99 • Teen+
A new evil is rising in Varisia! When Valeros and his companions are tasked with tracking down a mysterious beast scaring the locals of Sandpoint, they find far more than they bargained for! The hit comic series based on Paizo's incredible award-winning fantasy world, fiction line, and tabletop RPG continues, featuring exclusive Pathfinder bonus materials like the fan-favorite region Maps!
THE BIONIC MAN #20
Aaron Gillespie (w)
Rey Villegas (a)
Mike Mayhew, Ed Tadeo (c)
2 regular covers will be shipped in A 10:1 ratio (10 Mayhew, 1 Tadeo)
FC • 32 pages • $3.99 • Teen+
As events in Libue spiral out of control, the Bionic Man is pushed to the limits to put an end to a madman's deadly schemes. With Washington D.C. in the crosshairs, Steve will learn that no victory comes without some price and nothing is clean in this business. Find out what happens as Desert Deathtrap reaches its exciting Conclusion!
FANS, ASK YOUR RETAILER FOR THE
Mike Mayhew "virgin art" retailer incentive cover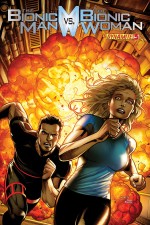 THE BIONIC MAN VS. THE BIONIC WOMAN #5 (OF 5)
Keith Champagne (w)
Jose Luis (a)
Sean Chen, Jonathan Lau (c)
2 regular covers will be shipped in equal ratios
FC • 32 pages • $3.99 • Teen+
Fighting side by side, Steve Austin and Jamie Sommers race to stop the unstable Trench from detonating in the heart of OSI headquarters. Can they work together long enough to save the day?
FANS, ASK YOUR RETAILER FOR THE
Chris Eliopoulos "cute" retailer incentive cover
Jonathan Lau B/W retailer incentive cover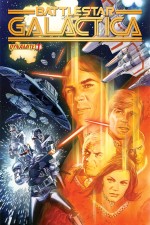 BATTLESTAR GALACTICA #1
Dan Abnett, Andy Lanning (w)
Cezar Razek (a)
Alex Ross (c)
FC • 32 pages • $3.99 • Teen+
MEMORIAL Part 1! 2013 marks the 35th anniversary of the original Battlestar Galactica TV series and to celebrate Dynamite is launching a brand new series, written by cosmic supremos, Dan Abnett & Andy Lanning (Legion, Nova, Guardians of the Galaxy)! Set in classic BSG continuity, this series celebrates 35 years of epic space opera when, following a surprise Cylon attack, Adama and the crew of the Galactica are forced to deploy Dr Zee's experimental temporal weapons with unexpected results that leave Apollo and Starbuck lost in time and space in an alternate reality with no Galactica and no way of returning home!
FANS, ASK YOUR RETAILER FOR THE
Alex Ross B/W art retailer incentive cover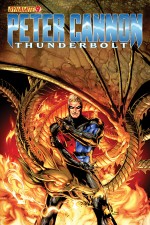 PETER CANNON: THUNDERBOLT #9 (OF 10)
Steve Darnall, Alex Ross (w)
Jonathan Lau (a)
Alex Ross, Jonathan Lau (c)
Fans & retailers, order the cover of your choice!
FC • 32 pages • $3.99 • Teen+
In "Going Underground," Thunderbolt is a man on the run. His secret revealed, he finds himself unsure of who or what to trust—including his own senses—and he must push his mind and body to the limit as he faces one of his (literally) oldest foes — the mind-bending Princess Evila!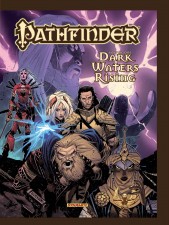 PATHFINDER VOL. 1: DARK WATERS RISING HC
Jim Zub (w)
Andrew Huerta (a)
Matteo Scalera (c
FC • 160+ pages • $29.99
The warrior Valeros can rely on his sword arm and his friends – the mysterious sorceress Seoni, quick-witted elven rogue Merisiel, powerful wizard Ezren, well traveled dwarven ranger Harsk, and courageous cleric Kyra – but nothing can prepare him for the dangers that lurk ahead. The scattered goblin tribes of Varisia are unifying in ways no one has ever seen before. At the heart of this strange evolution is an ancient force of evil looking to establish itself anew in the world of Golarion! Paizo's award-winning fantasy world, fiction line, and tabletop RPG is now the ultimate fantasy comic! With an action-packed story written by Jim Zub (Street Fighter Legends, Skullkickers) and incredibly detailed artwork by newcomer Andrew Huerta, this first volume introduces readers to a richly envisioned fantasy world filled with compelling characters and impressive sights.
Collection Features:
• Issues 1-6 of the hit series by Jim Zub and Andrew Huerta
• The exclusive, never-before printed tale, "The Last Mosswood Goblin," by Jim Zub and Ivan Anaya
• All 31 beautiful covers by Matteo Scalera, Lucio Parrillo, Erik Jones, Tyler Walpole & Dave Dorman
• An introduction by Paizo Publisher Erik Mona
• 42 pages of encounters, characters, and world detail for the Pathfinder RPG
• An all-new, removable poster-map of the region explored in the comic
• And more!