With current events forcing postponements or cancellations of festivals and conventions ELCAF (the East London Comics and Arts Festival) have announced that this year's event will be moving online. Regular Broken Frontier readers will be aware that this a weekend that we particularly love at BF having been a festival partner in recent years, chairing the Broken Frontier panel at ELCAF since 2015 and running extensive themed coverage beforehand (check out our 45 ELCAF articles from 2019 here!).
While in 2020 we'll all no doubt miss the Round Chapel, ELCAF's remarkably atmospheric home, the move to a digital platform offers lots of exciting opportunities in itself. We've worked so closely with the ELCAF team in recent years because we respect and admire their dedicated commitment to our comics community, and we know you'll all join us in supporting the festival's online incarnation this year. And you can look forward to BF involvement with, and coverage of, ELCAF as normal this summer.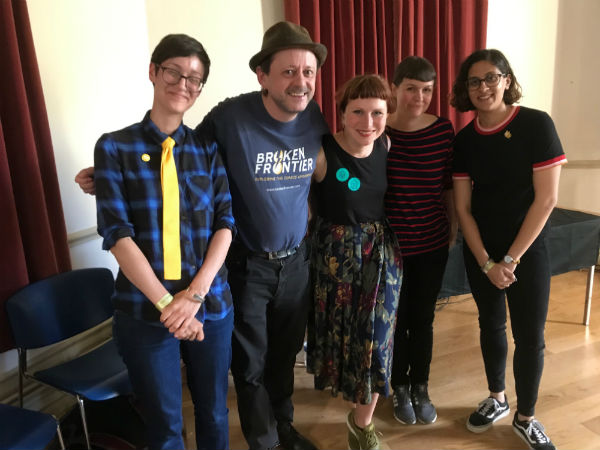 The 2020 Broken Frontier Panel at ELCAF with Comics Laureate Hannah Berry, BF's Andy Oliver, Jayde Perkin, Katriona Chapman and Aleesha Nandhra
ELCAF elaborated on the decision on Instagram today, saying "We are working hard to retain what the festival means both to ourselves and the comics and arts community by providing online platforms in which exchange, collaboration, learning and joyful experiences can continue to happen, as well as expanding further and wider amongst our international audiences!"
Further information and dates to come but to keep in touch with all ELCAF news make sure to follow the festival on Twitter and on Instagram. Now, more than ever, comics culture and community is so, so important so let's spread the word and make ELCAF Online the rousing success it deserves to be!