A solitary discarded glove is a melancholy sight as it poignantly lies forever separated from the defining duality of its functional life partner. But that same sense of sadness we feel on experiencing such a tableau is symptomatic of the way we tend to project our human sensibilities onto inanimate objects. Kate Hazell wittily exploits this inclination in her minicomic Single Black Glove, giving us a world where the dreams of accidentally abandoned handwear are plaintively juxtaposed against a backdrop of dreary, drizzly desolation.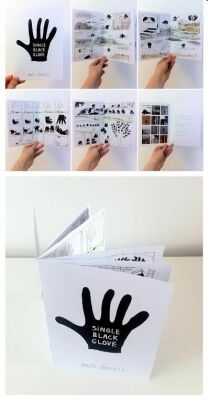 I can't say too much about Hazell's short form tale without giving away its playful punchline but this clever piece anthropomorphises an elicat of lost gloves (yes that apparently is the collective noun for them!), reminding us of the fulfilment of their former twofold lives through their wistful recollections, and giving us an ultimate sense of hope as one forward thinking five-digit fellow rallies its misplaced comrades-in-arms to a new sense of purpose in life.
Hazell has a wickedly imaginative sense of humour and not just in the way she toys with that notion of our propensity for ascribing personalities to our property. There are some deft visual touches here that amusingly capitalise on ideas of shape and space to transform the silhouette of the glove in unexpected ways to advance her jaunty narrative. You can read the whole comic online here for free but a handsome physical copy is available for purchase and can also be picked up at this weekend's ELCAF event in London.
Indeed her blog is full of similar fare with titles like When Zombie Turtles Attack! and Sam Jamwitch (She Lives in a House of Toast) and the Sad Wooden Ferrets (also available at ELCAF in print this weekend) underlining Hazell's presence as a most distinctive new voice in British small press humour comics. Jam-based sorceresses and undead chelonians being just a couple of reasons why I will be bookmarking her blog and keeping a close eye on her work in the months to come. If you are ELCAF-bound this weekend make sure she's on your list of creators to check out…
For more on the work of Kate Hazell check out her website here and her blog here. You can order copies of her comics – including Single Black Glove – from her online store here.