ELCAF FORTNIGHT!
We took a trip to Andy Barron's entrancing yet brutal world of OM earlier this year at Broken Frontier when we looked at Mantra, a collection of his stories set in this bizarrely imaginative realm. For the uninitiated, these largely wordless stories take place in an alien environment that I have described in the past as a "flowing, metamorphosing plane of oft unfathomable entities and their distinctly alien life cycles." Its protagonist is the wandering, pale and almost amorphous Om but he's joined by recurring characters like the unfortunate Pea, forever doomed to a violent demise, among a host of truly weird and often fearsome creatures.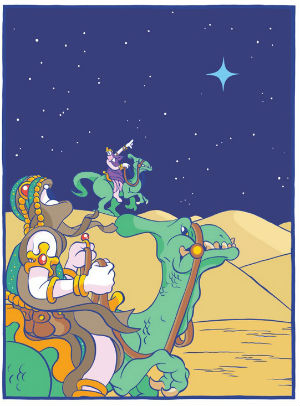 Sutra is the latest collection of OM short stories from the 2018 Broken Frontier 'Six Small Press Creators to Watch' artist. Sitting behind a gorgeously designed cover it's subtitled 'Songs from the World of OM' and this time presented in a larger A4 format that really gives Barron's art an opportunity to breathe.
Fittingly for a book debuting at the East London Comics and Arts Festival, Barron's opening story echoes last year's ELCAF by bringing the physical OM diorama he had on show there to the printed page (below left). Casting the OM characters in a nativity-style pastiche it sets the otherworldly scene for new readers while giving longer-term fans a chance to revisit old characters. Barron intersperses the one-shot with revisitations of those physical OM scenarios, underlining the artist's versatility and the experimental narrative approach of the series.
In 'Bloom' (below right) the complexities, contradictions and paradoxes of this dimension come to the fore as Om's observations of a sentient flowering plant lead to a vision of his own possible origins. Again, as is often the case in OM, there's a sense of parallel motifs in the storytelling as presentation and theme mirror each other and the macro and the micro become indistinguishable. 'Samsara' explores a familiar element of OM – its constant cycles of death and rebirth with a sense of pacing and invention that displays Barron's fertile imagination at its very best.
Colour is always such a vital component of what Barron is conveying here. It's often used to lure us in to the hypnotic, hallucinogenic atmosphere of this environment before the artist pulls the rug out from under us to remind us that this a truly unforgiving place. In 'The Law' (below left), though, he uses colour in a very different way. The multi-hued visuals are replaced with oppressive deep pinks and reds as Om finds himself fleeing from dark pursuers in the closest OM will get to Kafka-esque nightmare.
Providing another BF link, Barron has included a character designed by Poppy Rand in the story 'Yoga' (below right) which was an opportunity he offered as part of our February Gosh! Comics and Broken Frontier monthly Drink and Draw. Finishing up the issue, we get to see the voracious Pea character return with its self-absorbed greed getting due comeuppance, and a finale that once more embraces the visual metaphor that comprises so many OM narratives.
Indeed, that's always a vital part of OM. A lack of clear resolution or explanation is an intrinsic element of the stories and of Barron's relationship with his audience. It's what makes this such an absorbing reading experience and what gives the book its inherent alienness. If you've yet to take a tourist trip to this fantastical, eerie and psychedelic plane of existence then make sure to grab the opportunity at ELCAF later this month.
Andy Barron will be exhibiting at ELCAF. You can visit his site here and follow him on Twitter here. You can find his online store here.
For regular updates on all things small press follow Andy Oliver on Twitter here.
Catch up on all our ELCAF Fortnight articles to date here. ELCAF runs from June 22nd-24th. Full details on the ELCAF site here and you can also follow the festival on Twitter here.