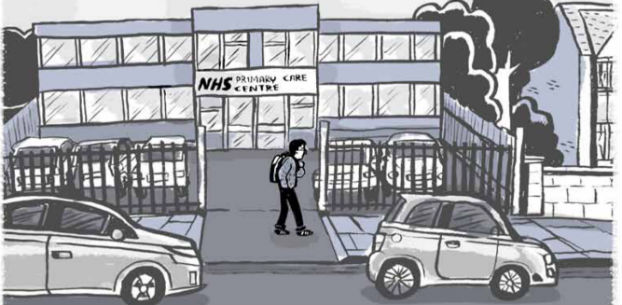 AVAILABLE AT THOUGHT BUBBLE!
A fictionalised retelling based on real events, Peter Morey's Endswell is a slice-of-life saga touching on very real concerns about the exploitation of the elderly. Morey may be familiar to readers for his recent contribution to SelfMadeHero's The Corbyn Comic Book and he'll be debuting a number of new comics and zines at this year's Thought Bubble, including the opening issue of Endswell.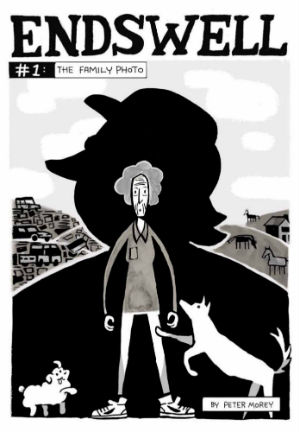 Employing a flashback narrative device presented via Morey's attendance at a counselling session, Endswell is told with the benefit of hindsight as an on-page version of the artist relates and comments on events. The titular location is his grandmother's farm, a place renowned for many years for its stables and kennels, and a project she threw herself into with his late grandfather's backing.
But some years ago his grandmother's newfound lodger Jim became her partner and the property slowly began to fall into disrepair. With rumours surfacing of Jim's alleged previous form targeting vulnerable women, the family find themselves split on how to tackle the problem…
Endswell works on two distinctive plot levels. At the forefront are the events surrounding the farm and a study of a family divided. But there's another story lurking behind that one as Morey himself comes to terms with how these circumstances have affected his own well-being. The comic jumps back and forth from the present day counselling discussions to the past, with the odd related comedic sidestep into Morey's childhood.
Realising very real societal fears and speaking directly to our sense of familial responsibility, Endswell pulls the reader directly into the drama surrounding the clan, ensuring the reader feels deeply invested in the specifics of their story. However, a vast, sprawling cast means there's too little on-page time to connect with individual players who are often defined more by their positions than by their characterisation at this point.
Morey's cartooning style is clear yet detailed, effectively placing representational, stripped back characters on more realistic backgrounds. Flashback sequences employ a sepia tint with contemporary segments having a grey tinge as his monochrome shifts create a sense of time and place. This first instalment is subtitled 'The Family Photo' and, while there is a heavy reliance on scene-setting exposition, there's an undoubted desire to see how the story develops. The most human of dramas, the reader feels directly involved in the events of Endswell from the very outset, eager to see where the characters go next and how this tale will be resolved.
For more on the work of Peter Morey visit his site here. Find him at Thought Bubble at Table 217 in the ComiXology Marquee.