SAFARI FESTIVAL FORTNIGHT!
Impenetrable yet eerily familiar, indefinable yet focused, unique in delivery but soaked in the standards of pop culture, metaphysical and still fundamentally human…  Alexander Tucker's work is a glorious cacophony of contradictions.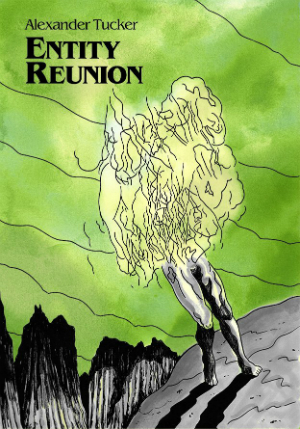 Earlier this year when I reviewed Tucker's World in the Forcefield, published by Breakdown Press, I described the book as belonging to a class of graphic storytelling that "exists to be experienced and absorbed rather than to be read and dissected in a traditional sense." Those familiar with his work will no doubt be unsurprised (and probably delighted) to hear that his Safari Festival-debuting Entity Reunion fits into much the same category, tying into the world he created in that earlier collection.
Less narrative and more introspective stream-of-consciousness, Tucker's latest comic asks the reader to decide for themselves whether its 20-odd pages are allegory, metaphor or oblique science fantasy meditation. Soliloquising spiritual entities on a quest for completion are something of a staple of Tucker's oeuvre and those themes are echoed in Entity Reunion, manifesting themselves in an otherworldly monologue (and accompanying commentary) on separation, dislocation, discovery and unification.
In these pages we experience mysterious and unknowable forces governing not just the lives of "lesser" beings but also the structure of reality, through both the "explicit" (exposition that draws the reader in with its arcane explanations of events on the page) and the implicit (silent sequences that ask us engage with the "protagonists" on a far more immediate emotional level). Questions of identity, belonging and even destiny abound as the characters' ruminations reach their denouement in a sequence of pure visual poetry.
Tucker's comics require an engagement from the readership that can deal with the non-linear and cope with sequential art that bends the very definition of that term to its own will. But embracing that challenge has its own rewards. Esoteric, enigmatic and inscrutable, and yet somehow speaking to us on a primal level, Entity Reunion underlines once again the truly unique comics vision of Alexander Tucker.
For more on the work of Alexander Tucker visit his tumblr here and follow him on Twitter here. Entity Reunion is published through the Undiminished imprint and will be available at Safari Festival on August 12th.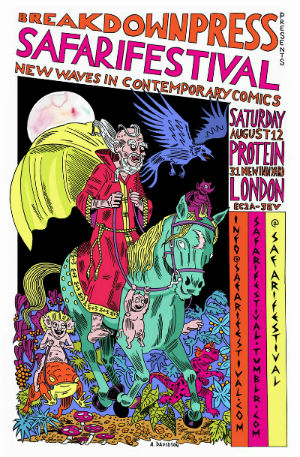 For regular updates on all things small press follow Andy Oliver on Twitter here.