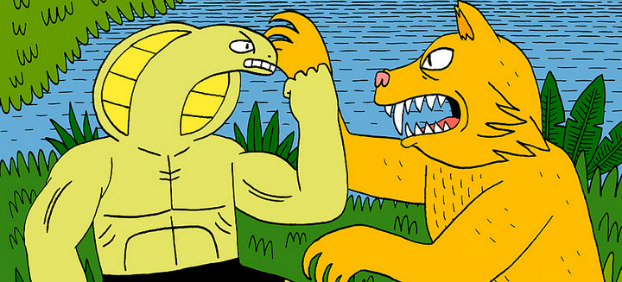 A SAFARI FESTIVAL TIE-IN!
In terms of sheer unbridled escapism, there are few creators on the UK small press scene who offer such an unrelenting sense of fun as Jack Teagle. His fond send-ups of the silliness of the Silver Age of comics in his self-titled Teagle Comics are an excellent example of this. Irreverent without ever being mocking, the tales in the two issues published to date are lovingly crafted pastiches of the familiar standards of a mainstream era of comics long since replaced by grimness, grittiness and outright tedium.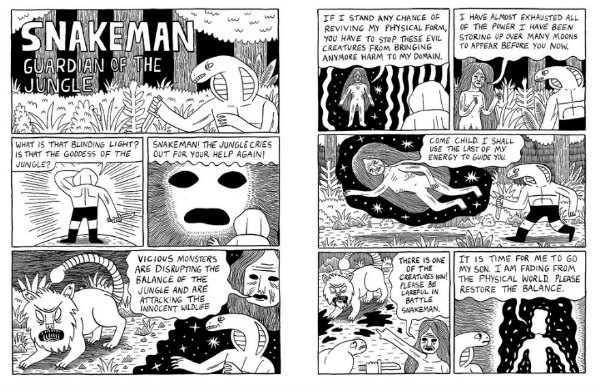 The first issue, for example, gives us the pulpy adventures of The Crying Cat, a feline adventurer who must stop a canine cult from resurrecting the demonic DoGod, with a cracking punchline thrown in for good measure. We also witness the origin of Snakeman, a spiteful serpent punished for his misdeeds by the Jungle Goddess and forced to become the natural world's new champion in his human/reptile hybrid form. Environmentalism meets mystically-inspired heroism in the issue's most memorable entry.
Later in #1 there's a debut for Catheadarmman – a character whose gloriously ludicrous name is all the funnier for how straight Teagle plays it – a vanquished king merged with his pet cats by an evil wizard, who must free his conquered realm and struggle with his newfound bestial nature. And finally we have Metatron the Living Meteorite who comprises the souls of a lost world in one cosmically heroic body. Echoes of the pop cultural past resound here in the deliberately verbose narration.
It's all deliciously tongue-in-cheek, representing exactly the kind of melodramatic romps – complete with suitably portentous dialogue – that we've come to expect from Teagle over the years. Issue #2 contains just two stories rather than the multiple shorts of its predecessor. These include the true story of how the dinosaurs were wiped out as we observe a prehistoric space vampire invasion of Earth. There's also a somewhat longer-form outing for Snakeman as he faces the threat of the alien Ultimate Hunter with a promise of further plot developments to come…
There's a rapid pacing and a visual dynamism that will speak to the inner child of any reader with a background in classic Marvel and DC comics lore here.  As ever, the appeal of Teagle Comics is in its familiarity. It doesn't just appropriate the clichés of super-hero comics of yesteryear, it positively embraces them but, at the same time, with a tempo and a voice all of its own.  Perhaps for those less well versed in comics history Teagle Comics will not be so much of a draw but for those in on the humour these two issues are a splendidly diverting comfort read.
For more on Jack Teagle visit his site here and follow him on Twitter here. You can buy copies of Teagle Comics online here priced £3.00 each.
For regular updates on all things small press follow Andy Oliver on Twitter here.
Jack Teagle will be exhibiting at Safari Festival on August 22nd. Full details here.