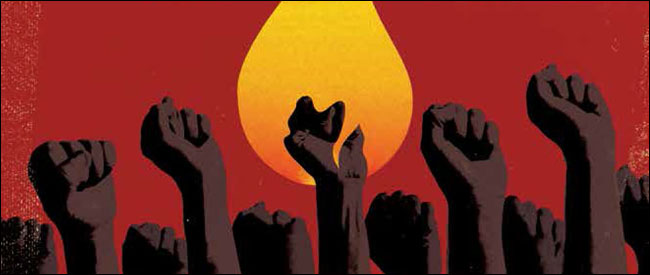 The advance publicity for Max Bemis and Ransom Getty's 16-part political thriller promised much. Sadly, the first issue doesn't really deliver.
Max Bemis is probably better known to all you young whippersnappers as the lead singer with popular beat combo Say Anything. However, he's also following the path of My Chemical Romance warbler Gerard Way by picking up another gig as a decent emerging comics writer.
Last year he collaborated with artist Jorge Coelho on the four-issue series Bipolar – a super-powered social satire (with autobiographical elements) about an artist with bipolar disorder who finds himself adrift in the hipster hell of Brooklyn's Williamsburg district.
Bipolar was enjoyable enough, but the scale and apparent ambition of his next project with BOOM! Studios really whetted my appetite. Evil Empire is a 16-issue political thriller, with art by Ransom Getty, that promises to show just how easily the purportedly free US society could slip into dystopian totalitarianism.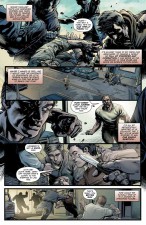 So does Evil Empire live up to that anticipation? Sadly, no. While Getty's artwork is clear and confident throughout (although his heavily rendered characters are a little bit prone to "over-acting"), the book fails to deliver on its thematic sizzle.
It kicks off with a nondescript prologue set 25 years into the future, where things don't really look a lot different from the present day. (There is, however, an interesting bit of narration suggesting that although we like to come up with imaginative origins for our fictional dystopias, the responsibility for it when it does happen should be laid firmly at our own doors.)
Then we whizz back to the present day – "EXACTLY RIGHT NOW", in fact – to meet Reese, an up-and-coming female rapper (and the likely narrator from the prologue).
The politically disaffected rhyme she spits seems to strike a chord with fresh-faced Democratic presidential candidate Sam Duggins, who turns up at her apartment with the apparent aim of co-opting her into his campaign.
Duggins – a bit of a Peter Perfect, reminiscent of Rob Lowe's character in Parks and Recreations – piles on the social enlightenment until their slightly awkward and unconvincing dialogue is interrupted by a bit of bad news: the wife of Duggins' ultra-conservative Republican opponent, Kenneth Laramy, has been murdered.

A bit later, like a bout of herpes, Duggins turns up again while Reese is being interviewed by MTV. In another suggestion that the script could have done with more rigorous editing, he spouts a fresh load of boilerplate about how his generation's had its chance and The Kids should have their say.
Reese subsequently takes Duggins up on his unlikely invitation to accompany him to the wake for Laramy's wife, where the newly minted widower makes not one but two startling announcements, marking another lurch for the book into the sensational.
I had high hopes for this comic, thinking that 16 issues would provide the scope for something approaching a wide-ranging and in-depth examination of contemporary US society.
However, although the creators are keen to place it very firmly in the here and EXACTLY RIGHT NOW, the world it creates doesn't seem that recognisable. Even with the presence of Reese to provide "the voice of the streets", its focus on the presidential candidates seems to be looking at the 1% rather than the rest of us.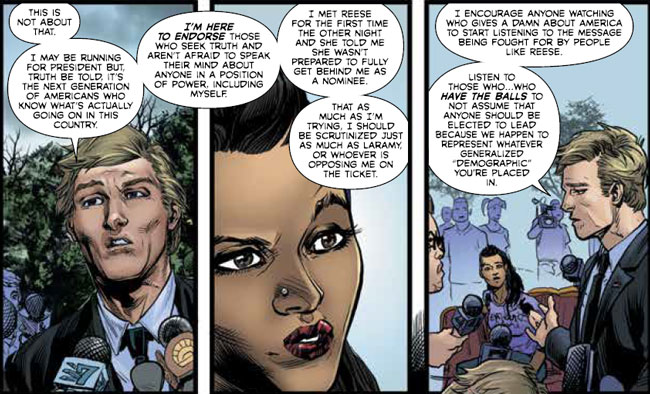 Evil Empire invites comparison with a series like DMZ by Brian Wood and Riccardo Burchielli. Although I find a lot of Wood's work dry and uninvolving, throughout his career, in books from Channel Zero to The Massive, he has extrapolated recognisable trends to create an intriguing social and political sandbox for his characters.
But even though Bemis and Getty's book aims to derive its power from being set in the Real World, it seems to lack that kind of environmental depth.
Max Bemis talked a good fight in his pre-publication publicity, but the finished product is more melodramatic than the nuanced dissection I'd been hoping for. It's a shame I can't say anything more positive than that. (I'll get my coat)
Max Bemis (W), Ransom Getty (A) • BOOM! Studios, $3.99, March 5, 2014