They say to never judge a book by its cover but I am a shallow, aesthetic-obsessed illustrator so that is a big deciding factor in how I choose my comics, books and graphic novels. Backstagers is no exception to my picky ways – the cover by Veronica Fish is fantastic, it's fun, well composed and had me flying straight over to her website to check out her other work (which I strongly recommend you do!)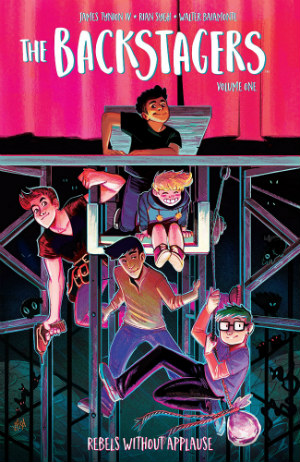 The story opens with Jory, who is having a terrible first day at his new all-boys school and is begging his mum to come and collect him. To make new friends he decides to join the school drama club where he meets the standoffish club members and the larger than life McQueen brothers who task him with retrieving a prop from the dreaded backstage. There Jory encounters the crew of the Backstagers and quickly becomes fast friends, undertaking his first adventure with them in the strange and supernatural world of the backstage.
The characterisation in the story was a huge strength, including the expressive visual characterisation . Each character is fully formed with their own quirks and strong personalities. Not one blends into the background, which makes for some fantastic and over-the-top interaction throughout. My personal favourite is Sasha, one of the Backstagers. I don't want to give anything away but I'm sure some of you will also enjoy the special brand of chaos he brings to the story! Speaking of the narrative, it's seamless and incredibly well written – there is never a dull moment, which is supported by the wild humour and off-the-wall antics of the characters.
An added bonus worth noting at the back of the comic is the Covers Gallery, a beautiful selection of covers and variant covers by different artists that really paint a detailed portrait of the life of the Backstagers!
Overall if you're thinking of buying The Backstagers you should! It is an addictive and crazy adventure that's full of brilliant humour and characters that will leave you avidly awaiting the next volume!
James Tynion IV (W), Rian Sygh (A), Walter Baiamonte (C), Jim Campbell (L), Veronica Fish (CA) • Boom! Studios, $14.99