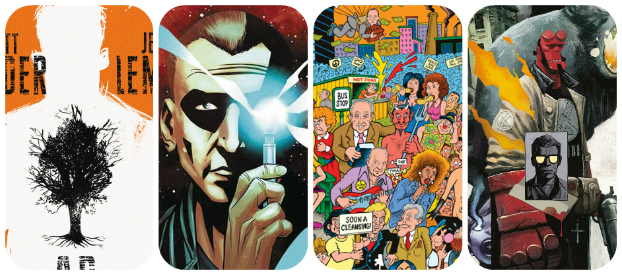 It's nearly Wednesday, and you know what that means: a fresh load of comics and graphic novels! With so many publications hitting your local comics store or digital storefront, the BF staff is here to lead you through the woods with our weekly staff picks. Satisfaction guaranteed!
Comic of the Week
A.D.: After Death Book One

Arguably one of the most anticipated comics of the year drops this week, in the form of A.D.: After Death Book One, a collaboration between two titans of modern comics, Scott Snyder (Wytches, Batman) and Jeff Lemire (Trllium, Secret Path). A dense book featuring extended prose passages and frequent time shifts, this first volume explores a world where death has been cured from the perspective of a man who questions what this means for himself and the rest of society.
The series marks a pair of firsts for each creator. It's the first time Snyder has used prose in his comics and the first time Lemire has illustrated a script written by someone other than himself. It's also a triumph of world-building. Snyder and Lemire riff off each other's creative strengths, constructing a fully-realized, emotionally vibrant landscape that draws the reader in with its haunting imagery and distinctive narrative voice.
Although it might be a difficult read for the comic book neophyte expecting the bombastic spectacle of Snyder and Lemire's mainstream work, A.D.: After Death is a stunning accomplishment from two comics masters at the peak of their creative powers and deserves a place on the shelf of any self-respecting connoisseur of the medium.
Scott Snyder (W), Jeff Lemire (A) • Image Comics, $5.99
– Jason Wilkins
Book of Void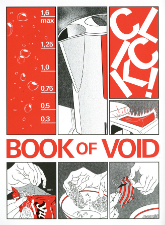 Over the last few years Landfill Editions have built a reputation as purveyors of cutting edge comics through their Mould Map anthologies which fuse the disciplines of sequential art and graphic design to the most hypnotic and absorbing effect.
This week sees the debut of their newest publication – Viktor Hachmang's Book of Void – which is the Dutch illustrator's debut short form comics work. Examining a fictional act of vandalism against important minimalist artworks at the Stedelijk Museum it asks the question "what is it like to live in a world ruled by fear in which a static work of art can become a harmful incomprehensible 'Thing' that must be destroyed?"
Samurai swordsmanship meets the art world in Hachmang's experimental and philosophical piece of comics storytelling. You can see a preview of Book of Void and order it on the Landfill Editions site here.
Viktor Hachmang • Landfill Editions, £10.00
– Andy Oliver
The Realist Cartoons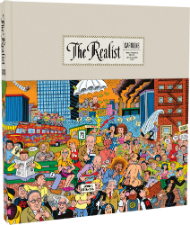 Compatriot of Lenny Bruce and co-founder of the Yippies!, Paul Krassner has been a vocal advocate for free thought and absurdist activism for more than half a century. In 1958, he founded proto-underground magazine The Realist, providing an outlet for the likes of contributing writers Norman Mailer, Joseph Heller, and Ken Kesey—not to mention a lot of funny pictures.
This new collection from Fantagraphics compiles the so-called "best, wittiest, and most provocative" cartoons from the magazine's extensive run and includes work by the usual standouts such as Crumb and Spiegelman as well as exciting pieces by Trina Robbins, Jay Lynch, Mort Gerberg, and more.
Various (W/A) • Fantagraphics, $44.99 
– Paul Mirek
Hellboy and the B.P.R.D. 1954: The Unreasoning Beast #1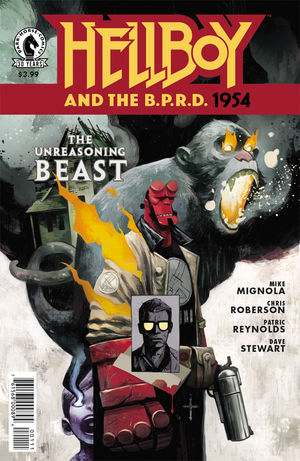 In the first installment of a two-part miniseries, writers Mike Mignola and Chris Roberson send Hellboy and the B.P.R.D. 1954 team on an unusual ghost hunt (even by Hellboy standards) that leads him to a spectral monkey with a message for a grieving family. You can always count on ghost stories in the Mignola-verse to carry emotional weight delivered through unusual circumstances, and it appears that formula will hold true with this enjoyable adventure.
Guest artist Patric Reynolds (Joe Golem, Serenity: Float Out, Abe Sapien: The Haunted Boy, Exile to Babylon) takes on the interior artwork joined by Eisner Award-winning colorist Dave Stewart.
Mike Mignola and Chris Roberson (W), Patric Reynolds (A), Dave Stewart (C) • Dark Horse Comics, $3.99
 – Karen O'Brien
Doctor Who: The Ninth Doctor Vol. 2 #7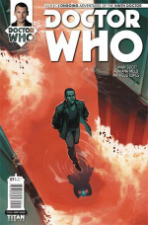 If you're not a Doctor Who fan then the date of November 23rd will probably not have quite the same resonance but if you are a follower of the adventures of everyone's favourite eccentric Time Lord then you'll know that this week's New Comic Book Day is also the 53rd anniversary of the show's first broadcast.
Why not celebrate then with one of Titan Comics's rapidly expanding line-up of Doctor Who comics? This week gives Who aficionados the opportunity to wallow in nostalgia as the Ninth Doctor – that enigmatic and only briefly seen on-screen incarnation – revisits the early days of his old allies in UNIT. With Rose and Captain Jack in tow it's also a chance to watch a Tardis team from the new series who never really got the time that they deserved in action once again.
Cavan Scott (W), Adriana Melo (A) Matheus Lopes  (C) • Titan Comics, $3.99
– Andy Oliver
Warlords of Appalachia #2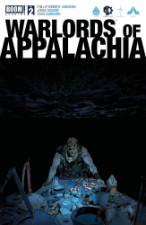 Last month saw the launch of Warlords of Appalachia, the new series from Boom! Studios by creators Phillip Kennedy Johnson and Jonas Scharf. If you missed it (as I did), issue #2 hits the shelves this week and you're strongly urged to check it out and get caught up.
Written by Johnson, who moonlights as a comics creator outside of his day-job as a 1st Sgt in the US Army Field Band, Warlords is set in a dystopic near-future Kentucky in the wake of a second Civil War. Kade Mercer, an ex-MMA fighter and mechanic, rises from the ashes of upheaval to become a folk hero as leader of a band of resistance fighters looking to keep the Bluegrass State free from the sovereignty of the re-formed US of A while on a mission to rescue his captured son.
With excellent art from Scharf, exceptional coloring from Doug Garbark, and an all-too-plausible premise, Warlords is perfect for folks who like Southern Bastards, Briggs Land, and Mad Max!
Phillip Kennedy Johnson (W), Jonas Scharf (A), Doug Garbark (C) • Boom! Studios, $3.99
– Matthew Box