We view press releases at BF as a springboard for potential future coverage rather than content in and of themselves. But every so often we receive one that contains news so welcome that it deserves publication in full and needs no supplementary commentary. That's very much the case with the news from Fantagraphics that the esteemed The Comics Journal will return to print in 2019 after a hiatus of a few years. The full Fantagraphics press release is presented below. The January countdown begins now…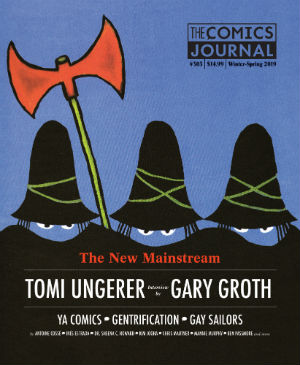 Fantagraphics Books is proud to announce the return of the award winning, internationally acclaimed The Comics Journal as an in-print magazine. Starting in 1976 as a monthly periodical and evolving into a massive book-sized format in 2013, The Comics Journal will resume at issue #303 as a more accessible magazine with a twice yearly publication schedule. The Comics Journal #303 will be released in January of 2019.
The Comics Journal was co-created over four decades ago by Gary Groth, holding the medium to high critical standards as well as presenting in-depth and thought-provoking interviews and editorials. In January, the magazine will carry on that honored tradition with two new managing editors: RJ Casey and Kristy Valenti.
"The Comics Journal had been a near-monolithic force in my life and I think its absence has been felt by more people than just me," explains managing editor RJ Casey. "I'm beyond excited to bring new voices, new ideas, and a new enthusiasm to the Journal."
Issue #303 features Gary Groth in discussion with the satirist and children's book author Tomi Ungerer. "I'm looking forward to getting back in the saddle, a saddle I have missed, and conducting interviews with cartoonists, from young whippersnappers to vital legends, says Editor-In-Chief Gary Groth. "My long interview with Tomi Ungerer in this issue is a dream come true."
This issue covers the "new mainstream" in American comics and how the marketplace and perception of the medium has drastically shifted since the "graphic novel boom" of the early 2000s and massive hits like Persepolis, Fun Home, and Smile. It also includes sketchbook pages from French-born cartoonist Antoine Cossé, an introduction to Alex Gard's homoerotic gag cartoons out of the U.S. Navy by Mannie Murphy, Your Black Friend cartoonist Ben Passmore's examination of the role art and comics have in gentrification, a reconsideration of the comics canon by Eisner Award-winner Dr. Sheena C. Howard, and much more.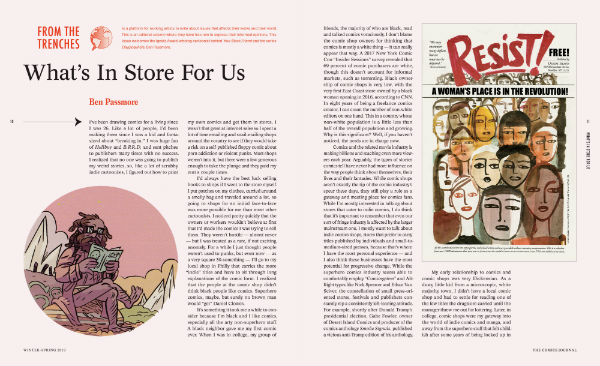 "With the knowledge and skills I've gained over the last 15 years co-editing nearly 50 issues of the print edition of The Comics Journal, I am excited to help push the Journal forward and continue its evolution," says managing editor Kristy Valenti. "My goal is to usher in a new era of comics criticism to further explore where the comics medium is going."
TCJ.com, the magazine's online counterpart, will continue updating every day with completely separate content and managed by editors Tim Hoddler and Tucker Stone.
The Comics Journal #303 is slated to release in bookstores, comic shops, and online in January 2019. The Comics Journal #304 is set to release in June 2019.
The Comics Journal #303
Editor-in-Chief: Gary Groth
Managing Editors: RJ Casey and Kristy Valenti
Release Date: 1/22/19
$14.99 • 160 pages • Full Color • Softcover
ISBN: 978-1-68396-171-0