Good news today for those still mourning the loss of Marvel's Atlas Masterworks from around a decade-plus years ago. Fantagraphics have today announced they will be publishing editions of these oft overlooked comics, beginning in the latter part of this year. The publisher, of course, has a proven track record in bringing archival material back to print in handsome new volumes so the Atlas Comics Library should be on every comics historian's radar come the Autumn.
Fantagraphics Rediscovers the Wonders of Marvel's Atlas Comics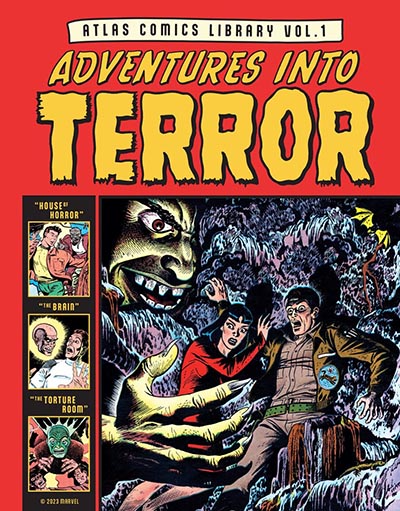 Fantagraphics is pleased to announce the publication of Fantagraphics Presents the Marvel Atlas Comics Library, a series of hardcover volumes reprinting comics from Marvel's 1950s Atlas Comics line in both facsimile editions of individual titles and compilations of a single artist.
Fantagraphics will publish five volumes a year with the first two volumes releasing in Fall 2023. Sequential reprintings of individual titles will comprise four volumes, with a fifth volume devoted to one of the many first-rate illustrators who worked for Marvel during this period. The collections will run the gamut from colorful, weird, deliciously pulpy stories found in their horror, suspense, and supernatural titles to their surprisingly gritty war titles, to Westerns, and lighter funny animal comics and romance comics. These stories were created by such Marvel legends as Gene Colan, Russ Heath, Jack Kirby, Carl Burgos, Stan Lee, Bill Everett, Joe Maneely, Steve Ditko, Basil Wolverton, John Severin and many others.
The first two volumes will shine a light on, respectively, Atlas' luridly captivating Adventures Into Terror title and the work of versatile master Joe Maneely.
Adventures Into Terror shows the finest talents in the comics medium working in the shockingly wild, untrammeled freedom in the days before the industry came under the censorious eye of the Comics Code Authority. Atlas, revered by horror-comics aficionados, produced far more hair-raising titles and issues than any other publisher at that time.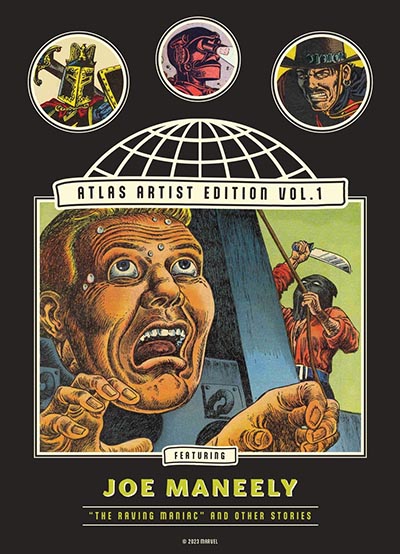 The Maneely volume, the first of a series of oversized coffee table Atlas Artist Editions, presents a cornucopia of his varied genre comics, including Stan Lee's satire on anti-comics crusader Fredric Wertham, "The Raving Maniac." Maneely died at a young age and his short but incandescent career is only now being fully appreciated.
Continuing Fantagraphics' tradition of creating beautiful books, these full-color hardcover collectors' volumes are elegantly curated as well as stunningly designed. Edited by Atlas scholar Dr. Michael J. Vassalo, these comics were scanned directly from the original printings and meticulously restored with a wealth of detail never seen before.
"It is with great pleasure that I reintroduce modern audiences to this hidden gold and Marvel's talented 1950s creators, many of whom would go on to fame in the silver age and beyond," Vassallo said.
Upcoming volumes in 2024 will feature the Atlas career of Bill Everett, the archetypal romance comic My Love Story, the best of Atlas' war and humor titles, the super hero/romance hybrid Venus and much more.
"One of Fantagraphics' mandates has been to preserve cartooning throughout history, from newspaper strips like Popeye to EC Comics to Carl Barks' Duck stories — and now, to the superb craftsmanship on display in the Atlas line," declares Fantagraphics publisher Gary Groth.
"At Marvel, it's essential for us to continue to honor our legacy of comic book storytelling and the creators behind it, and Fantagraphics has proven to be a leader with that same mission," said Sven Larsen, Vice President of Licensed Publishing at Marvel. "The Fantagraphics Marvel Atlas Comics Library will shine a spotlight on an important era in our history, and we're excited for today's fans to get to see these historic genre comics for themselves."
Adventures Into Terror: The Atlas Comics Library is set to release October of 2023 with the second volume The Atlas Artist Edition Volume 1: JOE MANEELY, releasing in November of 2023. Keep an eye on Fantagraphics.com for a continuing release schedule for the full Fantagraphics Presents the Marvel Atlas Comics Library series.