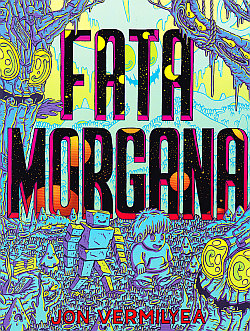 Taking its name from a complex form of optical illusion, Jon Vermilyea's Fata Morgana is a wordless journey through a young boy's dreamscape, published by the never less than impressive Koyama Press range. There are superficial echoes, of course, of a certain Sendak classic in the book's premise but the adventures Vermilyea sends his small protagonist on are far more random than that timeless tale; representative of the peculiar dream logic that our slumber time narratives adopt.
A passenger as his bed drifts off into the darkness of the nocturnal hours, our tiny hero begins his adventures through his own imagination, meeting make-believe friends along the way who become part of a recurring cast of characters. Each new bizarre landscape his mind conjures up is depicted in a sprawling two-page spread full of captivating detail. A world of monstrous trees with insidious, tentacular roots hangs unsupported in the air of a Ditko-like dimension; an arctic world of menacing snowmen is full of polar peril; and an underground kingdom of starfish creatures is full of twisting, hidden passages. We travel through sixteen of these fantastical landscapes before our adventurous lad finally finds his way back to his front door and bids farewell to the chums he has made on the way.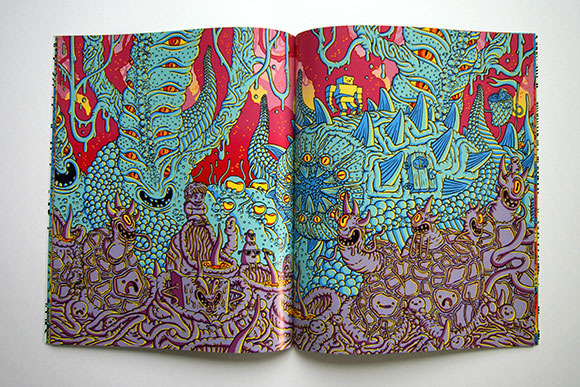 Vermilyea's art is a stunning synthesis of the enchanting and the eerie with a melting, metamorphosing fluidity to it that perfectly embodies the fluctuating whims of the subconscious that Fata Morgana depicts. If you are a fan of people like Basil Wolverton or Ken Reid then you'll find much to love here because it has that same element of enticing creepiness that was such a large part of both gentlemen's work. A "silent" book, Fata Morgana invites the reader to play their own part in interpreting the story, to fill in the immense gaps between "panels"/double-page spreads, and to invent their own narratives for events within each vast and elaborate image Vermilyea constructs.
All-ages in the true definition – a layered book that will appeal to both kids and adults on different levels – Fata Morgana will not just introduce the uninitiated to the fevered imagination of Jon Vermilyea but is also a wonderful example of the eclectic output of Koyama Press. An entrancing, psychedelic tour de force!
For more on Jon Vermilyea check out his site here. Fata Morgana is published by Koyama Press priced $15.00. For more details on their books and stockists visit their site here.