Sometimes in comics coverage there are those interesting projects that come up and then seem to get lost somewhere along the way. Five years ago at Broken Frontier we covered Broken Frontier Award-winning Hassan Otsmane-Elhaou and BF Award-nominated Juni Ba's The Unlikely Story of Felix and Macabber when it was attached to crowdfunding publisher Unbound Books. This week Dark Horse announced they will be publishing the book this October. Full details in the press release below.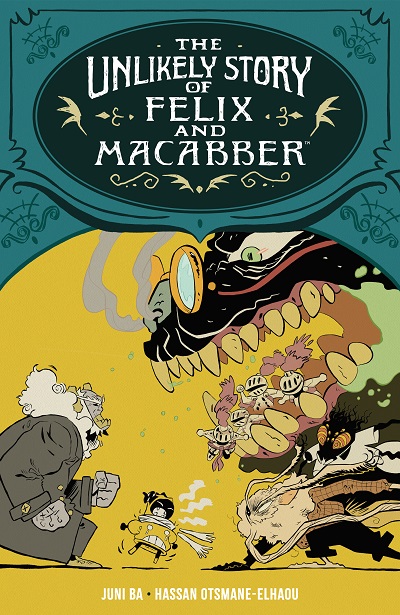 An all-new original graphic novel packed with heart, combat, and monsters!
Dark Horse Books presents The Unlikely Story of Felix and Macabber, the first original graphic novel written by PanelxPanel editor and award-winning letterer, Hassan Otsmane-Elhaou. Juni Ba (Djeliya, Monkey Meat) joins as the artist and colorist with Otsmane-Elhaou lettering.
Felix is a shy little beast growing up in a world where monster wrestling is the biggest spectacle there is. Lonely and constantly bullied by the bigger monsters his age, Felix struggles to prove himself and find his place in the world. Their fate is changed forever when a dare lands them on the doorstep of one of the scariest monsters in the whole world—Macabber Tails, one of the most famous monstering champions in history.
Felix wants to be big, brave, strong, and tough, just like Macabber, and so he decides to do whatever it takes to not be a scared little monster anymore. Their unlikely journey together sees Macabber confronting his past with journey's to visit old friends, mentors, and rivals such as the colossal flame-wielding Kilnver—a monster able to spit out an army of knights spontaneously. They even return to his hometown for a final brutal confrontation with Amaret, the monster that made Macabber the champion he is now.
Together they face some battles for their life, but not always in ways that are physical and by the end, Felix and Macabber may learn a thing or two about being tough.
"With Felix and Macabber, Juni and I wanted to explore the idea of doing whatever it takes to become something great," said Hassasn. "Who are the role models that people look up to? And how do the pressures on your own life change the way we understand those role models? Which all sounds quite serious, but it's also a great excuse to let Juni's imagination loose on these wonderful weird monster designs and big, bombastic fight sequences – which he's a master at. We're really excited about readers meeting our cast of monster-characters, from the big guy himself to his arch-nemesis, to the big dog that lives in a cave and creates knights-in-armor from his own saliva. Yep. You're going to love it."
The Unlikely Story of Felix and Macabber is perfect for fans of all ages and is similar to titles like The Ghoul Next Door and Young Hellboy or shows like Over the Garden Wall and Steven Universe.