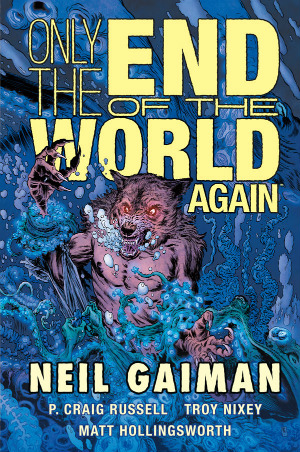 Only the End of the World Again began life as a short story commissioned for Steven Jones' compilation of fiction inspired by H.P. Lovecraft: Shadows Over Innsmouth in 1994. It then appeared in Gaiman's 1998 short fiction collection Smoke and Mirrors, shortly after (or possibly before) being seized upon and adapted into comic form in Oni Double Feature #6–8. It is those three issues that were compiled to form this volume, released initially in paperback in 2000, and I am pretty sure without the bonus material of the entire story in both roughs and inks form.
This volume owes its heft to that material and this may have been the excuse for republishing. The layout roughs are by Russell and there are glimpses of his genius as a draughtsman there, although they are mostly fairly basic and laying them page by page next to Troy Nixey's art mainly serves to point out that any flourishes of interesting panel design came from the latter's imagination.
Had Russell taken the pen and ink on this one, it would doubtless have been more elegant, although that probably wouldn't have fitted the story as well. Nixey's angular, somewhat grotesque line-work and characterisation is well suited to both the squalid, off-season seaside town described as the setting, and to the more eldritch elements of the story.
From the first pages we are presented with a protagonist who is known to eat children, but with that inescapably charming mix of horror and mundanity that somehow helps you not to mind and to root for this hapless werewolf in his quest for who knows what. He wanders around Innsmouth, talking obliquely and poetically to the locals about the coming apocalypse and of course finds himself wound up in the middle of it. This is sort of a detective story, sort of a lyrical musing on mythic resonance and the futility of life, and the inevitable aversion of the end of the world. I thoroughly enjoyed it.
I wish I knew which demon P. Craig Russell sold his soul to to keep on getting commissioned to adapt my favourite prose stories into comics, without (here at least) seeming to learn the knack of not showing AND telling. Doubtless Neil Gaiman knows that demon's name, he knows all of the demons' names. Luckily you don't have to know any demons to enjoy his writings on the topic. There are many layers of reference and reverence here from Zelazny to Saki, Douglas Adams to James Branch Cabell, and Abbot to Costello. If you're not a Lovecraft love child (Cthul-who?) or lycanthropically inclined, then Gaiman's typically accessible while yet, and at the same time, deeply mythic writing will still draw you in like a moth to a sacrificial candle. Which is probably why Russell has such a hard time leaving any of it out.
Neil Gaiman & P. Craig Russell (W), Troy Nixey & P. Craig Russell (A) Matthew Hollingsworth (C), Sean Konot (L) • Dark Horse Comics, $19.99
Review by Jenny Robins