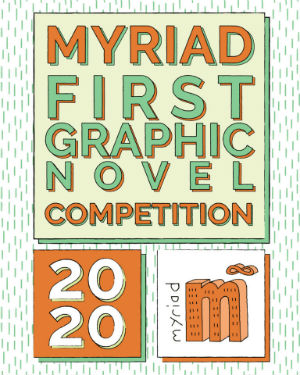 Online voyeurism, risky sex, dementia, suicide, racism, murder and selling the earth: topical and contemporary issues dominate the shortlist for Myriad's First Graphic Novel Competition and show that the graphic novel is very much alive and kicking in Lockdown 2020.
Works by Denise Dorrance, Ed Firth, Veronika Muchitsch, Pete Shearn, Pietro Soldi, Anthony Smith & Tobias Taitt, and Myfanwy Tristram were selected from a very strong longlist that had the judges scratching their heads over their Zoom session.
The competition offers the winner, or winners, the opportunity to have their completed graphic novel published by Myriad. It is open to all cartoonists, writers and artists who are UK residents, individually or as a team, who have not previously published a full-length graphic work. Entrants are asked for 15-30 pages of a graphic work-in-progress, fiction or non-fiction.
This year, the judges include cartoonist and GP Ian Williams, whose graphic novel The Bad Doctor was shortlisted in 2012; chef and contributor to Myriad bestseller New Daughters of Africa Zoe Adjonyoh, curator and chair of New Contemporaries Sacha Craddock, Director of the Lakes International Comic Art Festival Director Julie Tait, and Myriad Creative Director, Corinne Pearlman. There were 118 entrants from England, Wales, Scotland and Northern Ireland, over half from outside London, and just over half with women's names.
The winner will be revealed at an event online in October, as part of the 2020 Lakes International Comic Arts Festival, supporters of the competition since 2018.
Myriad's graphics list include the three previous competition winners Gareth Brookes (The Black Project, 2012), Jade Sarson (For the Love of God, Marie!, 2014), and Jenny Robins (Biscuits, 2018), to be published by Myriad in November 2020. Myriad has also gone on to publish six other books by shortlisted authors, as well as works by authors longlisted for the competition. Its latest book by Hannah Eaton, Blackwood, whose first graphic novel Naming Monsters was shortlisted in the inaugural competition in 2012, is Myriad's next graphic publication in
September.
The shortlist is below.
Cyberman
Veronika Muchitsch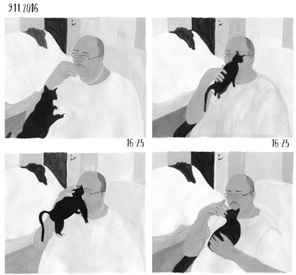 Ari lives in a small town in Finland, streaming his life online twenty-four hours, seven days a week. Non-fiction graphic novel about the transgressive act of online voyeurism.
Chillout
Ed Firth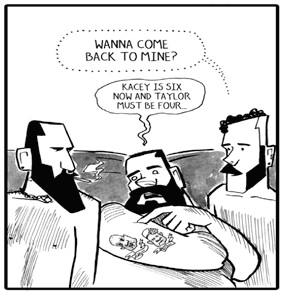 What promises to be an indulgent orgy of hedonism turns into an uncomfortable confrontation. Interconnected queer stories taking place in London.
Everything I Ever Knew Is on Earth
Pietro Soldi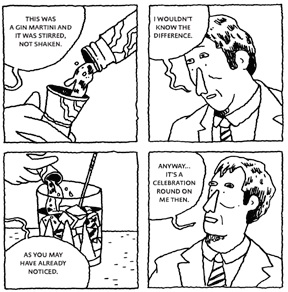 You walk into a bar and accidentally meet a stranger who tells you something unexpected: the deal is done, the Earth has been sold.
Black
Tobias Taitt and Anthony Smith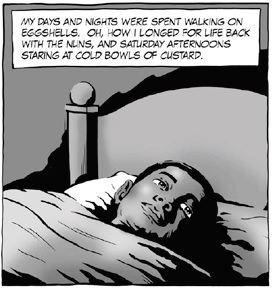 A dysfunctional family life, and a childhood spent mostly in care: Taitt's story touches on themes of class and race as he gravitates from care to crime.
Satin and Tat
Myfanwy Tristram
Ella returns to the fishing village where she spent her teen years, but can she address the emotional fallout that followed her boyfriend's suicide thirty years before?
Polar Vortex
Denise Dorrance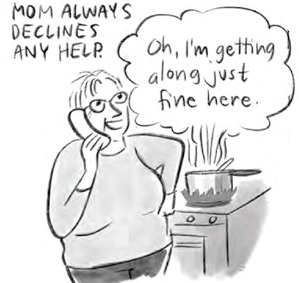 A daughter escorts her mother with dementia across the US Midwest during a harsh snowstorm, while placating her estranged sister and unwanted visits from The Grim Reaper.
Missing People
Pete Shearn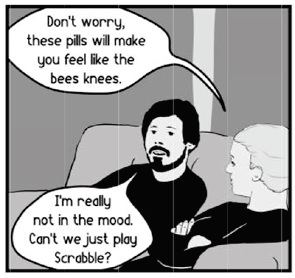 Brian would love to move from Morecambe. Becky, a successful professional, thinks otherwise. The couple rebuild their lives in the wake of a traumatising incident.