"To be included in this amazing collection of inking women, alongside talented contemporaries and those I've admired for years, does indeed mean a great deal to me in my tenth anniversary year of drawing comics. There is something wholesomely satisfying about ink: Its indelible silky permanence; its versatility as a medium; the way it lodges in your nails for months on end and stains your drawing table. This exhibition consolidates women's place in cartooning history: No one can erase our stories, and we're here to stay (as is that huge ink spill on my studio floor…)" – Paula Knight
'The Inking Woman' – spotlighting 250 years of British women cartoonists – recently opened at London's Cartoon Museum to great acclaim. From household names to enthusiastic self-publishers through to historical figures from the medium's rich past, the exhibition has a truly celebratory zeal to it. It runs until July 23rd and you can get full details on admission, opening times and directions from the museum site here.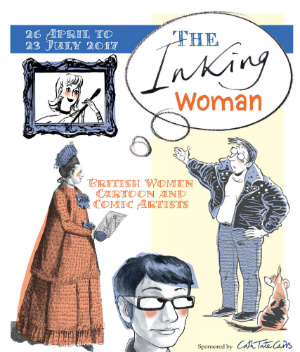 With so many of the exhibition's contemporary artists having been featured extensively here at Broken Frontier (and a number of them getting their very first coverage on this site) it seems only fitting that we support 'The Inking Woman' with a series of BF blog posts linking back to some of our key coverage of individual featured creators – with images selected by the artists themselves!
Paula Knight was a finalist in the prestigious 2012 Myriad First Graphic Novel Competition which would result in Myriad picking up that work-in-progress. Her first graphic novel The Facts of Life – a touching autobio examination of childlessness, infertility and how we define the concept of family – was published earlier this year. Paula has also self-published a number of minicomics over the years including work that has often had a very tactile appeal.
Those who have read The Facts of Life will be aware that it also deals with living with chronic illness, with the debilitating effects of ME (Myalgic Encephalomyelitis) being a significant part of the book.'s narrative. As today is ME Awareness Day (and all of May is ME Awareness Month), Paula has selected images from her work for this article that communicate the realities of dealing with the illness on a day-today basis. For more information on ME please take a few minutes to visit the ME Association site here or make a donation to Invest in ME here.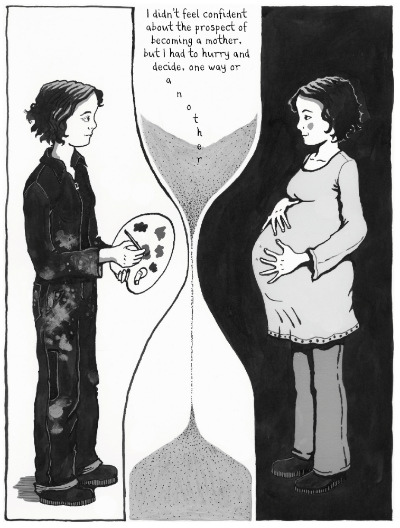 Paula's art in the exhibition comes from the pages of The Facts of Life
Key Broken Frontier Reviews
Spooky Womb and X Utero: A Cluster of Comics (2014) – "If there's one overriding impression of Knight as comics craftswoman that the reader takes away from these minicomics then it's her ability to constantly play with the form both in terms of presentation and tone, with a notable aptitude for evocative symbolism on show throughout her work."
The Facts of Life (2017) – "There's an understated emotional eloquence to The Facts of Life that is all the more potent for its quiet dignity. This is graphic memoir that doesn't just communicate the issues involved and question the assumptions surrounding them, but crucially also acts as an accessible repository of shared experience for those in a similar position."
Above – five ME-centric pages from The Facts of Life and a recent pencil sketch embodying similar themes. Below – a short strip on ME Awareness with simple but effective advice. 
For more on 'The Inking Woman' visit the Cartoon Museum site here and follow them on Twitter here. 
For more on Paula Knight's work visit her site here and follow her on Twitter here. And don't forget the ME Association site can be found here and you can make a donation to Invest in ME here.