This coming Saturday November 11th sees an all-new small press-oriented comics festival added to the ranks of the UK fair circuit when the very first Wimbledon Comic Art Festival opens its doors to punters at the Merton Arts Space in Wimbledon Library. The event has been put together by small press creator Rik Jackson and mixes exhibitors from the self-publishing and micropublishing worlds with a programme of activities that include workshops and cosplay.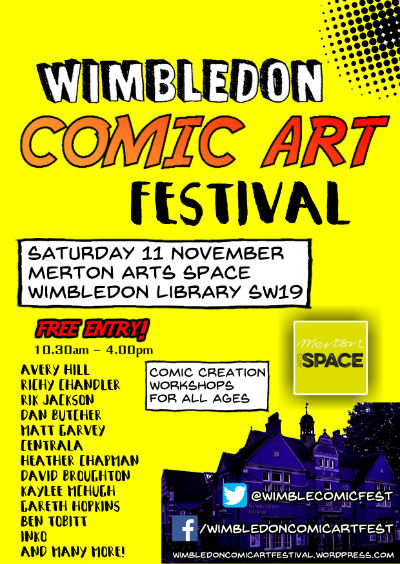 You can see a full list of artists tabling at WCAF here alongside mini-interviews to introduce you to their work. They count a number of oft-featured Broken Frontier subjects among their number like Avery Hill Publishing (Something City, Ismyre, below right), Gareth Brookes (the creator of A Thousand Coloured Castles and recently interviewed here at BF) and Richy K. Chandler (Tempo Lush Treats, below left).
Also in attendance are Gareth A Hopkins (interviewed here at BF), Centrala (Staring from the Hill below, Chernobyl: The Zone), Rik Jackson, Dan Butcher, Heather Chapman, Ben Tobitt, Matt Garvey, Peter Morey, the Awesome Comics Podcast, Hawk and Cleaver, Rebecca K. Jones, Kayleigh McHugh, David Broughton, Van Nim, Inko, Paul Shinn and Silvia Carrus.

Full details are on the Wimbledon Comic Art Festival site here and you can also follow the Festival on Twitter here. 
For regular updates on all things small press follow Andy Oliver on Twitter here.