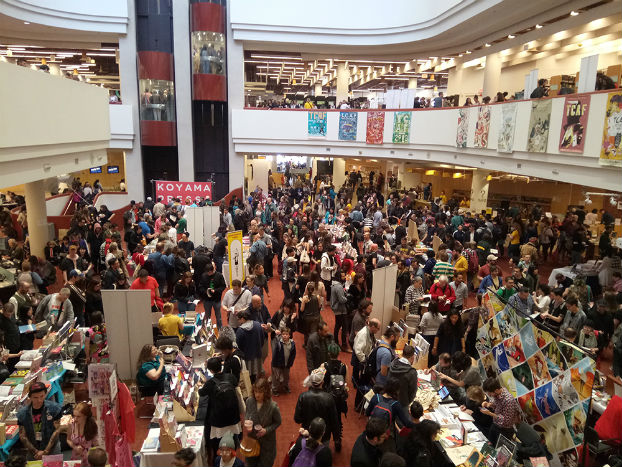 The Toronto Comic Arts Festival (TCAF) has been held since 2003. That piece of information came to us not from Wikipedia, but from legendary artist Seth, who had stopped by for a book signing. He mentioned attending every single one of those events and even designed the T-shirts worn by volunteers at this year's festival. It was just one of the many reasons why comic fans look forward to this annual two-day event, and why it easily attracts some of the biggest names — from creators to exhibitors — in the business. Here are five great reasons why this year's festival was another in a long line of successes.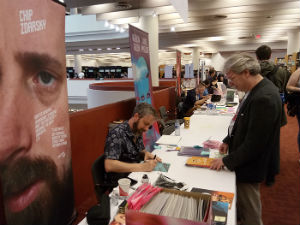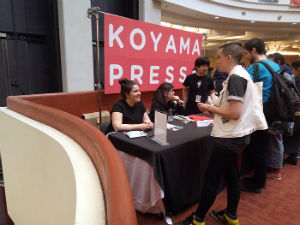 Chip Zdarsky (left) and Emily Carroll (right) at the Koyama Press table
The venue is always great
The Toronto Public Library has hosted the festival since 2009, apparently, and there really is nothing like browsing through thousands of great books in a building populated by people who love books. The library takes its task very seriously, and everything about the event was geared to make things comfortable not just for the thousands of guests who turned up, but for the regular users who went about their business in a slightly bemused manner. Everyone just got along, which is how it should be.
Seth (left) and David Rubin (right)
Look who turned up
Who didn't, really? It was a veritable who's who from around the world, starring Gabriel Bá and Emily Carroll, Margreet de Heer, the Colombian Comics Delegation, Junji Ito, Nora Krug, Fábio Moon, Renee Nault, David Rubín, James Stokoe, Mariko Tamaki, Craig Thompson, Tillie Walden, Chip Zdarsky and a bunch of other names big and small. Everyone turned up.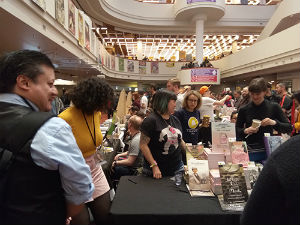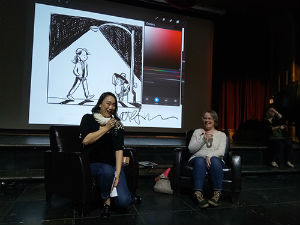 Mariko Tamaki (left) and Raina Telgemeier (right)
There was something for everyone
If you came with kids, there were signings with Raina Telgemeier, a video game gallery, and conversations about creating your own comic. There were exhibitors representing foreign languages, the LGBTQ community, indigenous artists and everyone in between. There were also exhibitions on 100 years of Yuri Manga, beer tastings and pairings, book launches, queer and trans comics for kids, and a party featuring a live performance by Scratch DJ Kid Koala.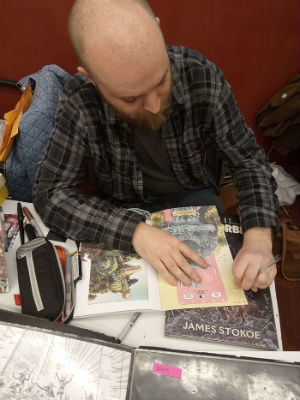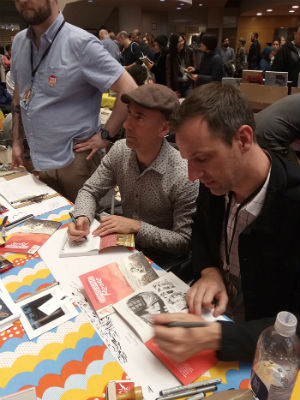 James Stokoe (left) and Craig Thompson and Phil Thompson (right)
Comics are serious business
Consider the variety of discussions and workshops: A live-drawing presentation by Junji Ito followed by a discussion of his work, artist spotlight events on Jhonen Vasquez & J.R. Goldberg, Kazu Kibuishi & Jason Caffoe, Mariko Tamaki & Rosemary Valero-O'Connell, a lettering workshop with Kat Verhoeven, a book design workshop with Tommi Parrish, and panels on contemporary comics activism, explaining the world through science comics, even a reunion panel on the award-winning FLIGHT anthology series.
Fans are the best
It really was the people who made this happen — fans who stood for hours to get their copies signed, artists who hung out and agreed to selfies, exhibitors offering deep discounts, indie publishers and artists showcasing work that rarely makes it to window displays, and a shared love for an art form that somehow manages to help the most diverse set of people on Earth speak the same language. Dates for TCAF 2020 have already been announced. Start planning now.