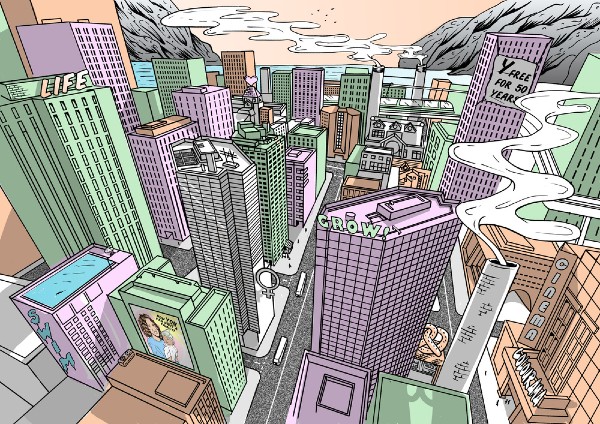 Continuing our new feature for Fridays today at Broken Frontier!
At the end of each week in Follow Friday we run an extensive spotlight profile on an artist we believe deserves far more attention, alongside links to their social media accounts so you can follow their practice further. This week it's the turn of Cat Sims, illustrator and graduate of the University of the Arts London, who was one of our annual intake of Broken Frontier 'Six Small Press Creators to Watch' back in 2018.
What drew me to her work then was not just her intricately realised imagery with its careful blend of the psychogeographical and the brooding, but also the social activism that infused so many of her projects. Parallel to her comics output, Sims' illustrations have appeared in projects and publications including the V&A, Sisters Uncut, STRIKE!, DOPE, Jacobin and The  Guardian (below) among others.
Back in 2018, in a major interview with me at Broken Frontier, Sims spoke of her enthusiasm for the medium, saying "I've always loved comics and moving into the medium has felt like a natural progression, largely because the format provides a platform for much bigger ideas to be explored and picked apart." Her debut comic was Black Matter (below), reviewed here at BF in 2018, which she describes as "my first foray into comics, started in 2014, when I found myself compelled to draw the changing environment of where I was living. The work, put simply, showcases the stark contrasts between those who have everything and the helplessness of those who are left behind. It's bleak, yet absurd."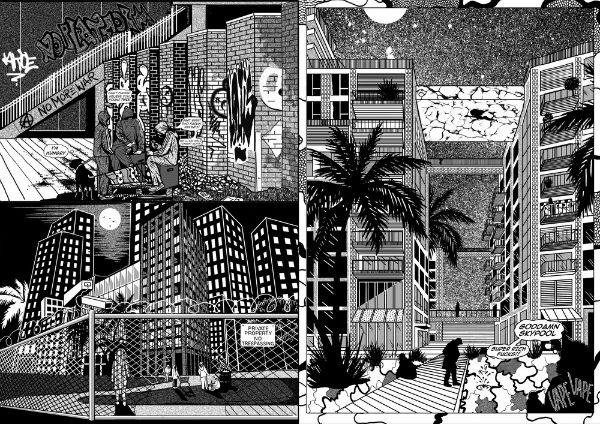 Using a narrative structure that follows a young woman through her local area on her way to a meeting via dating app. I said of its premise when I reviewed it that: " Societal inequalities and gentrification stand out as obscenities in a landscape where the divide between the wealthy and those eking out an existence becomes ever more expansive and unstoppable. By the comic's end it's not a question of what transforms her but more a question of why the conditions for that change exist."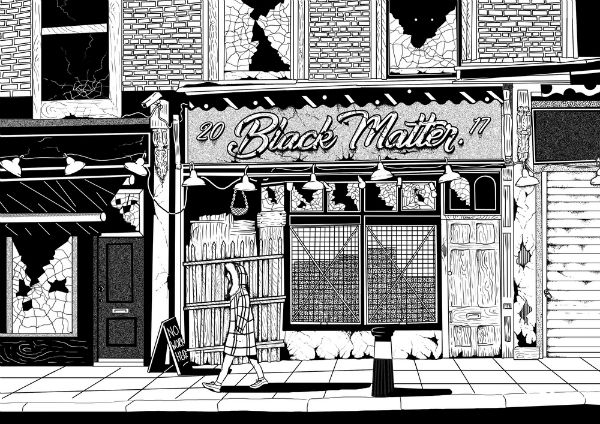 And of Sims' craft in Black Matter I continued: "Sims' moody deep blacks and intricately detailed artwork create a claustrophobic and relentlessly disquieting world with some neat shifts in lettering styles and effects playfully enhancing the tone of the tale. It's a powerful piece of storytelling that is enhanced on every re-reading as new thoughts are provoked and wider truths revealed for consideration."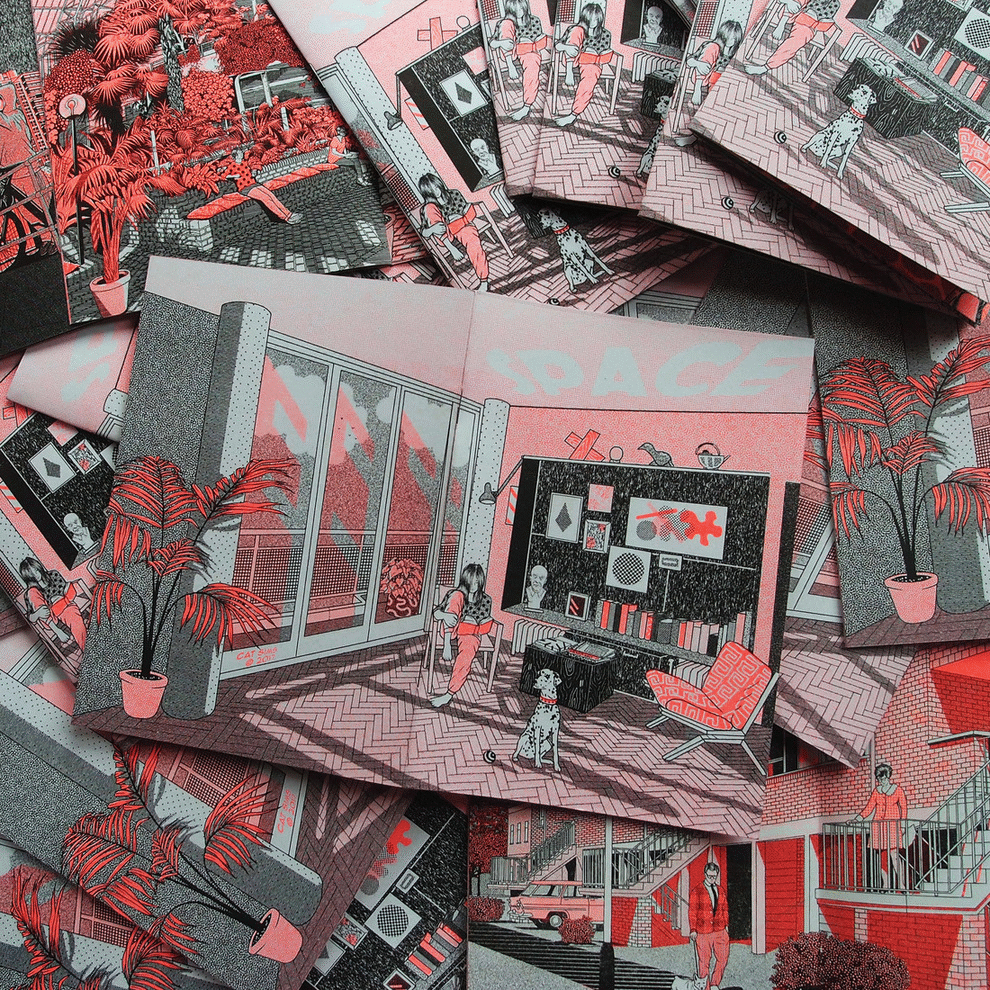 Around the same time Sims was working on SPACE (above), a graphic narrative zine that "derives from the same ideas [as Black Matter], but instead, this work is full of hope and celebration of architecture and public spaces that were in there very essence, designed and built to make people feel good. All people. Not just the wealthy." She also followed up these publications with the minicomic Graves (below), an exercise in cathartic graphic medicine.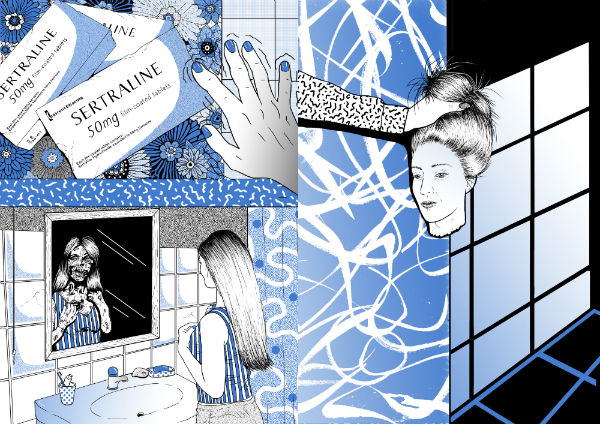 It was in the very tactile presentation of XENOS: At the Edge of Life (below)) that Sims' combination of disquieting  sequential art and social commentary reached new heights. I described its premise in my 2018 review with these words: "XENOS is a study of an environment close to collapse; an ecosphere that has already teetered over the precipice of irrevocable disaster. It's split into five sections that deal with different scenarios but with each superficially disaparate segment either segueing into or echoing those around them. From polluted, dystopian landscapes to ways of life lost by global warming; from the wider ramifications of an exploited labour force to the horrors of intensive meat production; through to the genesis of new and mutated diseases XENOS is an unrelenting and uncompromising account of our brutal, clinical and devastating exploitation of the natural world and its repercussions."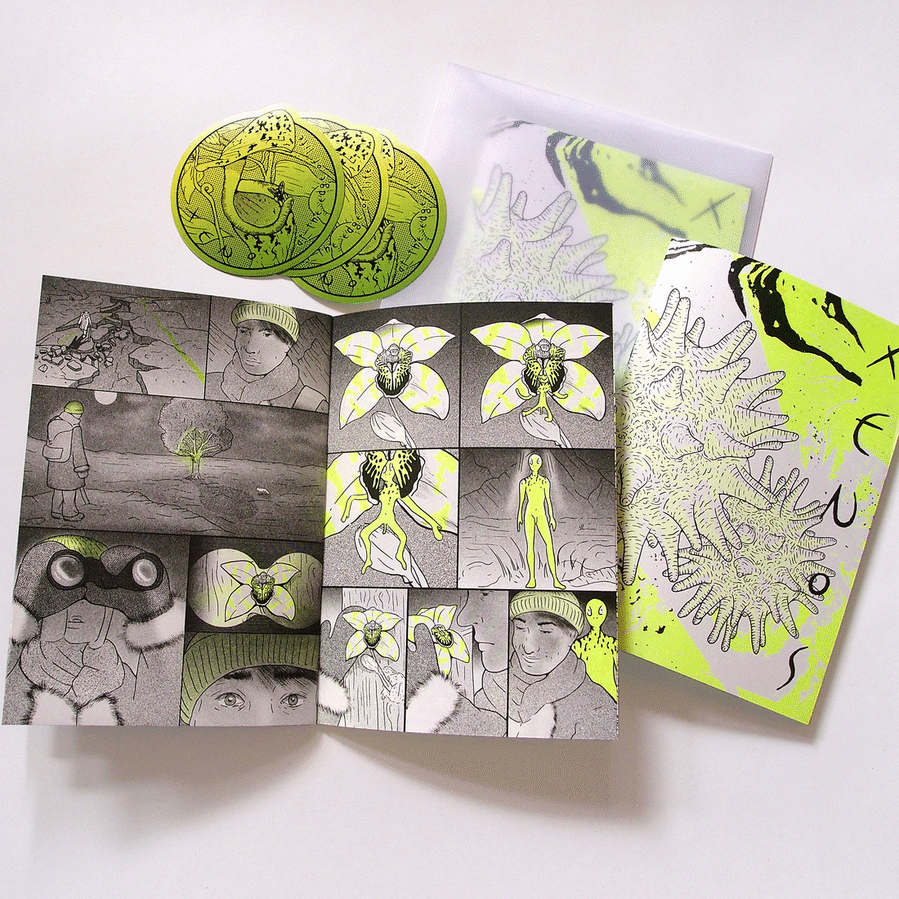 A bleakly prescient piece of work in the current world climate I have called XENOS one of the most powerful comics I have ever reviewed: "What makes this tour of overconsumption, toxification and blatant disregard all the more effective in delivery is that outside of chapter captions it's told without words, with Sims conveying the severity of the situation through her bleak, stark imagery. Exposition is irrelevant because, perhaps ironically, we react to and understand Sims's message on a far more instictive and visceral level."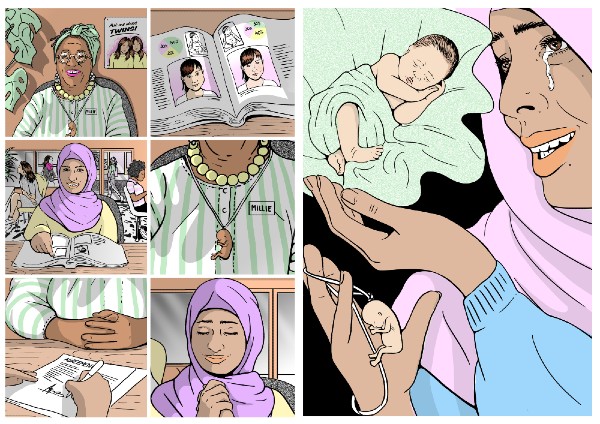 Recently Sims was announced as one of the creators involved in the Shelly Bond-led Insider Art anthology to support female and non-binary comics retailers, and she has also posted teaser images from Matron (above), a graphic novel work-in-progress on her site. Sims has said of her practice that "I want the reader to think for themselves and draw their own conclusions from my work" and in that regard she fosters the most intimate relationship between reader, creator and page. This is work that emphasises comics' importance as a social tool in communicating experiences and bringing important issues to an audience with an emotional immediacy and clarity. Make sure to give her a follow on the social media links below and, while you're at it, check out her online store where XENOS is still available for purchase.
For more on the work of Cat Sims visit her site here and follow her on Twitter here and Instagram here. You can find her online store here. Cat is also currently available for commissions. 
Feature by Andy Oliver