ELCAF FORTNIGHT! 
Two years ago at ELCAF I had the pleasure of meeting French artist Camille Aubry when she booked a Springboard Meeting with me at the festival. When reviewing her portfolio what immediately struck me was just how versatile an artist she was, with work that ranged from everything from humorous cartooning to psychogeographical studies.
Two years on and Camille has been twice longlisted for the Laydeez do Comics Prize, has self-published two minicomics about parenting in the form of Toddler Moments and Double Trouble, and will have an excerpt from her autobiographical A Journey to Motherhood on sale at ELCAF as a limited edition. I reviewed that book here yesterday at BF.
So it seems very fitting to be interviewing Camille ahead of her first time as an exhibitor at ELCAF today, in addition to having reviewed her festival debuting comic. She talks to me about the responsibilities of autobio, her architectural background and what we can expect to see from her in the near future…
Photo credit: Anita Pouchard Serra
ANDY OLIVER: Let's start with you telling us about your artistic background and your entry point into comics?
CAMILLE AUBRY: This will sound cheesy but… I've been making comics since I was able to hold a pen! I used to make these mini-books – I guess we could call them fanzines? – that I would staple and give to my parents. My mum still has some of them, which she's keeping safe like the Holy Grail and that make me feel very embarrassed. These include the multi-parental-awarded title L'Oiseau Bleu (The Blue Bird), where I basically plagiarised all my favourite books into one big confusing, fingerprint-stained and sticky booklet.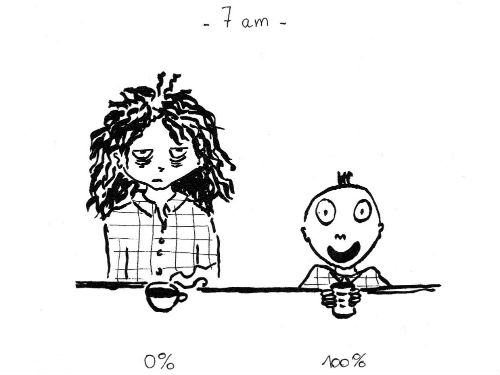 When my parents had had enough of hearing me whinging about how primary school sucks because we don't get to draw, they enrolled me on the Saturday comic book course at the Atelier des Arts Décoratifs at the Louvre in Paris. There I was taught by the amazing French graphic novel artist Vincent Ferlito and attended for about 10 years! I realised fairly quickly that I wanted to be a comic book artist but the discipline is very elitist and male-dominated in France. So when it was time to choose a uni path I went to architecture school by default. There I was obsessed with the visuals of utopian architects such as Archigram and presented all my projects in a comic book form so in the final year my tutor recommended that I move on to illustration after graduating otherwise I would become a very frustrated architect.
I went to study the MA in Illustration at Camberwell College of Arts and thoroughly enjoyed it. Since then I've been working as a graphic designer/communication specialist for architects by day and cartoonist by night. In 2010 I co-founded the French collective Sans plus Attendre, an association of architects and artists. Encouraged by the team spirit I started to be less shy and showed my comic work to the public, through exhibitions, competitions and digital publications.
AO: I first met you at the ELCAF Springboard Meetings in 2017 when I did a portfolio review with you. How does it feel two years later to actually be exhibiting at ELCAF and taking your work to new audiences there?
AUBRY: It feels amazing to be part of ELCAF this year! Two years ago I was clueless about the British comic-book scene and I didn't know where to start. The Springboard Meetings really did what it says in the title and opened a door to a whole new world. I started networking – people are so much more accessible here than in France! – made friends and above all gained more confidence in my work.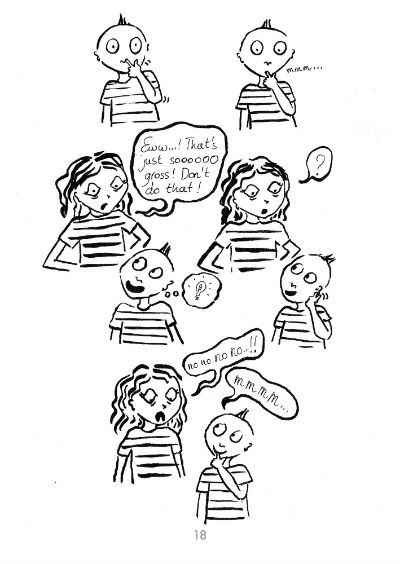 AO: How would you say your two major comics projects Toddler Moments (above) and A Journey to Motherhood (below) approach similar subject matter in very different ways?
AUBRY: I think it's probably the process? Toddler Moments and its sequel Double Trouble are a series of cartoons mostly drawn in the moment, when my kids do something funny/crazy/annoying that I want to draw because surely, I am not the only one living this surreal experience and others can relate. It's like scribing with a child screaming in your ear. A Journey to Motherhood doesn't really focus on the children but more on the emotional, social and political self-discovery that occurs when one becomes a parent. It follows a more traditional process of thumbnails, roughs then final artwork. This is because I mostly work on it at night, when the kids are (should be) sleeping. Nevertheless all these projects have the same driving force: to be an anti "how-to" parenting guide and rebel against the suffocating injunction to be a perfect mother and by extension a perfect woman.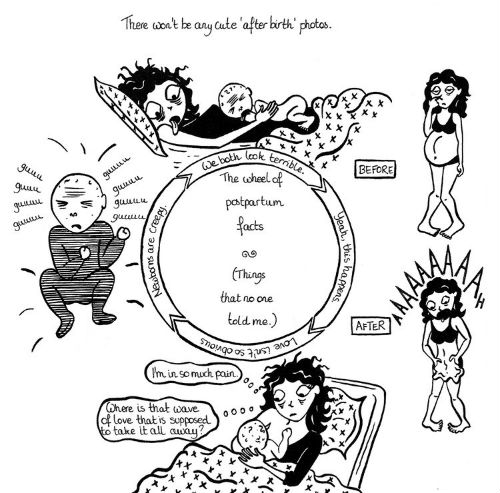 AO: A Journey to Motherhood is a graphic-memoir-in-progress. Why did you feel comics was the most appropriate medium to communicate the experiences you explore in the book?
AUBRY: In A Journey to Motherhood, as well as in my other projects, I find graphic novel art to be the ideal vehicle to carry my stories. In particular I find the dynamism of sequential art to be an extremely powerful tool for expressing an idea and sharing a vision. It automatically engages with the reader's mind to communicate a visual movement and a narrative. As a graphic novel author and artist I always strive to demonstrate how this discipline is essential to the art and literature spectrums although often underrepresented and limited to commercial and editorial uses.
This is why I often attempt in my practice to bring graphic novel art 'outside of the book' through community projects, workshops with children and in higher education, conferences and exhibitions. On focusing on the experience of parenthood I also aim to reach a wide audience, one that is not necessarily familiar with the graphic novel industry, but that would however hopefully be convinced of its potential to tell and share stories in a dynamic and engaging way.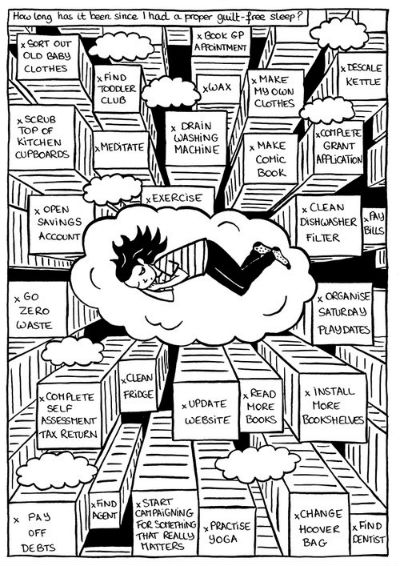 AO: Autobiography in comics has its own special responsibilities attached to it. Is there ever a sense of vulnerability about working in that area given that by its very nature you're putting very personal thoughts and events in your life out there?
AUBRY: Yes I do find it slightly intimidating to talk about my life so openly. But at the same time I think I need to. For myself first, but also hopefully to the other mums out there who might feel isolated. One of the things that I have always stuck to is to never name my characters in my autobiography work. That way my kids, my partner, family and friends are kept anonymous. This process also allows the reader to make the story their own.
AO: How much of a confidence boost has it been to see A Journey to Motherhood recognised on the longlist for the Laydeez do Comics Prize?
AUBRY: It's been amazing. The project has been long-listed twice, in 2018 and 2019. It encouraged me to persevere but also gave it a sort of entry card to speak to publishers, agents and other industry professionals.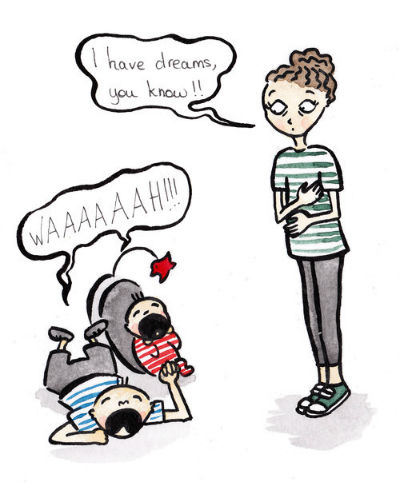 Double Trouble
AO: Thinking about your artistic process now – what mediums do you work in?
AUBRY: I work with a Pentel brush pen, it's my best friend. I love the depth it gives to quick doodles. I often work in black and white but lately I have developed more coloured artworks, with either watercolours or Photoshop. In terms of paper, whatever is available at the moment! I draw on everything; back of an envelope, bills, notebooks… Drawing is very much who I am, and now that I have two kids who need constant attention it has become an extension, something that I do very quickly, almost unconsciously but that I do thoroughly need to keep going.
AO: What can attendees look forward to picking up from you at ELCAF this year?
AUBRY: It will be very "motherhood" focused. Alongside my new book of cartoons Double Trouble I will launch a first and limited edition of a long extract of A Journey to Motherhood. It's a booklet of 32 pages that I have submitted for the award. My hope is to gain more exposure for the project. I will also have a series of prints from the visuals that I recently created for the charity Bluebell Care during the Maternal Mental Health Awareness Week. During ELCAF I am basically hoping to use the comic medium to shine a light on a part of our population that often remains invisible and unheard: mothers.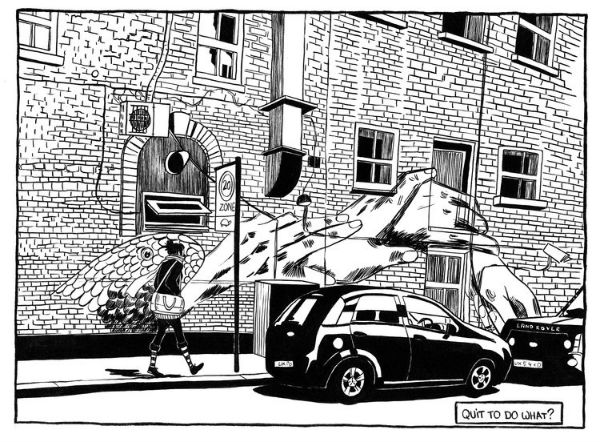 Bare East
AO: While many readers will know you primarily for your autobio work about parenthood I know you have a wide range of approaches to the form. What other projects have you worked on in comics and illustration? And what can we expect from you through the rest of 2019?
AUBRY: With my background in architecture I have done a fair amount of architectural and urban illustrations for competitions and exhibitions. These included 2D and 3D artworks such as illustrated models and pop-ups. My clients were mainly architects and town planners. Through Sans plus Attendre I published Ma Vie d'Architecte (My Architect's Life) online, my first comic series depicting with humour (and of course cynicism) the everyday life of the so called "most beautiful profession in the world". My interest in the subject of urban activism, of the city and its users, especially the ones fighting against gentrification led me to work with a number of organisations such as the East London Strippers Collective with which I created a zine series called The Strip Comic, an initiative against the stigma faced by sex workers.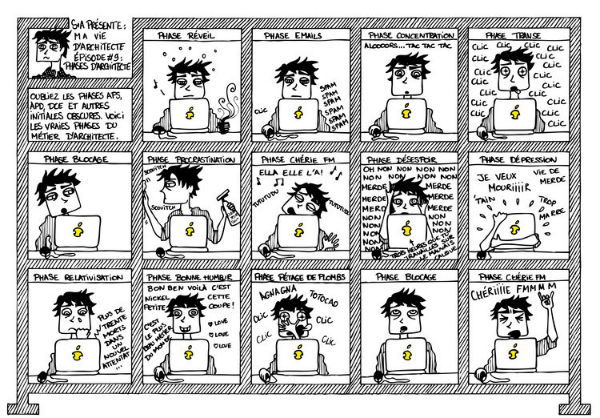 Ma Vie d'Architecte
The Strip Comic is a satellite project to another long form graphic novel that I am currently working on, Bare East. This time I am only the writer and the French artist Akalikoushin (author of the amazing French series Carnaval published by Manolosanctis) is doing the drawings. We're still at rough stage and working as a team whilst both juggling day jobs, freelance work and kids means that we're not working as quickly as we would like. Also Akalikoushin broke his wrist last summer and as a result the project was seriously delayed! But the story, a testimony to the pre-Olympic Games East London and its strip clubs, is very dear to my heart and I really want to complete it with this fabulous artist. I also have a children's book in the making!
Camille Aubry will be exhibiting at ELCAF on Friday June 7th. For more on her work visit her site and online store here and follow her on Instagram here. 
For more on ELCAF 2019 visit the festival site here and follow them on Twitter here.