Following up on her original short-form zine offering from last year, Eleanor Crewes's The Times I Knew I Was Gay presents a fragmentary series of autobiographical vignettes in an often wittily observed, sometimes quietly poignant, coming-of-age story. Greatly expanded from the sell-published version I reviewed here at Broken Frontier last year, this new edition comes to us via UK micropublisher Good Comics.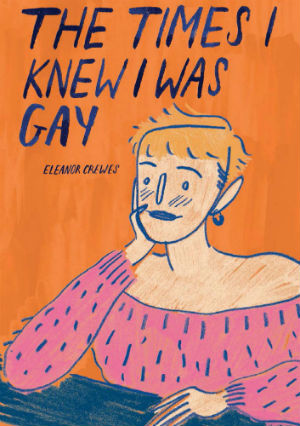 That first incarnation of The Times I Knew I Was Gay was less comics in form and more graphic narrative. At around four times the page count of its predecessor, the latest iteration allows Crewes greater opportunity to experiment and play with her page layouts and pacing. It's noticeably far more confident in its storytelling, combining illustrated prose and pure comics with its retrospective scrapbook approach to the page.
Perceptions and questions of self-definition are at the heart of The Times I Knew I Was Gay which covers a timeframe from the artist's childhood to the present day. In those early pages we meet a young Eleanor looking for an identity of her own; an early obsession with the character of Willow from Buffy the Vampire Slayer proving to be a recurring motif through the years.
One early section in which Crewes talks directly to the reader about the difficulties of autobio work has great significance in the wider context of the comic. "I know who I am now but who was I then?" she asks, underlining the peculiarities of working in a strand of storytelling that asks us to dissect and potentially reinterpret aspects of our own experience. Autobiographical work, of course, throws open questions of memory and how we recollect the past; whether we are presenting reality or a version thereof; and the extent to which we project our present day perspective onto past events.
We follow our subject through her teen years as she and her peers begin that rite of passage of self-discovery and she begins her first clumsy interactions with boys. These consist of an almost forensic investigation into each target boy – examining their likes, adopting their look and ultimately resolving, with an inevitable feeling of relief, not to ruin a good friendship with the complexities of a relationship.
At university this sense of detachment from the social conventions that surround her becomes more pronounced. There's an aura of awkward conformity here that is portrayed with subtlety and delicacy; an attempt to adapt to not just what she feels is expected of her but also what she expected herself to be. The Times I Knew I was Gay provides a constant reminder that we often define ourselves within the confines of extant societal structures rather than recognising their constraining and unnecessary limitations.
It's in these university years that Crewes accepts her sexuality, though not in one revelatory moment but through a series of hesitant, coming out false starts: "In 2015 I came out another four times, which made a grand total of five." It's in this latter portion of the book that we realise just how invested as readers we have become in her story as she comes out to both her family and, in one beautifully realised and idiosyncratic moment, to the rooms of her familial home.
Crewes has a visual style that is uncomplicated and yet highly expressive for that economy of line. Her use of distorted perspective to underline the emotional resonance of certain segments is particularly effective and she employs a line in recurring representational cutaways that adds an extra thematic dimension to the book. The frequent use of white space between each anecdotal sequence allows the audience a moment to reflect on and consider the importance of the events depicted.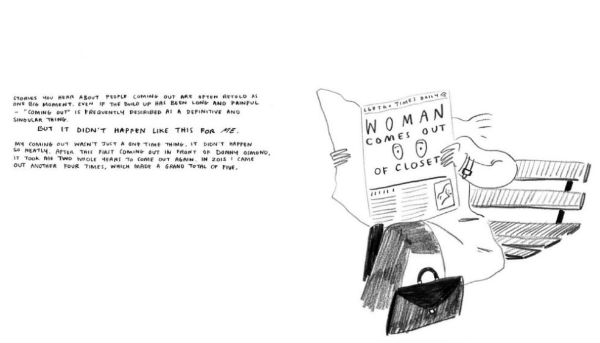 The Times I Knew I Was Gay consolidates isolated moments in the life of its author into a greater whole. Mixing comics and illustrated text episodically, Crewes is perceptive enough to know when to let her imagery do all the talking and when to make use of a prose style that is lyrical and free-flowing in construction. Undoubtedly set to be one of the year's most talked about UK small press offerings, this is a book that amply fulfils the huge promise shown in last year's zine introduction to Eleanor Crewes's work.
For more on the work of Eleanor Crewes check out her website here. You can pre-order The Times I Knew I Was Gay from the Good Comics site here priced £10.00.
For regular updates on all things small press follow Andy Oliver on Twitter here.
The Times I Knew I Was Gay launches next Friday April 7th at London's Gosh! Comics. More details on the Gosh! site here.