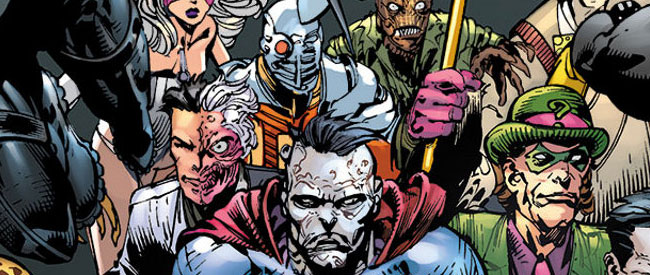 DC's new crossover event starts here as Johns and Finch launch Villains Month with a hugely enjoyable opener.
"This world is ours.  And the Justice League is dead." – Ultraman
Two years into the New 52 and DC delivers their first big crossover event.  The premise here is that we move forward a brief period of time to find that the Justice League has been seemingly killed by the Crime Syndicate, a kind of reverse Justice League from an alternate Earth.  The Syndicate reach out to all of the DC villains and offer them the opportunity to join them.  The repercussions of this will play out over the next month with all of DC's regular titles being replaced by villain-centric ones for one issue.
Johns is a master at this kind of event and the format of throwing the reader into the middle of the new status quo works brilliantly.  We only begin to understand what's going on as the characters themselves do and there are some lovely shocking moments as we begin to understand who these people are and what's going on.  Probably the best of these is the way in which Ultraman disposes of some kryptonite, wonderfully illustrating that we're not dealing with the Clark Kent we know and love here.
Johns also shows that he means business by doing something to an important character that will have major repercussions down the line.  This isn't going to be an event that comes and goes without leaving a trace.  Presuming it doesn't all get wiped out by a universe-resetting button at the end of this story…
In ye olde days, if you were doing a massive crossover involving vast numbers of characters then you'd go to George Perez.  Here instead we have David Finch who shows he's up to the task with a stunning quadruple(!) page spread featuring all the villains of the DC universe.  He manages the pace of the issue brilliantly and delivers some great action and set pieces.  If one were being hypercritical then it could be said that in some areas his artwork is a little inconsistent.  Some of the faces are a bit off and in the opening sequence in particular Luthor's drawn a little oddly.  The colours perhaps are also a little too dark and muddy and make some of the pages a little murkier than they should be.  But where it does work, it's a great looking story.
All in all then, a great introduction to the new event and one worth picking up for a ripping story delivered by some very capable creators.
Geoff Johns (W), David Finch (A), Richard Friend (A) • DC Comics, $3.99, September 5, 2013.