In a feat of superb timing, the internationally celebrated creators of the Cities of the Fantastic series, François Schuiten and Benoît Peeters, have released their newest album in conjunction with an exhibition in Paris.
Revoir Paris l'Exposition, held at La Cité de l'Architecture et du Patrimoine in Paris, ran from November 2014 to early March 2015, giving a view of the architectural history of Paris filtered through the prism of François Schuiten and Benoît Peeters.
Engaging with utopian representations of Paris, Schuiten and Peeters coincidentally released Revoir Paris (Paris Revisited) – a two-part comic album with – let's be honest here – Schuiten's drawings of Paris as its main attraction. According to François Schuiten, "It will be a tribute to those that have marked the history of this city. But the end will be very futuristic…"
https://www.youtube.com/watch?v=umdaBKs4dF0
It's February 2156 and Kârinh lives in the Ark, an space colony. Dreaming of a trip to Earth – and especially Paris – she finds herself in charge of a ship and its hibernating passengers on a one-way trip to the real City of Light. But how will she fare when the Paris of her drug-induced dreams becomes reality?
Paris Revisited is not a part of the Cities of the Fantastic series; it is accomplished in recognition of the 19th-century pioneers who have inspired this creative duo. But while you can't argue with the architectural drawings, this is not Schuiten and Peeters at the top of their game: the protagonist is a complete drag and the story falls  flat.
There's no emotional connection to the proceedings, as Kârinh is an egocentric bore whose motivations are completely unclear. There is no background to the character and, well… what is up with her running around in her underwear the whole time?
These obstacles are heightened by the way Schuiten draws Kârinh: stiff posing, pastel coloring, facial features set solid in stone. Even when she is being smuggled into the real Paris, an exclusive haven for the privileged, she doesn't seem too impressed, which is a bit strange after she spent so many pages griping about how beautiful the city must be.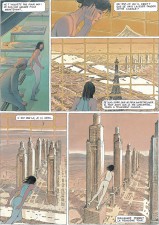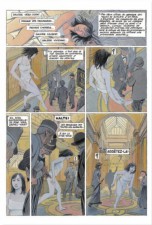 To accompany the exhibition, an piece called "IMAGES – François Schuiten" has been published. This is a 32-page large-format (30×40 cm) book, with illustrations realized by Schuiten that showcase his potential expertly; it is much more visually appealing than Paris Revisited. It's also clear that his art comes out best with either less subdued coloring or (my favorite) in black and white.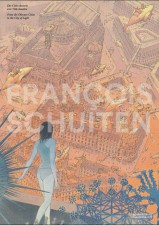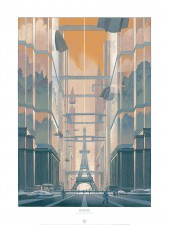 All in all, Paris Revisited is a rather disappointing entry in the career of Schuiten and Peeters, with lacklustre characterisation and a less than engaging story. Maybe part two will enliven things, but part one is definitely not a good invitation to return for more.
Paris Revisited – Revoir Paris – Part 1 by Schuiten and Peeters is published in French by Casterman. It is an oversized hardcover counting 64 pages and retails for €20. This review based on the Dutch edition, published by Ballon Media.
IMAGES – François Schuiten is a large-format full-colour publication counting 32 pages in a limited-edition print run and retails for €9.90.
For more news & info from Europe's comics community, follow me on Twitter right here.