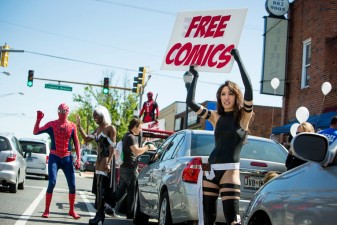 Press Release
The first Saturday in May 2013 was a busy day for participating comic shops all over the world, as retailers gave away a record-breaking 4.6 million comics in almost 2,000 different locations during Free Comic Book Day. An estimated 1.2 million comic fans flocked to their local comic shops to take in the festivities. Customers lined up in front of their favorite stores the day before to make sure they were one of the first to get the 52 free comics offered by 40 publishers this year.
Not only did Free Comic Book Day break attendance records in 2013, but it also generated more publicity than ever before. An estimated $2.2 million dollars in free publicity was created, from news articles in USA Today, to blog entries on NPR, IGN.com, io9.com, MTV Geek, and a four-minute piece on CNN about the event and the culture of comic books in America.  Superstar artist and Co-Publisher of DC Comics Jim Lee was a special guest on FOX News' Saturday morning show Fox & Friends, where he talked about the origins and reasons behind Free Comic Book Day. Ultimately, the event was covered by over 240 TV news programs, over 460 news outlets, and over 740 online sources.
Free Comic Book Day also spread virally throughout social media. This year over 63,000 tweets made reference to the event, and, on May 4th, the hashtags #FCBD and #FreeComicBookDay took the #1 & #2 spots trending nationally from 9:00 AM till 4:00 PM on Twitter. Free Comic Book Day's Facebook page doubled in fans, now reaching 66,000 people from North America, United Kingdom, Australia and beyond.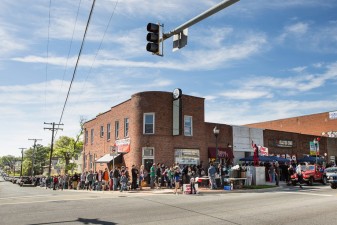 One more record was shattered this year: www.freecomicbookday.com had over 620,000 unique visitors visit in the months of April and May. Almost all of the first time visitors took advantage of the Comic Shop Locator that is designed to show potential customers where the local comic shops are in their area.
"Free Comic Book Day was a monster success this year," said Jason Blanchard, spokesperson for Free Comic Book Day. "People all over the world couldn't wait to visit their local comic shop and see what all the excitement was about. One retailer in Baltimore, MD, Collectors Corner had over 5,500 people visit his store. The line started the day before and by 5:00 AM on Saturday it was 3 blocks long. The best part about all the articles, links, and mentions about Free Comic Book Day was how many people it drove to our web site. We helped almost 620,000 people find the local comic shops in their neighborhoods and hopefully they'll continue to return for more of what the comic industry has to offer."
"We weren't sure if this year Free Comic Book Day would be bigger than last year's amazing turnout around The Avengers, but our expectations were blown away," said Stephen Ford, owner of KINGS Comics in Sydney, Australia. "Our numbers were up by over 30% on last year's turn out with thousands of fans coming through the store pretty much all day. The line was incredibly long – people started lining up from 5:30 AM and we had a line already of at least 500 people when we opened at 9:00 AM, and the line remained until about 4:00 PM."
The continued growth of Free Comic Book Day is directly attributed to the innovative and creative approaches each retailer brings to their own comics celebration. Many retailers broke their own records by recording their best sales day in the history of their stores because customers didn't come only for the free comics; they came to experience everything the shops had to offer.
Free Comic Book Day is more than an event; it's the collaboration of an entire industry putting its best foot forward to welcome new and returning readers to the world of comic books. The industry will use this year's success as a springboard for what's to come in 2014 – May 3, 2014 to be exact.
For more FCBD news, photos, and updates go to the FCBD website, www.freecomicbookday.com; become a fan at Facebook: www.facebook.com/freecomicbook; and follow us on Twitter: www.Twitter.com/freecomicbook.
Photo attached are of Collectors Corner in Baltimore, MD. Photos are by Pete Redel Photography.