Since 2012 street press anthology Off Life has been bringing comics to a wider audience through a combination of online delivery and free distribution in print. Its line-up of contributors to date has included some of the cream of the crop of the current indie scene including names like Tom Gauld, Sam Alden, Lizz Lunney, Kristyna Baczynski, Tillie Walden and Joe Decie.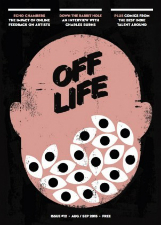 Off Life has also provided a showcase for newer names on the small press circuit. Indeed, two of this year's Broken Frontier 'Six Small Press Creators to Watch' – Brigid Deacon and Ellice Weaver – have already been featured between its covers. After a longer than usual gap between issues while the Off Life team concentrated on their Yellow hardcover book (a project wherein 52 artists illustrated a week of news each over a year) submissions have opened for issue #13.
Editor Daniel Humphry is looking for strips between 1 and 5 pages in length and newer creative voices are actively encouraged to submit. The deadline is 1st March 2016. Interested parties among BF's large self-publishing readership should take a look at the full submissions guidelines on the Off Life site here.
There can be few publications as universally read on the UK small press scene (and beyond!) as Off Life – being published therein is an amazing opportunity to reach a massively expanded audience for your work. You have around five weeks to get something submitted for #13. Make them count!
For regular updates on all things small press follow Andy Oliver on Twitter here.