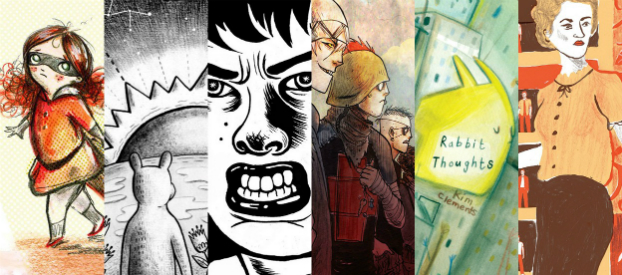 While we're celebrating the announcement of the first Broken Frontier Small Press Yearbook (featuring the work of our 'Six UK Small Press Creators to Watch in 2015') it's also time to look forwards with the revelation of the names of the 2016 creators I've selected to follow that illustrious half dozen in 2016, as revealed exclusively earlier this week at the Broken Frontier edition of Laydeez do Comics at London's Gosh! Comics.
Over the course of the last year or so 'Small Pressganged' has been regularly spotlighting the work of Rozi Hathaway, Jess Milton, Danny Noble, Emma Raby, Alice Urbino and Adam Vian through reviews, interviews, creator commentaries and feature coverage. Our 'Six UK Small Press Creators to Watch' initiative sought to actively champion artists who deserved to be seen by a far wider audience, bringing them up to the next level of recognition, and building on this column's reputation for discovering new talent.
We'll be revisiting 2015 with last year's incumbents very soon at BF and discussing their publishing output, festival and show appearances, multiple anthology contributions, and award nominations over the last twelve months. Now, though, it's time to bring the focus firmly onto the next generation of 'Six Small Press Creators to Watch'.
You may have noticed from the outset that the "UK" bit has been dropped from the title this year. That's because, while this is still a selection that has been drawn from people active in the British small press scene, not all of them hail from these shores. As with last year their numbers include artists relatively new to comics, those who have been active for a year or two but deserve far greater exposure, and one creator who has been slowly returning to comics after a lengthy time away.
These are my 'Six Small Press Creators to Watch in 2016'. Remember their names. You're going to be hearing them a lot at Broken Frontier over the next few months…
Rebecca Bagley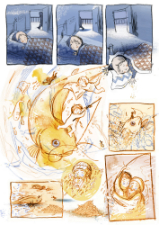 Like Danny Noble last year, Rebecca Bagley is a creator with a proven small press track record but one who has also been away from the scene for a while. She's been dipping her toes in back into the comics creating pool of late, though, with some gorgeous new work appearing on her site. She has also contributed a beautifully lyrical guest strip for the recently announced Broken Frontier Small Press Yearbook entitled 'Catch' (right) described as  "a serene tale about relationships, interaction and all the space in between."
Bagley was one of the very first creators I covered in the early days of 'Small Pressganged' and it's no exaggeration to say that her one-shot Tick (below left) – the story of a new homeowner's discovery of a long forgotten kettle-headed mechanical man from another era of history hidden away in their domicile – was a significant factor in re-igniting my passion for the self-publishing world. As I said at the time at BF here, "If you don't instantly fall in love with Tick after a first reading then, quite frankly, you have no soul…" Her evocative, genuinely all-ages metaphorical narratives, and her tactile and inventive zines have been much missed on the small press shows circuit over the last few years.
Centre image – the beautiful 'On the Way', available to read on Rebecca's site here
Those who follow her on social media will be well aware that Bagley's already rich and engaging style has continued to develop in her time away from the comics world, embracing a distinctive influence from the world of children's illustration; one that is readily apparent in 'Catch'. No doubt we'll be catching up with what Rebecca's been up to since her last major coverage at BF soon but, in the meantime, you can also read my 2013 interview with her here.
For more on Rebecca Bagley's work visit her site here and follow her on Twitter here. You can find her online store here. 
Kim Clements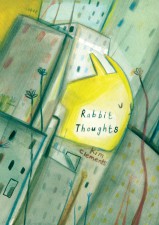 Kim Clements is representative of that ever growing number of self-publishers who got their very first coverage in this column. Back at the tail end of 2014 I took a short look at her first tentative foray into comics in The Great Cat Mystery, noting then that while the strip was obviously a little freeform and disjointed in places "there's a concrete understanding here of what comics can do in terms of narrative presentation that other art forms can't".
Last year she was published in a number of UK anthologies including A Bit of Undigested Potato, Tempo Lush Tales of the Tanoox and Dirty Rotten Comics, with our friend Richard Bruton over at the Forbidden Planet International Blog singling out her Undigested Potato strip in his pick of August 2015's reviews here. Her work mixes the child-like, the bizarre and the profoundly recognisable with an often entrancingly melting visual identity that is nonetheless reflective of her background in children's illustration.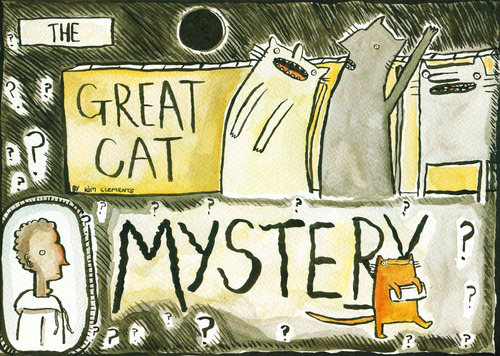 Clements published her first full-length comic Rabbit Thoughts in the latter part of 2015. It's an emotionally resonant autobiographical comic about a young woman (in rabbit identity) seeking to find her place in the world. I said of it when I reviewed it here that "there's an emotional intelligence and empathic quality to these pages that means that you experience Rabbit Thoughts rather than simply read it. With its poignant fragility and haunting beauty this is a truly unforgettable debut comic."
Pages of Clements' work from A Bit of Undigested Potato, Dirty Rotten Comics #6 and Rabbit Thoughts
Rabbit Thoughts became the first ever self-published comic to be nominated by the BF staff in our Broken Frontier Awards for 2015, going up against the likes of DC super-hero blockbuster Multiversity and the winner, Andy Poyiadgi's Lost Property, in the Best One-Shot category. Check out her website for examples of her work ranging from the heartbreakingly touching to the surreally humorous.
For more on Kim Clements' work visit her site here and follow her on Twitter here. You can find her online store here.
Brigid Deacon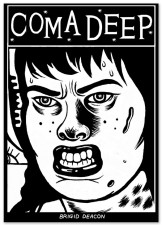 Brigid Deacon is a name you may well be familiar with from multiple anthology appearances over the last year or so including Eyeball Comix, Bimba, Save Our Souls, Off Life and Identity. I've remarked on a number of occasions at BF how intrigued I am by her "oblique narratives and unconventional style of panel-to-panel storytelling".
Indeed, at the recent Broken Frontier special edition of Laydeez do Comics this week, I spoke of how her work not only subverts the perceived traditions of panel-to-panel storytelling but has also done the unthinkable in that it has even challenged me to consider my traditional conceptions of the very definition of sequential art.
Coma Deep (right and below centre) is her longest comic to date. A sprawling yet oddly cyclical journey through a disjointed but interconnected hallucinatory world that I described here at Broken Frontier as having "a nightmarish stream-of-consciousness quality to it in which the author invites us to take a tour of a fractured mindscape – narrative cogency sacrificed to a procession of disquieting images, sequential intensity, and eerily hypnotic symbolism."
You can also find 'Small Pressganged' coverge of her contribution to Off Life #11 here, Bimba #2 (above right) here, and her zine Hex (above left) here.
For more on the work of Brigid Deacon visit her site here and follow her on Twitter here. You can visit her online store here and read Off Life #11 here. 
Emily Rose Lambert
Alongside her sisters Freya and Karis, Emily Rose Lambert is part of the Big Brown Eyes Collective who debuted a number of their comics and zines at the Bristol Comic and Zine Fair in October. I previewed the collective's work here at Broken Frontier at the time and also covered the sisters' mini-anthology Beginnings here describing Emily Rose's story 'The Maker' (below) as the highlight of the issue – "playfully cosmic in scope but strangely human at the same time". She has also produced the autobio Four Days in Budapest (below right).

The publications of Big Brown Eyes were not the first time I had come across Lambert's work though. Another mention now for Dirty Rotten Comics who published an early version of her later minicomic Dreamscape (below left). In my review of their fourth issue I marked her out as one of the most intriguing newer creators in the book and stated that her contribution "impresses with its mix of the mythological and the recognisable, the otherworldly and the incongruous."
While she may be finding her creative voice as her style develops, Lambert has already reached a sizeable audience in the last year with her Thought Bubble Comic Art Competition entry 'Bridges' winning the over-18s category in 2014 and being published by Image in the 2015 Thought Bubble Anthology. A heartrendingly beautiful story of friendship and separation, it was one of the true stand-outs of that multi-creator compilation at TB last year.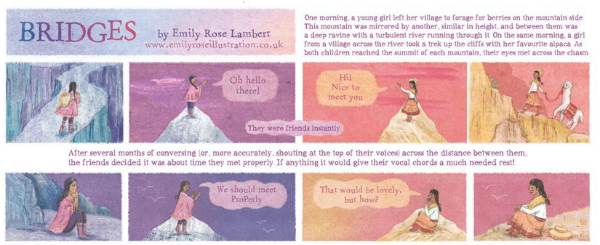 For more on the work of Emily Rose Lambert visit her site here and follow her on Twitter here. You can find the Big Brown Eyes Collective online here and follow them on Twitter here. Emily's store can be found online here and the BBEC's is here. 
Jey Levang
Norwegian artist Jey Levang has been a regular presence in the rightly lauded, inclusive anthology Dirty Rotten Comics this year (look at how many times I've referenced it in this article). Their lively, elaborate and animated cartooning style in those pages has been equally matched in delivery by their layered storytelling and a deft ability in manipulating their audience's expectations.
Those playful DRC narratives are difficult to analyse too closely without giving away the twisting flow of their stories but they have to date included the clever visual metaphor of 'The Red Army' in Dirty Rotten Comics #3 (above left), and "an expectation-confounding tale of teenage demonic life" in  'A Quite Ordinary But Not so Typical Morning' in #4 (above centre).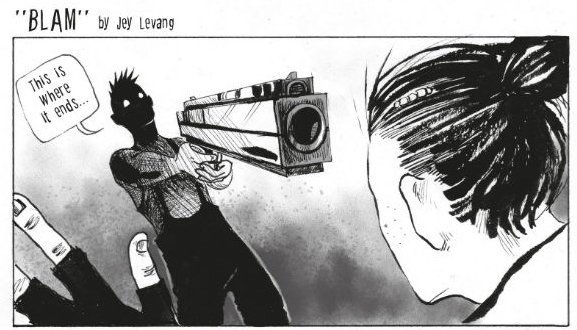 Indeed, foreshadowing Levang's appearance on this list I said of their two-pager 'BLAM' in Dirty Rotten Comics #5 (above) in August "I'm fast becoming obsessed with the twisting mini-narratives of Jey Levang, whose work I only discovered this year, but who is already one of the most exciting prospects I have covered in 2015."

With C. Vinter they're also the co-creator of the weekly-updating webcomic HeLL(P) (above) – "…a story from Hell. The regular competition has an extra-juicy prize to offer this year: a ticket to Heaven! Who will win, who will lose, and how far are they all willing to go to get it?" – a project I will be covering in more depth in this column in the future.
For more on the work of Jey Levang visit their site here and follow them on Twitter here. You can find their online store here. You can also buy Dirty Rotten Comics issues from their store here. 
Ellice Weaver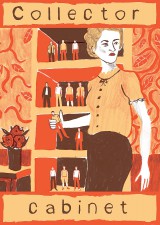 Ellice Weaver refers to herself as a "comic painter" and her considered manipulation of colour to enhance mood and atmosphere in her often compressed comics pages is a signature part of her approach. Weaver is another name on this year's list to have been published in the pages of free street press anthology Off Life. Her short story therein, 'Fish Bowl Fever' (bottom image), was an affecting and highly emotive study of dementia.
Weaver is as at home working in the eerier environs of genre fiction as she is at slice-of-life storytelling, though. Her minicomic Collector Cabinet is a fine example of the diversity of her catalogue to date. It follows the story of a young woman working for a shadowy government department that uses its female operatives to seduce inherently unpleasant men for its own experimental agenda.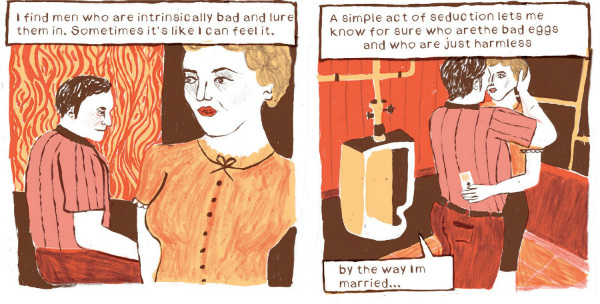 I likened Collector Cabinet to a visually stylised version of an old DC mystery comic or something from '70s IPC weekly Misty when I reviewed it at Broken Frontier here, saying "Placing the everyday frailties of human beings within a context that is both bizarre and off-kilter, Collector Cabinet fuses the prosaic and the weird with a deeply black humour."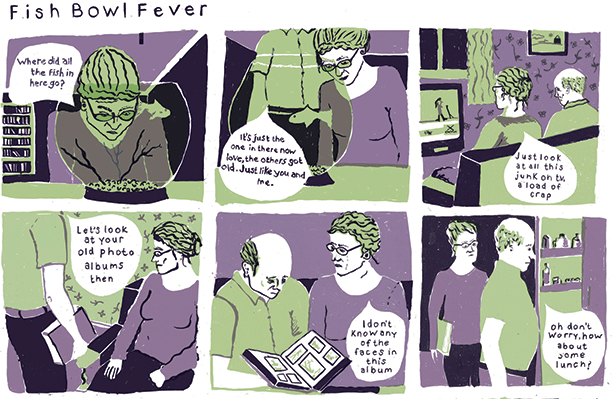 As mentioned, though, it's Weaver's idiosyncratic use of colour that gives her comics an intensity and power that is striking and unforgettable. Her pages make the familiar both recognisable and yet slightly detached from reality, giving a curious, dreamlike and sometimes unsettling quality to her strips. You can see an extensive range of Ellice's varied approaches to the form on her website.
For more on Ellice Weaver check out her site here and follow her on Twitter here. You can visit her online store here and you can read Off Life #12 here.
For regular updates on all things small press follow Andy Oliver on Twitter here.