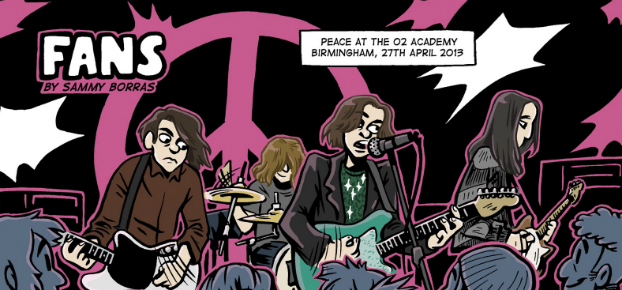 The Analogue Press are a smaller micropublishing outfit from the North East of England who have to date put out two copies of Radio On, an annual music-themed anthology. The book features both names that are familiar to followers of the UK small press scene and those that will probably be entirely new to most.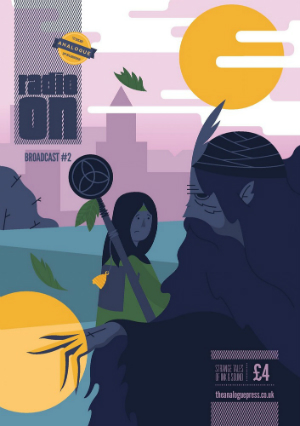 This second issue, for example, includes Sammy Borras – that perennial favourite when it comes to band-based comics – and one of this year's Broken Frontier 'Six Small Press Creators to Watch' Emily Rose Lambert, alongside artists – like the intriguingly named Oscillating Brow – who I encountered for the first time in these pages.
The first thing that strikes the reader about Radio On: Broadcast #2 (edited by Rob Carter) is what a beautifully designed product it is. Darryl Ibbetson's gorgeously crafted cover sets the tone for a book that includes endpapers, artist bio pages and supplementary record recommendations.
It's an attractive package visually and a casual flick through its pages reveals that the artists involved have all taken very different approaches to the loose theme of music-oriented material.
This edition begins with Adam Fallows' black and white 5-pager 'Love is a Mixtape'. It's a tale of unrequited teenage love that has a visual clarity that is certainly appealing and one that utilises some neat playfulness with the form (I particularly liked his on-page incarnation reaching across from one panel to select a CD from a shelf in another). It's a resonant slice-of-lifer in that it's a familiar scenario we can all relate to. But despite its neatly paced build-up in the first four pages it does unfortunately meander into the realms of the somewhat hackneyed in its final page denouement.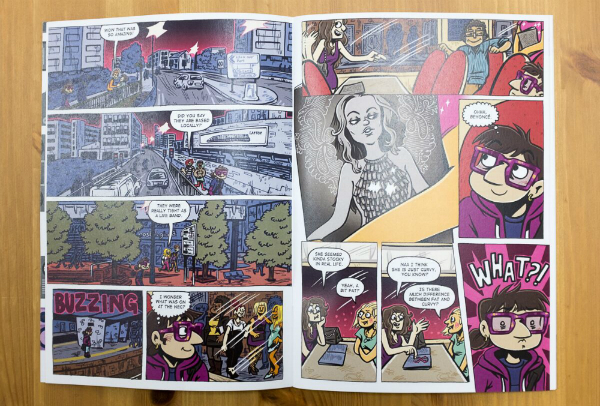 What would any music-based comic be without a Sammy Borras comic strip? 'Fans' (above) is another piece of autobio that approaches the book's theme from a slightly tangential but vitally relevant angle. After a night at a Peace gig, Borras recounts her observations on her way home of a group of Beyoncé fans and how discussions of set lists and performance were replaced by superficial judgmental commentary on weight and appearance. Contrasted with the earlier feedback of Peace fans as she walked through Birmingham, this is a thoughtful piece that is subtle in its narrative structure; we experience events through Borras but she's almost an incidental character for much of its running time.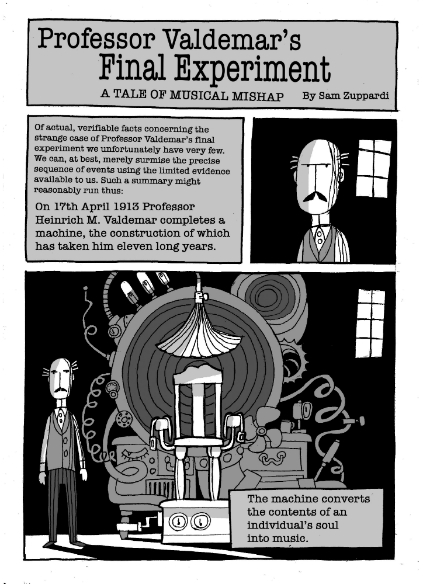 Sam Zuppardi's 'Professor Valdemar's Final Experiment: A Tale of Musical Mishap' (above) is both an enjoyable and frustrating six-pager. The premise of a 1913 mad scientist-type inventing a machine that converts the contents of someone's soul into music, and the subsequent disasters that befall him, is wickedly dry in its humour. Zuppardi also has an inventively witty cartooning style. But his story is simply too densely packed for six pages. It never seems to know quite whether it's a comic strip or an illustrated graphic narrative and sits awkwardly somewhere between the two. That results in his art being constantly intruded upon by large expository text boxes. It's very promising but it needs more pages to let the story breathe.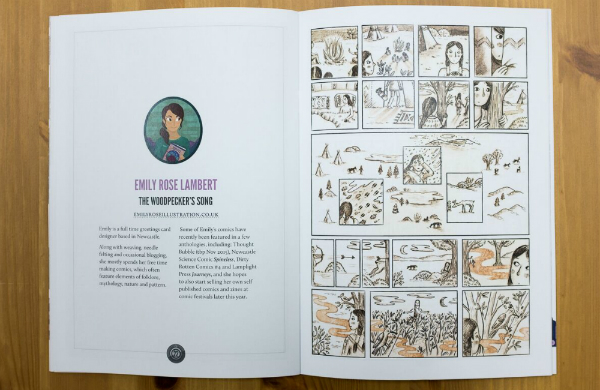 Emily Rose Lambert's two-pager 'The Woodpecker's Song' (above) is a similarly tightly-packed tale but for altogether different storytelling reasons. It showcases the influence of the folkloric in her work with its link between music and nature in a Native American setting. Told without words it's also indicative of the flow and the rhythm that is fast becoming such a noticeable part of Lambert's work.
The issue concludes with two briefer pieces. Oscillating Brow's 'What You Need' (below) is a comedic two-pager revolving around a rather slight gag about an ethereal Doctor of Rock manifesting and converting a stressed individual to his cause. If you're a fan of very early Viz this may well appeal but its conclusion, with the most cursory of punchlines, means there's little pay-off to the underground-style vibe that the strip is enthusiastically trying to emulate. Jennifer Prevatt's 'The Devil's Snare' is the final entry; a two-page excerpt from a longer work that is stunningly rendered but leaves the reader wondering how much greater context they are missing.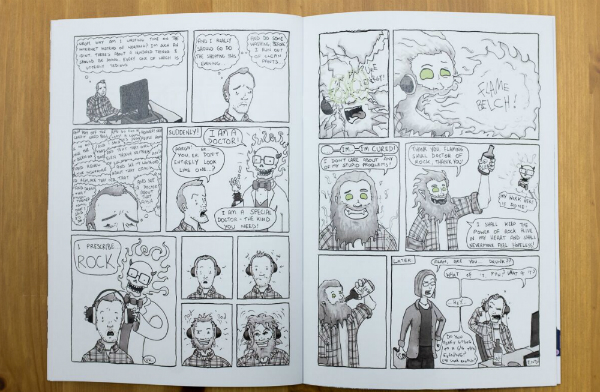 Radio On: Broadcast #2 contains some gems of short comics alongside work that is perhaps more naive in structure. But the potential of this book as a more regular exercise is immense, especially with so many small pressers out there at the moment like John Riordan and Danny Noble with a proven track record in this area. A themed anthology with, refreshingly, some vastly varied approaches to the specified subject matter this is a comic with a great deal of promise to its central premise.
You can buy Radio On: Broadcast #2 here priced £4.00. Find out more about the book on the website here and follow them on Twitter here. 
For regular updates on all things small press follow Andy Oliver on Twitter here.