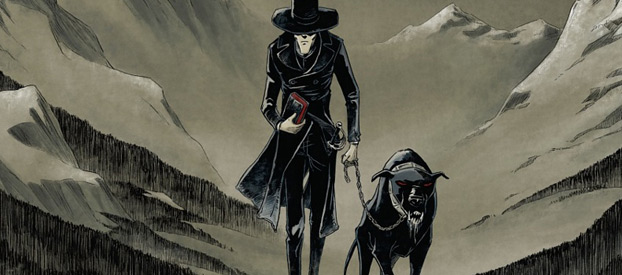 From moody western horror in Promise by Lamy & Mikaël to the uproarious photo comics of Ype Driessen, Crossing Borders has it all.
Promise vol. 1: The Book of Last Days by Thierry Lamy & Mikaël
Near the end of the civil war in 1864 in the remote mountains of Idaho, lies the town of Promise near the Rocky Mountains. The innocent little town is shaken up by the arrival of a travelling preacher named Amos Laughton who preaches not the ways of the Lord above but those of the one below and nothing less than the Apocalypse will follow in his wake.
Writer Thierry Lamy has crafted a cunning horror tale full of ominous and foreboding imagery. He takes the classical prophet of doom and injects him with an original premise by actually having him originating from hell. This, coupled with the western setting means Lamy comes up with a promising concept. The town's characters are set down properly and there's the intriguing aspect of the young girl who seems to harbour her own strange powers and who immediately distrusts the preacher from the start while the preacher starts to scheme to win the trust of the villagers.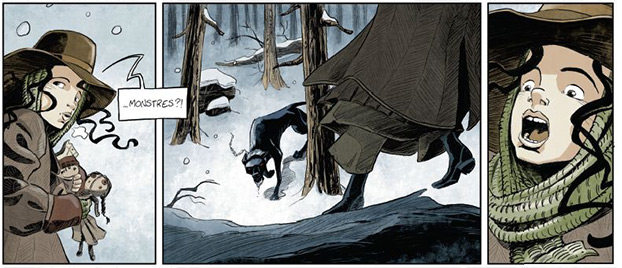 Mikaël is formerly only known from his Rapa Nui series but his artwork definitely has grown since then. While his former book has a more generic feel in terms of artwork, Promise feels a bit more his own style though he does need some work on making the emotions of the characters shine through. It's difficult to pinpoint but there's a certain sense of a cartoony approach mixed up with some basic manga elements. Coupled with the moody colouring, it's quite effective.
It's only the first of a series of albums but there's enough promise – pun intended – in the first album to have it turn out to be a solid escapist horror fantasy tale.
Promise vol. 1: The Book of Last Days by Thierry Lamy & Mikaël is published in French by Glénat. It is a full colour hardcover counting 48 pages and retails for €13,90. This review was based on the Dutch edition published by Ballon Media.

3 High: Into The Deep by Ype Driessen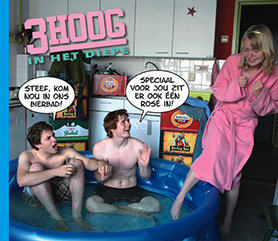 If you like photo comics, no one does it better than Dutch artist Ype Driessen. Driessen started creating fumettos around 2004 and 3 High was his inaugural project and is still going strong as a series of gags in the magazine of the University of Utrecht. Into the Deep is the third collection and is once more full of sharp and witty humour, coupling situational jokes with insight into the human psyche.
3 High refers to a student apartment that keeps changing inhabitants which is a neat setup to keep the comic fresh. Willem, Ben and Stephanie are the new occupants of 3 High this time around and they are quite the collection of student stereotypes: the ultimate party animal, the über nerd and the insecure wannabe beauty queen. Naturally hilarity ensues and Driessens succeeds immediately in drawing us into the world of his characters. All are likable with good and bad character traits and none are as black and white as they seem at first. In this volume we meet a fellow Islamic occupant, farm animals (?), Ben's mom, plorks (?), binge drinkers  etc.
What makes these photo comics stand out is the way Driessens has managed to create a totally believable body language and visual reference for the real world. Driessens uses the camera and Photoshop as a cartoonist's tool and succeeds in creating a hilarious world of slightly over-the-top body language and visual gags. Highly recommended (if you can read Dutch but the humour is universal!).
3 High: Into The Deep by Ype Driessen is published in Dutch by Strip 2000. It is a full colour softcover counting 96 pages and retails for €9,95.