George Perez's Sirens sees the legendary creator return in fine form to chronicle the tales of a new and exciting cosmic mythology.
I've been a George Perez fan literally for as long as I remember reading comics. His covers are some of the most iconic in the history of the medium, and his visual storytelling pushed the boundaries of page design.
There's a reason Marvel and DC have turned to Perez repeatedly over the years to launch new books, reboot entire universes, and take on their most popular characters.
After a much-publicized departure from DC Comics, Perez seemed to drop off the industry radar for a while. Now he returns with a brand new creator-owned property called Sirens that literally crosses time and space to create a new cosmic mythology for his legions of loyal fans.
This densely packed first issue is a rip-roaring ride through numerous important cultural epochs in Earth's history, including stops in the Roman Empire, post-World War II Alabama, and the Old West, as well as the far-flung future.
Revolving around a sprawling ensemble cast of female warriors scattered across time to protect the Earth from destruction, Sirens plays to Perez's creative strengths, allowing him to showcase his versatility and uncanny attention to detail in his world-building.
Be forewarned, though: there is a lot crammed into the pages of this first issue. If I had one very small criticism of Sirens, it would be that Perez doesn't let his own artwork speak for itself enough. The concepts in this series are so big and complicated that Perez resorts to over-extended bouts of unnecessary exposition to explain the action.
To be fair, more verbal explanation than usual may be required when dealing with a plot this huge and sprawling, but there are times when the dialogue bogs down the pace of the story.
That isn't to say Sirens is a poorly related story. Perez pulls out all the stops in his visual storytelling, using slick transitions and innovative layouts to offset the amount of exposition. He ably lays the foundation for future issues, introducing all of the major players with defining character beats that immediately cue the audience's comprehension of their core traits and motivations.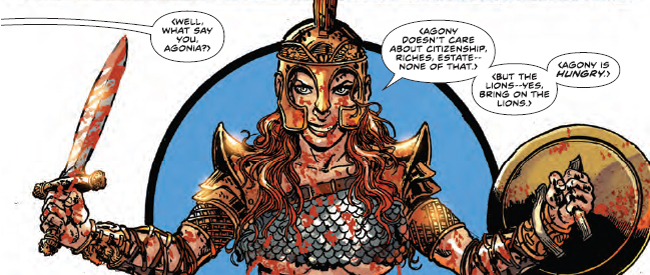 Each member of the ensemble cast is also distinct and fully realized – not just visually, but emotionally and contextually. There's a certain majesty and robustness to Sirens' secondary world that reminds one of the extended casts and lush realms of high fantasy fiction. We may need a scorecard and map to keep up, but that's half the fun.
Sirens is a big, bombastic, slickly produced book that heralds the return of a true legend to creator-owned comics. Chock full of the majesty, lavish detail, and epic adventure that we've come to expect from George Perez, Sirens is a fun and engaging journey through time, space, and cosmic myth.
George Perez (W/A) • BOOM! Studios, $3.99, September 17, 2014.